Subscribers Newsletter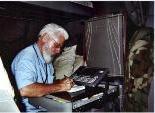 What would War on Islam look like? Would victory even be possible?
With what successful overall strategy could we wage war on an ideology?
Vic Biorseth, Monday, January 05, 2015
https://www.catholicamericanthinker.com/
In the Outlaw Islam page we talked about the menace to Israel, to America and to the world presented by Islam. With the first publication of the Koran, and before, with the birth of Islam, Mohammed declared open war upon the whole of the world. That war still commences. The fact that we, or most of us, are completely blind to it does not mean that Islamic war against the whole world is not continuing, largely unopposed. (See the Islam pages.)
The "peaceful" Moslem who doesn't know that Islam is at war with the entire non-Islamic world is the Moslem who has not fully or properly read the Koran and is largely ignorant of his own faith (which, thank God, is most of them). But once that "peaceful" Moslem finally sits down and studies his Koran to the point of properly learning it, he then has three choices:

(Continue Reading at Original Source: War on Islam).
Do not reply to this automatic email.
Respond to this article at the actual article:
Respond to War on Islam.