Subscribers Newsletter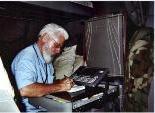 On Self-Inflicted Western Barbarity and the End of Civil Order.
Insidious Cultural Marxism's Corrosive "Inside" Victory over Western Civilization: The Rise of Western Barbarity.
Vic Biorseth, Wednesday, July 12, 2017
https://www.catholicamericanthinker.com
Cultural Marxism may be the mightiest weapon in Satan's arsenal. It is certainly destroying more good in the world than Revolutionary Marxism managed to destroy. And Revolutionary Marxism only succeeded here and there - in Russia, in China - where each takeover could be more likened to a coup d'état than a Revolution, and certainly not anything like a popular revolution. The populace didn't even know what was going on until it was over. In Cuba, it was trickery. Castro pretended to be Democratic, until after victory, when he identified as Marxist/Leninist.
Continue Reading at: Western-Barbarity
Do Not Respond To This Automatic Email.
Reply to this article at Western-Barbarity Comments
Find ALL SITE articles at: The Catholic American Thinker CONTENTS.