Subscribers Newsletter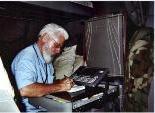 Scripture, properly read, opens up the Wisdom of the Ages
To unlock the wisdom of the ages, the Bible must be read with a prayerful mind, open to more than a purely literal interpretation of the words on the pages.
Vic Biorseth, Thursday, June 28, 2018
https://www.catholicamericanthinker.com

There is so much beauty and wisdom in Holy Scripture that the unbeliever misses out on due to easy, almost automatic dismissiveness of a purely literal interpretation of so much of it. They don't know what they're missing because they don't know how to read it properly. To the atheist, written words have literal meaning, and that's it.

Continue Reading at: Wisdom-of-the-Ages
Do Not Respond To This Automatic Email.
Reply to this article at Wisdom-of-the-Ages Comments
Find ALL SITE articles at: The Catholic American Thinker CONTENTS.