Subscribers Newsletter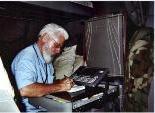 World War III is beginning, and the Big News is the "News"?
The world is tumbling into global war, but Journalism is all atwitter about Brian Williams. Go figure.
Vic Biorseth, Friday, February 13, 2015
https://www.catholicamericanthinker.com/
Quite some time ago, I said that Obama wants world war. Now, it seems, the world is rather rapidly rolling into war, whether it wants to or not. Ready or not, here it comes.
Comrade Obama, peace be upon him, appears to be doing everything in his power to see to it that Iran goes nuclear. The first thing you might be inclined to think of is, if that happens, what happens to Israel. But perhaps there is a bigger target to be hit first.

(Continue Reading at Original Source: World-War-versus-News-Scandal).
Do not reply to this automatic email.
Respond to this article at the actual article:
Respond to World-War-versus-News-Scandal.