Subscribers Newsletter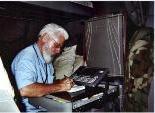 The Crudification of Catholicism, general Christianity, and American Culture.
"Crudification" is a Vic-ism denoting the process of becoming a crude and vulgar people.
Vic Biorseth, Monday, November 02, 2015
https://www.catholicamericanthinker.com/
It began innocently enough. It began with tolerating a little crudity, a little irreverence, a little ill-mannered behavior. Especially if it were tolerated (if not manifested) by someone a little older, thought to be a little wiser, or of higher authority. But, you see, that sort of thing grows. It modifies culture, if we tolerate it. It modifies you, if you allow it. If you look around, you don't have to look too far to see behaviors and public displays that were once upon a time anathema, and even illegal.

(Continue Reading at Original Source: crudification).
Do not reply to this automatic email.
Respond to this article at the actual article:
Respond to crudification.
Find ALL articles at: The Catholic American Thinker CONTENTS.