Subscribers Newsletter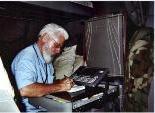 Are the real "Science Deniers" in the top rungs of society, or the bottom?
How is it that we who are called "Science Deniers" are the only ones who ever actually employ the Scientific Method?.
Vic Biorseth, Wednesday, December 02, 2015
https://www.catholicamericanthinker.com/
Thousands and thousands of bloviating big shots from hundreds of nations all flew by jumbo jet to the "Commune" (how appropriate) of Le Bourget, in a Paris suburb. While there, from November 30 until December 11, they will all exhale CO2 and fart methane, as they bloviate on and on about their heroic efforts to save the planet, not from themselves, but from all the rest of us. At least, that's their public story.

(Continue Reading at Original Source: deniers.).
Do not reply to this automatic email.
Respond to this article at the actual article:
Respond to deniers..
Find ALL articles at: The Catholic American Thinker CONTENTS.