Subscribers Newsletter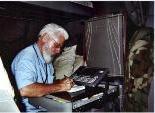 On the natural social enculturation of children, for good or for evil.
Enculturation of American children into Judaeo-Christian civilized culture, or into Marxist and/or Islamic anti-civil cultures.
Vic Biorseth, Sunday, November 22, 2015
https://www.catholicamericanthinker.com/
We Westerners normally think of Western Civilization as "civilized" culture. The Judaeo-Christian morality is the commonly held code of Western Civilization, and "Western" government organization and civil law is based upon and supportive of that common moral code, which makes for a relatively liberated and free citizenry. (To the degree that civil law and ecclesial law are compatible and not antagonistic.)

(Continue Reading at Original Source: enculturation.).
Do not reply to this automatic email.
Respond to this article at the actual article:
Respond to enculturation..
Find ALL articles at: The Catholic American Thinker CONTENTS.