Subscribers Newsletter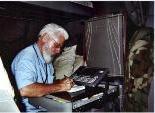 Why all the homo marriage surprise? There is nothing new under the sun.
On the unconstitutional Court legislated homo-marriage surprise. Ho-hum, heavy sigh and here we go again.
Vic Biorseth, Tuesday, June 30, 2015
https://www.catholicamericanthinker.com/
Why the surprise at a continuing long-running trend?
This descent of the Supreme Court into utter nonsense didn't suddenly just go "poof" and pop out of a phony celebration cake. And it's not like it's the first time the Court legislated or unconstitutionally created entirely new federal law that didn't exist before. That's what they do; its what they have become accustomed to doing, and what they ever increasingly do, because they can, and because no one from the other two co-equal branches of federal government stops them. The fact of the matter is, the rest of the government is now just as nonsensical as the Court.

(Continue Reading at Original Source: homo-marriage surprise).
Do not reply to this automatic email.
Respond to this article at the actual article:
Respond to homo-marriage surprise.
Find related articles at: The Treachery and Treason Pages.
Find ALL articles at: The Catholic American Thinker CONTENTS.