Subscribers Newsletter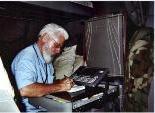 The argument within Islam, and about Islam, regarding the true nature of Islam.
The true nature of Islam: Ron Paul, King Saud, Ali Khamenei, Comrade Obama, all have their versions. So do you. So do I. Which one is it?
Vic Biorseth, Monday, January 12, 2015
https://www.catholicamericanthinker.com/
Religion of Peace, or of World Conquest: Which is it? It cannot be both. To me, it's just crystal clear. There is only one common source that is referred to by all contestants in this debate. Sunni, Shia, Infidel, all, refer to the exact same, one and only Koran. There's not a different version for every available argument or position. There is only one Koran, and there is only one Islam. All who follow Islam follow the same Koran. No exceptions.
So why do we, or anyone, look anywhere else?
Let's just boil it down to one verse, to keep it simple.

(Continue Reading at Original Source: Nature of Islam).
Do not reply to this automatic email.
Respond to this article at the actual article:
Respond to Nature of Islam.