Subscribers Newsletter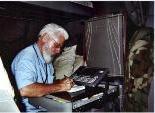 Reidentifying and Rerecognizing Evil for the Sake of Cultural Sanity.
Reality, i.e. Truth, is centered on God. Unreality, i.e. Falsehood, is Evil. Reidentifying and rerecognizing evil for what it is, is our only political problem.
Vic Biorseth, Sunday, April 19, 2020
https://www.catholicamericanthinker.com
For more generations than almost all of us have witnessed, Stalin's Cultural Marxism infiltration, especially the Frankfurt School part of it, along with the John Dewey "Secular Humanism" revolution in education, a theme underlying all educational subjects taught by professional educators has been the the questioning and undermining of authority. At its root, anti-authority is an attack on social order and orderliness.
Continue Reading at: reidentifying-and-rerecognizing-evil
Do Not Respond To This Automatic Email.
Reply to this article at reidentifying-and-rerecognizing-evil Comments
Find ALL SITE articles at: The Catholic American Thinker CONTENTS.