Subscribers Newsletter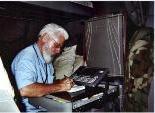 A call to return to the fold, before the global chastisement.
It is not to late to return to the fold in repentance, fasting and prayer, in full conversion, and receive the blessing of the Lord.
Vic Biorseth, Monday, February 01, 2016
https://www.catholicamericanthinker.com/
In the recent Self-Hatred page we spoke of the evil inducement to destructive self-loathing permeating formal education, not only in America, but all over the world. It is a new kind of "foreign invasion" that seeks to turn us against ourselves, against our societies and cultures and religions and institutions. And of how it is winning in that campaign.
This cannot stand. It it reaching its high tide, and there is a reset coming, just as sure as you are reading these words.
(Continue Reading the Whole Article at return-to-the-fold)
Do not reply to this automatic email.
Respond the original article at: return-to-the-fold Comments.
Find ALL articles at: The Catholic American Thinker CONTENTS.