Subscribers Newsletter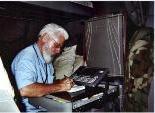 Undoing Evil: Unraveling the sly "Good Intentions" destroying the West.
Undoing Evil means reversing Political Correctness and Amorality, and returning to Pure Meritocracy.
Vic Biorseth, Tuesday, January 13, 2015
https://www.catholicamericanthinker.com/
Our Steady Cultural Destruction has been at work, insidiously eating our Core Principles, under the cover of "The Best Of Intentions". The goal, always, was the Perfection Of Society. The problem is, worldly perfection is not possible. It never was. Men of good intent may only reduce such things as immorality, error and evil, not totally eliminate them. In the face of this fact, the Evil One wants you to believe that you, personally, can perfect the world outside of yourself. That it is possible.
But he is a liar.
Perfection is not of this world, but the next. That, quite simply, is a

(Continue Reading at Original Source: undoing evil).
Do not reply to this automatic email.
Respond to this article at the actual article:
Respond to undoing evil.