Subscribers Newsletter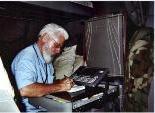 On 4GW Politics, the Systematic Wrecking of Order and Feeding of Chaos
The Illegitimate Biden/Harris regime and the Marxocrat Party are purposely and blindly causing social disorder, without even knowing how to take advantage of it
Vic Biorseth, Tuesday, September 28, 2021
https://www.catholicamericanthinker.com
Biden and Harris, like their party, are anti-American Marxists. (It is not possible to be a Marxist of any variety and not be an anti-American.)
Granted, Biden, besides being a criminal, is a blithering idiot; and granted, Harris is a mindless puffed-up posturing buffoon; but they are mere tools of the leaderless 4GW Politics that has gotten off the leash and taken over from old time Marxism.
Continue Reading at: 4GW-Politics
50 most recent articles updated on this Web-Site: BLOG (Web-Log) Page
Do Not Respond To This Automatic Email.
Reply to this article at 4GW-Politics Comments
Find ALL SITE articles at: The Catholic American Thinker SITE MAP.