Subscribers Newsletter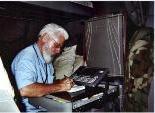 Jesus had Zeal for His House. Do we have Zeal for our American House?
Is there any evil, any sin at all, before which you would stand firm and say "Not in my house!"?
Vic Biorseth, Tuesday, April 07, 2015
https://www.catholicamericanthinker.com/
"Jesus always sought out the sinners!" is always the loud proclamation of the worst of modern scandalous public sinners these days. And He did; true enough. He entered their houses, and He ate with them and He even called them. But he never sought out sinners to join them in their sin, or to remain in their company while they continued unrepentant in their sin. He sought them out not to bless their sinfulness, but to heal them from it. He called them to repentance and conversion from their sin, in every single case.
With Zacchaeus the conversion was instantaneous. Jesus' instruction to the woman caught in adultery was to go and sin no more. Even the Prodigal Son came home repentant and converted, ready to do penance in obedience. Of his own free will, which was the same way he left his father's house. By your own free will is the only way you can leave Grace, and by your own free will is the only way you can return to Grace. You cooperate with the grace that is given you, or you do not, by your own free will.
But today everyone seems to have forgotten that very simple fact.
As we said in the Scandal treatment, when a Christian people no longer recognize Scandal any more, they are no longer a Christian people. If they cannot even recognize mortal sin any more, they are spiritually dead. When mortal sin is a normalized part of any culture that culture has lost its soul. When a culture goes so far as to legally protect if not promote mortal sin, that culture is damned. By its own free will.

(Continue Reading at Original Source: American House).
Do not reply to this automatic email.
Respond to this article at the actual article:
Respond to American House.