Subscribers Newsletter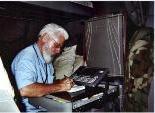 Antireality: The Anti-Reality of the World's Islamo-Commie-Homo Elites
Antireality is running the current Vatican, and it is running the current US government. But there is a Catholic and an American Sensus Fidei still prevalent.
Vic Biorseth, Thursday, February 04, 2021
https://www.catholicamericanthinker.com
The recent Nothingness article by Linda Kimball got me thinking about Antireality again. It points out, rather brilliantly, the actual insanity of our elites. (Insanity, by my definition, is a break with reality; the inability to recognize reality, or truth, and the inability to behave in agreement and in accordance with actual reality.)
Continue Reading at: Antireality
50 most recent articles updated on this Web-Site: BLOG (Web-Log) Page
Do Not Respond To This Automatic Email.
Reply to this article at Antireality Comments
Find ALL SITE articles at: The Catholic American Thinker SITE MAP.