Subscribers Newsletter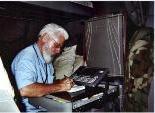 Breaking the Parties and ending their illegal control of government.
Political Parties were never Constitutional. Making American government more manageable, representative and Constitutional begins with breaking the Parties.
Vic Biorseth, Wednesday, April 27, 2016
https://www.catholicamericanthinker.com/
Breaking the Parties should be Job One for anyone determined to return America to Constitutionalism.
Breaking the Parties would be a major step in breaking "The Club" of the Washington - New York high-society elitists, celebrities, socialites, crony-capitalists, CEOs, lobbyists, special interest groups and billionaires who actually own and drive both Political Parties from behind the political scenery.
Getting rid of our Political Parties would be relatively easy for anyone determined to do it, because Political Parties are already illegal and unconstitutional entities. All the political and government power the Parties wield is unauthorized by the Constitution, and illegal.
(Continue Reading the Whole Article at Breaking-The-Parties)
Do not reply to this automatic email.
Respond the original article at: Breaking-The-Parties Comments.
Find ALL articles at: The Catholic American Thinker CONTENTS.