Subscribers Newsletter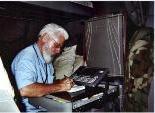 Attacking Catholic Darwinism, from the purely Catholic perspective.
This site has always challenged Darwinism from the purely scientific perspective. Now, we see another Catholic champion of Truth attacking Catholic Darwinism from Revealed Truth.
Vic Biorseth, Wednesday, July 05, 2017
https://www.catholicamericanthinker.com
My challenge to committed Darwinists has always been of the put up or shut up variety, demanding scientific proof, or any truly scientific basis for their silly belief. The Darwinism Pages are full of these challenges. Speciation - the natural "evolutionary" generation of any new species that may reproduce itself, but may no longer reproduce with the parent species - has never been observed by man. Nor has any speciation event ever been found in the fossil record. Nor has any forced-speciation event ever been accomplished in the laboratory, using short-lived species.
Continue Reading at: Catholic-Darwinism
Do Not Respond To This Automatic Email.
Reply to this article at Catholic-Darwinism Comments
Find ALL SITE articles at: The Catholic American Thinker CONTENTS.