Subscribers Newsletter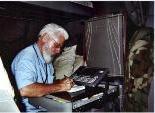 Damn the Delegates, and Damn the Party, but Not the Two Best Candidates.
It is the Delegate System, and the Party System, that Trick Us and Diabolically Divide Us.
Vic Biorseth, Tuesday, April 19, 2016
https://www.catholicamericanthinker.com/
Poor Rush. He's explained it now so many times he's turning blue in the face, and still, his most committed Trump-bot callers, and Cruz-bot callers, just don't get it. Or they won't accept it. Or they can't believe it. Maybe the problem is that they've allowed themselves to become Trump-bots and Cruz-bots, and they're now blind to any other possibilities.
(Continue Reading the Whole Article at Damn-The-Delegates)
Do not reply to this automatic email.
Respond the original article at: Damn-The-Delegates Comments.
Find ALL articles at: The Catholic American Thinker CONTENTS.