Subscribers Newsletter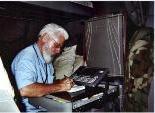 Destigmatizing Evils and Unrealities and the Marxifying of Fox News
Why were criminality, insanity, drunkenness, addiction, perversion destigmatized, accepted, approved and welcomed into "polite" Christian and American culture?
Vic Biorseth, Thursday, June 16, 2022
https://www.catholicamericanthinker.com
We have said that the multicultural-diversity-inclusive-non-divisive movement was suicidal for any distinct human culture, and that it was and is driven by the evil Cultural Marxism movement, aimed at getting us to destroy ourselves as a distinct, identifiable people. Communism, after the collapse of the Soviet Union, changed its "means" from mostly inciting direct violent revolution to a thousand and one smaller and more hidden and deceptive cultural revolutions. Today, it may be said that multiculturalism is Communism. They are one and the same thing.
Continue Reading at: Destigmatizing
50 most recent articles updated on this Web-Site: BLOG (Web-Log) Page
Do Not Respond To This Automatic Email.
Reply to this article in comment section of Destigmatizing Comments
Find ALL SITE articles at: The Catholic American Thinker SITE MAP.