Subscribers Newsletter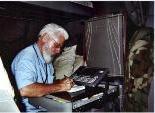 Is Discrimination prohibited to Government, or to Citizenry?
Our Constitution restrains government, not citizenry; it FREES the citizenry to discriminate.
Vic Biorseth, Tuesday, March 31, 2015
https://www.catholicamericanthinker.com/
Once upon a time, Discrimination was not a bad word or a sin or part of a program of racism. It was just a word. What it conveyed was nothing more than an ability to discern differences and make decisions. In that context, Discrimination is nothing more than Common Sense, guided by Adult Judgment, further refined by a Properly Formed Conscience. You exercise Discrimination with every single choice or decision you ever make in life, from the smallest and most mundane to the greatest and of most importance. You cannot stop Discriminating unless and until you stop living, or stop living free.

(Continue Reading at Original Source: Discrimination).
Do not reply to this automatic email.
Respond to this article at the actual article:
Respond to Discrimination.