Subscribers Newsletter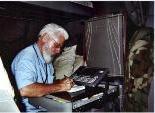 In The End, The Great Divider Wins Against the Great Unifier
SATAN seeks to 'bring us all together' while Jesus Christ, the Lord thy God, the Great Divider, judges us, as we divide ourselves into the Sheep and the Goats.
Vic Biorseth, Sunday, February 28, 2021
https://www.catholicamericanthinker.com
Once again, we are a nation divided. Once again, we face the consequences of that division. But maybe there's nothing so unusual about that. Maybe man has been 'divided' since the Fall. Maybe God is The Great Divider.
Continue Reading at: Great-Divider
50 most recent articles updated on this Web-Site: BLOG (Web-Log) Page
Do Not Respond To This Automatic Email.
Reply to this article at Great-Divider Comments
Find ALL SITE articles at: The Catholic American Thinker SITE MAP.