Subscribers Newsletter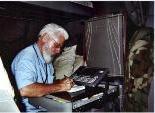 On Losing the Ideological War by default, by not even recognizing it.
Fully prepared for physical war, Satan's more Spiritual Assault just rolls over our consciousness and preparations by waging Mind-And-Soul Ideological War.
Vic Biorseth, Monday, April 05, 2021
https://www.catholicamericanthinker.com
How many Hippie, Yippie, Dopey Drop-Out "Revolutionaries" of the Revolutionary 'Sixties, who's favorite motto was 'make love, not war', do you suppose saw themselves as independent thinkers who came up with all their new and unique Hippie notions all on their own?
And yet, none of them did. All of them, like Pavlov's Dog, were trained to believe what they believed and do the things they did. Marcuse and/or other 'Marcusian' professors trained them to 'make love not war' and Cronkite and/or other 'Cronkite-ian' journalists trained them to hate America and America's military
Continue Reading at: Ideological-War
50 most recent articles updated on this Web-Site: BLOG (Web-Log) Page
Do Not Respond To This Automatic Email.
Reply to this article at Ideological-War Comments
Find ALL SITE articles at: The Catholic American Thinker SITE MAP.