Subscribers Newsletter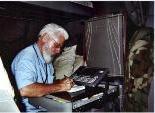 Is Marxism's Long March Through The Institutions Finally Completed?
The Corrupted Institutions Now Running Church And State Appear To Be Marching whole Fooled And Mesmerized National Populations, Mostly Willingly, Into A New Global Gulag.
Vic Biorseth, Thursday, April 01, 2021
https://www.catholicamericanthinker.com
These are terrible things to be thinking about during Holy Week; but we can't help it. At it's core, it's all about the elimination of Holy Week, and of everything that is Holy. This the day of the Last Supper, and this will be the night of the Great Betrayal.
And now, it appears that we are all - all of us - being betrayed.
Continue Reading at: Institutions
50 most recent articles updated on this Web-Site: BLOG (Web-Log) Page
Do Not Respond To This Automatic Email.
Reply to this article at Institutions Comments
Find ALL SITE articles at: The Catholic American Thinker SITE MAP.