Subscribers Newsletter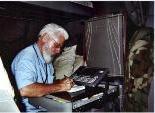 On the Invincible Arrogance of Justice, FBI and even the IG.
An IG Report over-loaded with examples of bias, with a Summary that finds "No Bias", is Criminal-Level Supreme Arrogance.
Vic Biorseth, Friday, June 15, 2018
https://www.catholicamericanthinker.com

The far too long awaited IG report on the totally corrupt and botched supposed investigation of Madam Hillary's criminal use of her peronal non-government server has arived. You can read the whole thing right here if you're so inclined. It starts out with an "Executive Summary" that finds no political bias in the investigators. Then, it goes another 500+ pages of detailed report loaded down with glaring example after glaring example of political bias in the investigators. Includin rabid political bias.

What more needs to be said?

The Inspector General indicts himself with extrene bias with this report.

Continue Reading at: Invincible-Arrogance
Do Not Respond To This Automatic Email.
Reply to this article at Invincible-Arrogance Comments
Find ALL SITE articles at: The Catholic American Thinker CONTENTS.