Subscribers Newsletter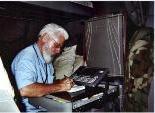 We Can Either Start Militarizing Ourselves, Or Go The Way Of Australia
Our American Forebearers never should have disbanded their original Nation-Wide Local Militias.
Vic Biorseth, Saturday, September 25, 2021
https://www.catholicamericanthinker.com
From my admittedly limited personal perspective, it looks to me like citizen liberty in Australia is toast. The whole continent now appears to be one big police state, and there's not a damned thing the citizenry can do about it.
Continue Reading at: Militarizing
50 most recent articles updated on this Web-Site: BLOG (Web-Log) Page
Do Not Respond To This Automatic Email.
Reply to this article at Militarizing Comments
Find ALL SITE articles at: The Catholic American Thinker SITE MAP.