Subscribers Newsletter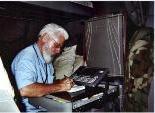 Lord, How I miss Rush. Every Day, But Especially On Mondays.
That theme song and that voice brought, daily, an anticipated calming good-order, commentary, news, proper interpretation, and humor, to millions of troubled minds.
Vic Biorseth, Wednesday, February 24, 2021
https://www.catholicamericanthinker.com
I don't know about you, but it hit me hardest on Monday.
Hearing Kathryn's calm, controlled voice, making that announcement we all knew was coming, on the previous Monday wasn't such a gut-punch, because somehow, deep down, we knew it was coming. If the last week of no-Rush-radio was really due to a "treatment week", we think Rush would have announced it ahead of time. We knew, without being told, he had taken a turn for the worse, and perhaps his time on earth was up.
Continue Reading at: Missing-Rush
50 most recent articles updated on this Web-Site: BLOG (Web-Log) Page
Do Not Respond To This Automatic Email.
Reply to this article at Missing-Rush Comments
Find ALL SITE articles at: The Catholic American Thinker SITE MAP.