Subscribers Newsletter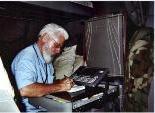 Promoting Moral Depravity: the popular sport of the intellectual elites.
Almost no one knows they are promoting moral depravity, but almost everyone is.
Vic Biorseth, OWM; Friday, July 25, 2014
https://www.catholicamericanthinker.com/
Almost everyone wants to "bring us all together" for the cause of saving the Republic, or unifying the Church, or ecumenism, or "getting along", or whatever. But few recognize the simple fact that if all of us were to gather together, we would have gathered evil into the midst of us.
Evil exists to grow itself.

(Continue Reading at Original Source: Promoting Moral Depravity).
Do not reply to this automatic email.
Respond to this article at the actual article:
Respond to Promoting Moral Depravity