Subscribers Newsletter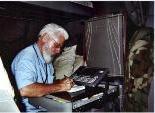 Rethinking War on Islam: War on "parts" of Islam, or, Unlimited War.
Rethinking War on Islam may mean a perpetual state of war, for Islam's evil cannot be separated out.
Vic Biorseth, Tuesday, February 24, 2015
https://www.catholicamericanthinker.com/
There is nothing holy about the Koran. It is loaded down with evil, hate and cruelty toward the other, with blind, slavish submission required of the disciple. All under pain of death. Read it yourself and see if you don't come to the same conclusion.
When I wrote War on Islam, external Jihad, regardless of what name it traveled under, was to be separated out for destruction, wherever it reared it's evil head. See the link for the strategic details. Moslems who did not support or participate in Jihad were to be left alone.
My thinking was that the "peaceful Moslem" was the Moslem who did not really know his own faith very well, and did not really practice it or

(Continue Reading at Original Source: Rethinking war on Islam).
Do not reply to this automatic email.
Respond to this article at the actual article:
Respond to Rethinking war on Islam.