Subscribers Newsletter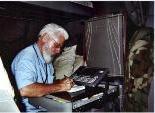 Stupid Political Arguments: False Premises and Talking In Circles.
Presenting the stupid political arguments of our Marxist Democrats, always initiated and publicly argued for them by their News Media.
Vic Biorseth, Thursday, April 23, 2015
https://www.catholicamericanthinker.com/
Marxocrat Party political candidates for office often remain aloof and untouched by the sound and fury of the contest. The reason is that their almost totally owned "Journalists" do most of their real work of political argumentation for them. They put forth the main Marxist arguments, which are to say, the anti-Constitution and anti-American Ethos arguments, by ad hominem attacks on Republicrat Party opponents. And our Republicrats almost always accept the false premises of the arguments and begin nuancing and detailing their positions, arguing in circles, getting way off message, and wasting time and energy on foolishness. All while being demonized in the public eye.

(Continue Reading at Original Source: Stupid-Political-Arguments).
Do not reply to this automatic email.
Respond to this article at the actual article:
Respond to Stupid-Political-Arguments.