Subscribers Newsletter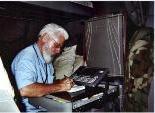 The Scientism Pages highlight Democratic Group Think in Material Science.
The Scientism Pages identify Popular Ideas touted as Scientific by silly, sophomoric "Scientists".
Vic Biorseth, OWM; Monday, September 22, 2014
https://www.catholicamericanthinker.com/
Not to speak is to speak. We have said it many times in many ways in this website. There are many situations in which holding your tongue is not only speaking, not only wrong, but sinful; and not only sinful, but treacherous. There is a line in Kipling's poem, IF, as follows:
" ... If you can keep your head while all about you are losing theirs, and blaming it on you ...
that begins to illustrate the point. If you are the only one in a classroom, or a lecture hall, or an audience, or a laboratory, or even at a dinner table, who immediately recognizes the the error in a position everyone else present supports, then and there, by your own silence, do you support, sustain and promote error. And the error grows. With your help. You become a participant in error and falsehood.

(Continue Reading at Original Source: The Scientism Pages).
Do not reply to this automatic email.
Respond to this article at the actual article:
Respond to The Scientism Pages.