Subscribers Newsletter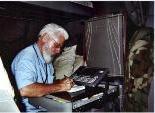 The False Theology of Scientism
Non-empirical theory masquerading as science.
Evidence? What evidence? We don't need no stinking evidence.
Vic Biorseth, OWM; Saturday November 16, 2013
https://www.catholicamericanthinker.com
When a Website begins to get large and holds a significant number of separate Webpages, it can become difficult for readers to find the ones they are interested in reading. TCSC pages are thus separated into groups by related subject matter, and each member-page of a given group has a set of links to the rest of that group in the right column of the page.
This newsletter is part of a series that will introduce the various groups of TCSC webpages.
=====
The Purpose of this grouping of links is to highlight pseudo-science topics with nothing behind them other than broad consensus, described by F. A. Hayek as Scientism.
The Scientism Pages
Describing the abandonment of the scientific method in favor of "Democracy in Science", meaning, science done by gathering of popular consensus among "scientists". Old-Boy's-Club science, with awards, congratulations, drinks and cigars all around. (My list of scientists is longer than your list of scientists, therefore my opinion is scientific, and yours is not.)
Scientism created and fed Darwinism. Scientism and Darwinism created and fed Freudianism. Scientism, Darwinism and Freudianism created and fed Marxism. Thus, while Islam poses the greatest threat to civilization from the outside, Scientism poses the greatest threat to civilization from the inside. Scientism is a disease of the psyche that attacks human reason.
Refuting Scientism, the term coined by F. A. Hayek for modern pseudo-science. Refuting Scientism is another ho-hum, heavy-sigh, here-we-go-again effort to return to truth, common sense and sanity.
The Modernist Heresy: Western Man's Descent from Philosophy into Modernism. Modernism is the heresy of heresies, because it carries within it all previous heresies, being as it is a direct, frontal assault upon faith and all doctrine and dogma.
The Population Problem: A Real Problem, or a typical Scientistic Myth? If England has a higher population density than China, and Hong Kong's is higher than Bangladesh, then maybe the real problems are not related to any over - population problem.
The Enlightenment and Scientism advance at the expense of Western Civilization. From Voltaire to Enlightenment and Scientism to Modernism, the ill-informed cheer the process along even as it destroys Western Culture.
"There is no such thing as Scientism" say those who practice it. If Scientism is a false term, then by what title to we refer to "Scientific Theory Established By Vote"?
Eco-Nazi -ism: global problems demanding global solutions, and, global mastery. The Eco-Nazi movement actually describes two movements: those who say "it's the economy, stupid" and those who say "it's the ecology, stupid."
Global warming is outed as another global consensual fraud. So what else is new? As a global consensual fraud, global warming is not the biggest, the oldest, the longest running, or the most expensive. It's just the latest one.
Well, is it Global Cooling, or is it Global Warming? Is there any consensus? What is needed is some real Scientistic Consensus on whether we should all be screaming "Global Cooling!" or "Global Warming!" as we all run about, on queue, mindlessly waving our arms in terror.
This ain't Health Care. It's all a giant pile of lies. No, it isn't really Health Care. Nothing in Obamunism is what it appears to be.
The HIV AIDS myth has cost many human lives and untold billions of dollars. The HIV AIDS Myth may be the greatest and most massive international hoax since Piltdown Man. HIV AIDS DEATH is the formula, but where, pray tell, is there any empirical evidence at all supporting it?
A fatal false premise is a deadly logical trap for the mal-educated person. A Fatal false premise with broad general consensus will always trump reason, evidence and critical thinking.
Against the great Communist Lie; the old, current and newer forms. Our argument: The whole "Communist Dream" is a lie; the history of "Communist Revolution" is a lie; virtually everything about Communism is just a big elaborate flagrant categorical lie.
Silly premises built on crumbling foundations: Global Villageism & Evolutionism. The Dem Global-Villagers insist the US Constitution was written to cover all citizens of Earth; Disciples of Scientism and Evolutionism all genuflect before their high priest, Richard Dawkins.
The Galileo Inquisition: Contemporary Icon for the Enlightenment and Scientism. The Galileo Inquisition was no small affair at the time, but over the centuries it has grown and become a club with which to beat the Church, and to promote the myth of the "Dark" ages.
On Evil and Nonsense: Look closely at Nonsense, and find Evil at its root. Evil and and Nonsense: deny evil and you deny right vs. wrong; which is to deny common sense, which is to invoke nonsense.



Do not reply to this automatic email.
Respond to this article at the link below:
Thinking Catholic Strategic Center