Subscribers Newsletter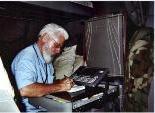 On Traditionis Custodes, Pope Francis' Restriction of the Latin Mass.
Calm down; the Motu Proprio 'Traditions Custodes' does not abrogate the Latin Mass, but the previous Motu Proprios of John Paul the Great and Benedict XVI.
Vic Biorseth, Sunday, July 18, 2021
https://www.catholicamericanthinker.com
Traditionis Custodes does not suppress the Latin Mass. No one should leave the Church or break from it, or stop going to Mass over it, at the cost of their souls. And that is what it would cost.
No one, including Satan, can drive you out of the Church, but you. You have to leave the Church on your own. Remember EENS, and remember that apart from Rome, you are not in the Church. There is one and only one Church, and this is it, warts and all.
Continue Reading at: Traditionis-Custodes
50 most recent articles updated on this Web-Site: BLOG (Web-Log) Page
Do Not Respond To This Automatic Email.
Reply to this article at Traditionis-Custodes Comments
Find ALL SITE articles at: The Catholic American Thinker SITE MAP.