Subscribers Newsletter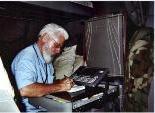 The Rampant Unconstitutionism in Marxocrat Party Positions.
Chris Matthews' question of Trump re punishing women for getting abortions puts Leftist Unconstitutionism on open public display.
Vic Biorseth, Tuesday, April 05, 2016
https://www.catholicamericanthinker.com/
And it puts Republicrat Party "Bipartisan Cooperation" with Leftist Unconstitutionism on open public display, too. Matthews and the rest of the Mainstream Media are owned, operated and driven by the same Ruling Class Club of Washington Establishment Elites who own, operate and drive the whole Political Party System, and America, through absolute Unconstitutionism. And nobody even notices any more.
(Continue Reading the Whole Article at Unconstitutionism)
Do not reply to this automatic email.
Respond the original article at: Unconstitutionism Comments.
Find ALL articles at: The Catholic American Thinker CONTENTS.