Subscribers Newsletter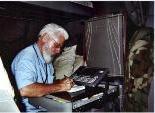 United we stand, divided we fall; granted. But with whom may we unite?
All variants of believing Christians and Jews must unite, politically. But believing Christians and Jews cannot unite with anti-Christians and anti-Jews.
Vic Biorseth, Friday, January 22, 2021
https://www.catholicamericanthinker.com
Faux President Biden is a liar; he does not want to unify us; he wants to eliminate us, because we oppose his Marxism and his anti-Americanism. He wants to criminalize our speech, our thoughts, and ultimately, us. He is not an American; he is a Globalist. He is a faux President who is the darling of a faux Pope, who also is a Globalist. They both are more in alignment with the global politics of Xi Jinping and his CCP than they are with America and with Catholicism.
Continue Reading at: United
50 most recent articles updated on this Web-Site: BLOG (Web-Log) Page
Do Not Respond To This Automatic Email.
Reply to this article at United Comments
Find ALL SITE articles at: The Catholic American Thinker SITE MAP.