Subscribers Newsletter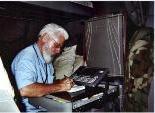 Does the Year Of Mercy mean the end of Moral and Spiritual Discernment?
Fr. Larry Richards says the one thing you are absolutely forbidden to ever apply to anyone else is Judgment. Is that true? And is Mercy absolutely Limitless?
Vic Biorseth, Saturday, January 02, 2016
https://www.catholicamericanthinker.com/
I'm a talk radio freak. Since, as a local courier, my office is my car, I listen to it all the time. I usually start out with Glenn Beck, but whenever that show descends into "Moron Trivia" or other such nonsense, I switch to Herman Cain for more substantive conservative discussion. Then, I listen to Rush, faithfully. Then, it's time for Sean Hannity, and again, whenever Sean descends into either Cafeteria Catholicism, trivial discussion or another long litany of self-praise I switch to Catholic Radio. And after Sean, I always switch on Catholic Radio. Lately, that means listening to Fr. Larry Richards, for one of his The Reason For Our Hope lecture series.

(Continue Reading at Original Source: Unlimited-Mercy.).
Do not reply to this automatic email.
Respond to this article at the actual article:
Respond to Unlimited-Mercy..
Find ALL articles at: The Catholic American Thinker CONTENTS.