Subscribers Newsletter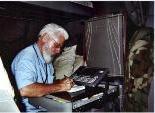 On the growing and feeding of Useful Idiocy to advance Marxism.
The evil, purposeful, planned, "unintended consequences" and opposite results, all made possible through the growing of Useful Idiocy.
Vic Biorseth, Thursday, April 14, 2016
https://www.catholicamericanthinker.com/
A long time ago, seemingly in another galaxy far away, we described Leftist Useful Idiocy as the civil foolishness induced by massive indoctrination and propaganda, for recruitment of new believers in Marxism, or at least in Marxism's false Ideals. Marx, Lenin and Stalin referred to them as their "Useful Idiots", mesmerized by the lure of the beautiful Communist Utopian Ideal, blithely unaware of their own voluntary marching into slavery. Of course, Communism was a lie from the beginning, and the real goal of Marxism is the achievement of simple Dictatorship, traveling under another false name.
(Continue Reading the Whole Article at Useful-Idiocy)
Do not reply to this automatic email.
Respond the original article at: Useful-Idiocy Comments.
Find ALL articles at: The Catholic American Thinker CONTENTS.