Site best viewed on a computer screen - not optimized for cell phones
Latest 50 articles published or updated here: BLOG (Web-Log) Page

On the growing and feeding of Useful Idiocy to advance Marxism.
The evil, purposeful, planned, "unintended consequences" and opposite results, all made possible through the growing of Useful Idiocy.
Vic Biorseth, Thursday, April 14, 2016
https://www.catholicamericanthinker.com/
A long time ago, seemingly in another galaxy far away, we described Leftist Useful Idiocy as the civil foolishness induced by massive indoctrination and propaganda, for recruitment of new believers in Marxism, or at least in Marxism's false Ideals.  Marx, Lenin and Stalin referred to them as their "Useful Idiots", mesmerized by the lure of the beautiful Communist Utopian Ideal, blithely unaware of their own voluntary marching into slavery.  Of course, Communism was a lie from the beginning, and the real goal of Marxism is the achievement of simple Dictatorship, traveling under another false name. 

Perhaps the most successful tool in the Marxist arsenal for the conversion of normal thinking people into Marxist Useful Idiots is the lure of converting our Constitutional Republic into a Pure Democracy.  It looks, to the unthinking observer, to be a positive thing, because being a Democracy puts the people in charge; right? 

Wrong.  The Ideal of the Pure Democracy is impossible; truly pure Democracy must fail, as the Marxism behind it intends it to fail, and it will fall into Pure Socialism.  

Democracy sounds good, again, to the unthinking hearer, but it cannot work.  Truly pure Democracy is analogous to the lynch mob.  Majority rules on everything, regardless of truth or justice.  If the ayes have it, get the rope and hang the man. 
Tocqueville warned against Democratic tendencies gaining sway over the constraints of our Constitutional Republic, and predicted the consequences.  According to Tocqueville, our Republic would fail when
the people learned they could vote themselves income from their own taxes, and,

the elected representatives learned they could bribe the voters with their own tax dollars. 

And that is what is happening.  By devious Marxist plan.  The very idea of pure Democracy irresistibly tempts, feeds and grows corruption at both ends; the people seek an easy living from the government, and the government seeks to bribe the voters with their own money.  Growing government and raising taxes become ends of their own. 

"The political form of a society wherein the proletariat is victorious in overthrowing the bourgeoisie will be a democratic republic." --Vladimir Lenin
"[W]e must strengthen the United Nations as a first step toward a world government," …. "… We must change the basic structure of our global community … to a new system governed by a democratic UN federation. … Today the notion of unlimited national sovereignty means international anarchy. We must replace the anarchic law of force with a civilized force of law." --Walter Cronkite.
"Democracy is the road to socialism." --Karl Marx.
"Democracy is indispensable to socialism." --Vladimir Lenin.
(Emphasis added.)

Pure Democracy ends, as it must, in total economic collapse.  At the end, more people will be seeking income from taxes than will be producing the taxes, and more tax dollars will be going out than coming in.  An impossible situation, again, purposely induced by evil Marxist plan. 
But the ever growing thundering herd of Marxism's Useful Idiots is simply not smart enough to figure it out. 

The transformation of our Republic into a Democracy goal.

This "transformation goal" is the reason behind the Progressive-Marxist Woodrow Wilson's 17th Amendment to the Constitution, making our Senate into just another body of democratically elected politicians, exactly like the House of Representatives. 
It makes us more "Democratic".  More susceptible to Useful Idiocy. 

The brilliant purpose behind the Framers idea of an independent Senate was to have representation in federal government equally shared between the popularly elected House, and the state appointed Senate.  Individual States, as sovereign entities with duly elected representative governments, were to have equal say with the whole nation's voters in what laws were to be passed at the federal level. 
This tempered Democracy, giving elected sovereign State governments equal representation in congress with the whole of the nation's voting public.  Each State government appointed two Senators, who served at the pleasure of the State Government, not the voters, and were insulated from and impervious to popular politics.  Thus, each individual State's interests would be served, as a counterbalance to the massive popular vote of the whole nation.  Both the State representing Senate, and the People representing House, were required to pass a Bill and send it to the President. 
In this original Constitutional design, Only the members of the House of Representatives were voted in in a purely Democratic national vote.  Senators were appointed and recalled by duly elected, locally reprsentative State governments.  Even the President is elected by the Electoral College. 
The Senators were Statesmen, in the true meaning of that word, and the Representatives, in the House, were Politicians, in the true sense of that word.  They balanced each other. 

Wilson destroyed that, on purpose.  With the aid of his Useful Idiots, who didn't know any better.  That's why we recommended Repealing the 17th Amendment. 
But that wasn't all Wilson did to destroy Constitutional America by edging us into more and more of a Pure Democracy.  He also got ratified the 16th Amendment, establishing a graduated Income Tax, in accordance with Marx's Communist Manifesto, item 2: 

Wilson did this purposely to enable exactly what Tocqueville warned about.  He did it so that: 

the people would soon learn that they could vote themselves income from their own taxes, and,

the elected representatives would soon learn that they could bribe the voters with their own tax dollars. 
And the virus of Marxist Useful Idiocy just grew and grew. 

That's why we recommended Repealing the 16th Amendment, and permanently eliminating income or any other form of private property tax.  Most Useful Idiots are blithely unaware of the glaringly obvious fact that their own personal income is their own private property.  Or that Marxism aims at the end of all private property. 

" The theory of Communism may be summed up in one sentence: Abolish all private property." --Karl Marx.
The Income Tax must be repealed.  As long as any vestige of it remains, some politician in the future will grow it again into the nationally suicidal economic monster that it is today.  The most logical and best prepared replacement for the Income Tax is the Fair Tax, and there is no need to wait for repeal of Amendment XVI to enact it, as we can see in Fast Track the Fair Tax. 

Wilson's third major contribution to the Communizing of America was the Federal Reserve Act of 1913, establishing the FED, which, with major contributions of Herbert Hoover and FDR, actually caused, fed and prolonged the Great Depression, as shown in the Purposeful Economic Catastrophe pages.  This, too, came out of Marx's Manifesto: 

5. Centralization of credit in the banks of the state, by means of a national bank with state capital and an exclusive monopoly. --Communist Manifesto
That's why we called for repeal of the FED. 

The Marxist "Transformation to Democracy Goal" is why Marxocrats repeatedly and periodically seek incite their Useful Idiot base to favor eliminating the Electoral College, to just run Presidential elections by pure popular vote.  As a more pure Democracy. 
It may be why The Donald is crying about the crooked Delegate vote setup in the Party Primary system, without even recognizing the unconstitutionality and illegality of the Political Party system itself.  In all likelihood, he knew full well about the delegate rules in each state ahead of time, but hoped to bypass all of that with his new King Cong approach to just overwhelming the system itself with massive win after massive win.  And when it didn't come out that way, he used the obviously crooked delegate rules to make himself look like an innocent victim of them. 

If you really want to get rid of the corrupt and rigged state Party Delegate system, get rid of the whole unconstitutional Political Party system.  Very simple; nothing to it. 

The Marxist Transformation Rule is certainly why all of theMarxocrat Party, some of the Republicrat Party, all of the Media, academia, entertainment and the Washington - New York elites, including many if not most "conservative" commentators and editorialists, favor an inheritance tax.  Some of them actually tout a 100% inheritance tax. 
Because it would be fair. 

So, a family that grew up working a farm would lose the farm as soon as dad died.  They would not only be out of work, but they would be homeless, because the whole farm would instantly become government property, thanks to a 100% inheritance tax. 
The Family restaurant would be in the same fix; as soon as dad or mom died, the family would be out of business.  It would be the same with every family business.  It would be the same with any family home. 

Which would be a good thing for Marxism, because Marxism opposes the family, in favor of the Commune.  But Useful Idiots don't even think past what happens to society with a 100% inheritance tax.  They don't see their own future labor camps.  They will vote in a 100% inheritance tax, if they get the chance.  And anyone who thinks America's Useful Idiot population is small or insignificant is setting himself up for political defeat.  They make up a huge and growing percentage of the whole American population. 

And this agenda, too, was born of Marxism:

1. Abolition of property in land and application of all rents of land to public purposes. --Communist Manifesto

It's easier to get a whole population herded into government communes and labor camps when most of them move voluntarily in that direction on their own, one step at a time. 

Pre-planned and Fully Intended Unintended Consequences. 

Everything the government does, which is to say, everything the two Parties cooperate to accomplish, is publicly "intended" to make some angry segment of the population less angry, and it always, always, leaves them angrier than they were before. 
Decades and billions if not trillions spent to mollify angry feminists, minorities, homos and all sorts of other wierdos with some false claim to special rights, and all of them are angrier than ever.  Nothing has been resolved, or even made better, if you listen to the various so-called disenfranchised groups.  Why, life is just horrible in America, and more horrible than ever in history. 
Well, gee, I wonder why, after all these years, all these expensive government programs, all these tax dollars, all these regulations, all these crazy court decisions, all these settlements, all these neighborhoods burned and businesses shut down, all in the name of something or other. 

We got our child-labor laws, unlike at our founding, when kids worked the family business or some other business and learned how to make a living long before they were on their own.  Now, we have kids who don't know anything about making a living or living a practical life, with college educations, outlandish student loan debt, and living with mom and dad into their thirties and forties. 
And mom and dad are each working multiple jobs, because nobody has a full time job any more since Obamacare destroyed the job market, and nobody can afford health insurance either. 
Gosh, once again, I wonder why. 

We got our minimum wage laws, some of them as much as $15 per hour or even more, and, guess what, big business is laying lots more people off and small business is going out of business, and so the people who would be making the minimum wage are making nothing, because they are now permanently unemployed. 
Whodathunkit? 

We need child labor laws and minimum wage laws, to be fair, right?  And we need huge bureaucracies like OSHA to make sure no one ever gets any kind of a boo-boo at work, right?  And we need the EPA to make sure nothing any dirty rotten Capitalist does will interfere in any with any Turtle Crossings, or any insect migration routes, right? 
All in the name of fairness. 

This is not what Trump is doing; it is what the Parties are doing. 

Why does anyone wonder why Trump is so popular?  He's not destroying us.  The Establishment - the Parties and the Club - are systematically destroying us.  He wants to stop it. 
He's not conservative?  Well, neither are the Parties. 
He's not a good Christian?  Well, neither are the Parties. 
He's a Narcissist?  Well, so are the Parties. 
He's a Crony Capitalist?  Well, so are the Parties. 
He's not highly moral?  Well, neither are the Parties. 
He doesn't know how to govern?  Well, neither do the Parties. 
He might become a Fascist?  Well so might the Parties. 
He might become a dictator?  That is the Marxocrat Party aim. 
And nobody is stopping them. 

What person or what business could possibly be more of a Crony Capitalist than either of our two existing major Political Parties, which are totally private entities, money-making businesses, participating with each other in the absolutely unconstitutional running of the Constitutional government of the American nation? 
They aren't even mentioned anywhere in the Constitution. 

Purposeful Party-Sponsored Culture Rot. 

Entertainment led the way, with Party support.  Jazz and Swing of the 1940s morphed into the innocent seeming Rock & Roll of the 1950s; but then, in the 1960s and 1970s, it took a hard turn.  Coinciding with the Sexual Revolution and the Free Sex Movement, the birth of "Acid Rock" and "Heavy Metal" brought with it Satanic, diabolic, demonic appearances, in costumes, make-up, graphics on album covers and shocking stage appearances. 

This was the fruit of academic and educational opposition to authority, tradition and all institutions.  For many decades, since Dewey and the Frankfurt School, professional teachers were striving to produce opposition to their demonized "authoritarianism" by turning students into "Revolutionaries", the opposite of authoritarians. 

"The revolutionary is the man who has emancipated himself from ties of blood and soil, from his mother and his father, from special loyalties to state, class, race, party, or religion." --Eric Fromm & Abraham Maslow
There you have it.  Down with all tradition.  Down with traditional religion.  Down with all traditional institutions.  Down with traditional attire and styles.  Up with whatever is left.  Don't trust anyone over 30. 

This is how and why all sorts of unnatural, sick and twisted perversions become promoted and preferred and popular; and, of course, supported by the Parties.  Both of them. 

Say one word against any form of sexual impurity or un-chastity, and the whole Masturbation Industry will be down on you like a ton of bricks, along with the Femi-Nazis, the Homo-Nazis and, guess what, the Political Parties, and the Party-owned-and-operated Courts. 

They even openly oppose biological science in supporting all the current trans-gender lunacy, and they oppose this clear science with a whole lot of political and legal support.  Is it any wonder that politics and law stand on the side of the Climate Change hoax?  

High ranking clerics, including Catholic clerics, are right in there with the biggest science deniers supporting this garbage.  So now we see, as a commonplace, grown men and women with pierced lips, noses, eyebrows and who knows what else, tattooed all over, even wearing their pants down below their asses, and that's the norm.  Obvious self hatred, to the point of self mutilation, on proud public display. 

What can I say?  What more can be said? 
Constitutional Politics involves Statesmanship.  Political Party Politics is big business, pure and simple.  It's a private for-profit-business with a private agenda that has nothing to do with any constitution or any body of citizens or any voters.  It's the opposite of Statesmanship. 

Don't be a Useful Idiot. 
Seek the Truth; find the Way; live the Life.
May you please God, and may you live forever. 

=====
Sarcastic Acronym Hover-Link Footnotes: For the convenience of those readers using devices that lack a mouse, these footnotes are provided for all webpages, in case any webpage contains any hover-links. (If you don't have a mouse, you can't "hover" it over a link without clicking just to see the simple acronym interpretation. Click any footnote link to see the acronym and a detailed explanation; "Hover" the mouse over it just to see the simple interpretation.)
SLIMC1
Secularist Liberal Intellectual Media Complex
GESGOEAEOT2
Gradually, Ever So Gradually, Over Eons And Eons Of Time
PEWAG3
Punctuated Equilibrium's Wild-Assed Guess
TTRSTF4
Them There Real Scientifical-Type Fellers
TTRSPTF5
Them There Real Smart Perfesser-Type Fellers
TTRSJTF6
Them There Real Smart Journalistical-Type Fellers
SNRTACBT7
Surely No Right Thinking Adult Could Believe Today
STNSEACPB8
Surely Today No Serious Educated Adult Could Possibly Believe
WDN9
We Don't Know
BMDFP10
Baboons, Mongrel Dogs, Filthy Pigs and ...
HBAACOTE11
Human Beings Are A Cancer On The Earth
ACLU12
Anti-Christian Litigation Union
FLORMPORIF13
Flagrant Liar, Or, Mindless Parrot, Or, Innocent Fool
MEJTML14
Marxist Ends-Justify-The-Means Liar
IEJTML15
Islamic Ends-Ends-Justify-The-Means Liar
MPAV16
Marxist Principles And Values
WBESSWG17
Wise, Benign, Elite, Super-Scientific World Governance
TRMITM18
The Reason Man's In This Mess
IYI19
Intellectual Yet Idiotic
TTRSCBTF20
Them There Real Smart Catholic Bishop Type Fellers
IACMPVND21
Illegal-Alien-Criminal Marxocrat-Party-Voting Nation-Destroyers
PEJTML22
Palestinian Ends-Justify-The-Means Liar
PSYOP23
"Psychological Operation" Mind Trick
CDC24
Covid Developmentally Challenged
LGBTQ+25
Every Letter Represents A Serious Psychotic sexual Identity Disorder
[All Web Pages listed in Site Map by date-of-publication;
oldest at the top, newest at the bottom of the list.]

Culture=Religion+Politics;  Who Are We?  Vic Biorseth
The Brilliantly Conceived Organization of the USA;  Vic Biorseth
Return to the BLOG page
Return to the HOME PAGE
Subscribe to our Free E-Zine News Letter
Comment
Respond to this WebPage immediately below the last comment.
Or,
---
Date:  Fri Apr 15 13:30:05 2016
From:  Maria
Email:  
Location:  Ireland
Comment: 
Vic, not only have political parties become corrupt, but also most NGO's.  They are looking out for the big paycheck.  Anytime I am asked to donate to charitable institutions my first question is always what do the top guys and gals earn?  I do not work hard and donate my money to make someone else live the high life while I toil away each day and do not have a hope that my standard of living or pension will be even a fraction of theirs.  I have no problem with these people earning a living wage, but living at the pig's trough?  We should also apply the same logic and questions when it comes to parties and politicians.  However, the number of people who can benefit from friendships and coordination with these people is so vast that it would corrupt Satan.  The people that donate based on endorsement and no research are useful idiots.  Follow the money and you will find corruption and stupidity. Corruption has kept Africa and many South American countries in poverty and misery and the West has now started a competition to see who can fleece the most.

---
Date:  Fri Apr 15 2016
From:  Vic Biorseth
Comment:  
Maria:
Amen and Amen!
Few things in this modern world make less sense than a "Non-Government Organization" as an official recognized member of an organization of Governments. 

Regards,
Vic
---
Language and Tone Statement

Please note the language and tone of this monitored Website. This is not the place to just stack up vulgar one-liners and crude rejoinders. While you may support, oppose or introduce any position or argument, submissions must meet our high Roman Catholic and Constitutional American standards of Truth, logical rigor and civil discourse. We will not participate in merely trading insults, nor will we tolerate participants merely trading insults. Participants should not be thin-skinned or over sensitive to criticism, but should be prepared to defend their arguments when challenged. If you don't really have a coherent argument or counter-argument of your own, sit down and don't embarrass yourself. Nonsensical, obscene, blindly &doggedly anti-Catholic, anti-American, immoral or merely insulting submissions will not be published here. If you have something serious to contribute to the conversation, be prepared to back it up, keep it clean, keep it civil, and it will be published. We humbly apologize to all religious conservative thinkers for the need to even say these things, but the Hard Left is what it always was, the New Leftist Liberals are what they are, and the Internet is what it is.
"Clickbait" advertising links are not acceptable for posting here. 
If you fear intolerant Leftist repercussions, do not use your real name and do not include email or any identifying information.  Elitist Culturally Marxist Pure Authoritarians cannot and will not tolerate your freedom of speech or any opposition to their rigid authoritarian, anti-equality, anti-life, anti-liberty, anti-property, hedonistic, anti-Constitution, pro-Marxist, pro-Islam, anti-Catholic, anti-Christian, anti-Semitic, anti-male, sexist, pro-homosexual, anti-heterosexual, anti-white, racist, anti-Western, anti-American, Globalist, anti-Nation, blatantly immoral, totally intolerant and bigoted point of view. 
Copyrighted Material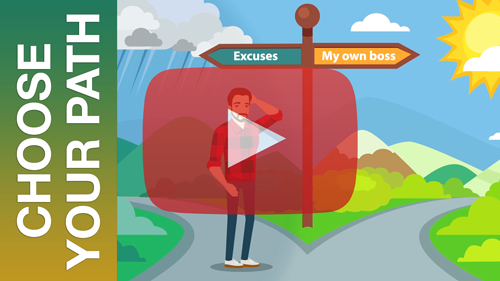 Solopreneur Opportunity Links, for a
Solo Build It WebSite