Site best viewed on a computer screen - not optimized for cell phones
Latest 50 articles published or updated here: BLOG (Web-Log) Page

Publish Your Article(s) on the
Catholic American Thinker
If you have plenty to say for publication, you can become a Featured Contributor. 

Vic Biorseth, OWM; https://www.catholicamericanthinker.com
The overall scope of this Website covers the interplay between religion and politics, which is a very broad area. Morality is the main theme. Cultural morality, or ethos, is the whole point of the Website. Philosophy, history, current events and controversial topics all have their place here. Everything is not strictly religious, nor is it all strictly political. Everybody loves humor. Look over the whole site, and if you have an article or essay to contribute to any area of interest to this site's audience, this is the place to submit it. (Purely commercial or money-making submissions or "link farms" will be rejected without comment.)
This site promotes and defends Roman Catholicism, broader Christianity, Judaism, the literal interpretations of the American Declaration of Independence and the American Constitution.  Submissions opposing any of that, or submissions supporting positions that are Leftist-Marxist, Islamic or otherwise opposing America or opposing the Judeo-Christian Religion-based Ethos under-girding Western Civilization will not be accepted here.  That's not what this site promotes. 

Submitted article will become a permanent WebPage on this website. You can later delete it or replace it. Your original article publication and each new reader comment on it (unless you do not allow comments) will trigger a link to your article WebPage on the BLOG ROLL page, where you can track activity and interest in your article. The BLOG ROLL is date-time driven. Your article starts at the top of the BLOG ROLL upon publication, and all comment activity automatically moves it back to the top of the list at the date-time of the comment activity.
The BLOG ROLL page only holds the latest 50 active links to pages, so, sooner or later, with no activity, your link will roll off the page. When it gets more activity, it will again move back to the top of the BLOG ROLL page.
You will always be able to find your published article somewhere in the SITE MAP at the bottom of the HOME PAGE. Every page in the site is automatically listed there. Also, links are provided to all submitted articles in the Submitted Articles section of the CONTENTS page, and that section of the CONTENTS is also included in the left hand column of every webpage on the whole WebSite.
Copy-and-paste your content into the Article area below, or, put your cursor there and just type away. Included HTML is fine, if you know what you're doing and don't get ridiculous. (We don't want a lot of flashy, glitzy color or "shouting" fonts.) Included links are fine, so long as they link to decent Websites. I will give you credit at the top of the article for whatever gets published here. Be sure to include an author's name and/or business and/or Website URL for a "by" line or other authorship credit. If you are using someone else's material, be sure you have not violated anyone's copyright.
Any name will do; e-mail is not required. If you are submitting original material, you may use "Anonymous" as an author's name if that is your wish.
Send any pictures for your article in .jpg format as email attachments to:  vic@catholicamericanthinker.com.
If you have MS-Word, some have sent whole articles via email with the article in a Word attachment, with pictures included in the body of the Word document. That works. 
If you wish to copyright-protect your material, or if it is someone else's copyrighted material (with permission), be sure to include the appropriate copyright wording needed for inclusion. For example,
©Copyright John Doe, 2018, all rights reserved
and any required restrictions and/or contact information.
Unless you request otherwise up front, we will include an interactive FORM to allow readers to comment on your webpage. All comments are monitored. Vulgar, insulting and nonsensical submissions are pre-screened out. Please keep up on comments, because you are the subject matter expert on your webpage, not us. Check back occasionally and respond to any pending questions or comments you may find on your webpage.
Keep it decent and it will be published. Get your words out there where they can be seen and do some good. You can do this.
To become a Regular Featured Contributor, just let me know at the top of your submitted article.  On your second accepted and published contributed article, I will give you your own personal section in the Table of Contents, and in the right hand column of all WebPages.  If you wish, send me a profile picture to associate with your articles. 

Regards,
Vic
---
The following guidelines regarding plagiarism are copied verbatim from the Tea Party Patriots member's BLOG area, because it seemed a perfectly appropriate set of rules to apply here. Nobody likes plagiarism.
Plagiarism Policy Statement
Dictionary.com defines plagiarism as "the unauthorized use or close imitation of the language and thoughts of another author and the representation of them as one's own original work."
Plagiarism is unethical. It robs the original author of credit for the ideas expressed, robs the reader of the ability to identify the source of the material presented and thereby put the material into context, and forces those innocently connected to the plagiarist to waste valuable time and effort in defending their own integrity.
Plagiarism damages the ability to be taken seriously as a source of news and ideas, calls into question the values which we espouse, believe and promote, and limits its effectiveness in gaining adherents to the cause of freedom.
Rules for Citing Sources
Whenever using someone else's words, thoughts or ideas, contributors must place quotation marks before and after that material, name the person, organization, or other entity quoted, and cite the source of the quote.
Citations may appear via footnotes at the end of the article, or placed within the body of the article itself. Whenever the source of the material cited is a web site, a link to the original material must be provided.
---
Copyrighted Material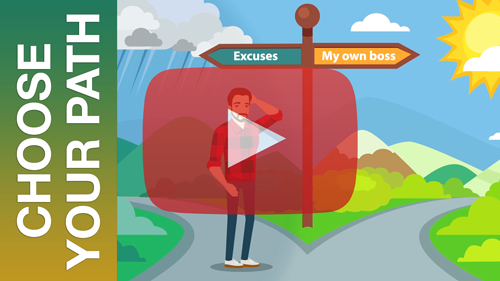 Solopreneur Opportunity Links, for a
Solo Build It WebSite