Subscribers Newsletter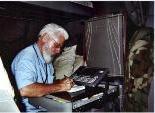 Is a Too Political Archbishop Viganò Falling Into Schism?
Has Abp. Viganò, the almost last great hope of Traditional Catholicism for pointing the Church back to orthodoxy, drifted over the Religion/Political Line?
Vic Biorseth, Tuesday, March 22, 2022
https://www.catholicamericanthinker.com
Few webpages on this website have stirred more controversy and deep thought than Abp. Viganò's Letter on the Russia Ukraine Crisis and the following passionate Refutation of Viganòs Letter by Pidlubniak, writing from war torn Ukraine. Now, a new perspective is offered by Crisis Magazine, from a 30,000 foot Catholic altitude to perhaps bring it all back from a mostly worldly to a more religiously historical point of view.
Continue Reading at: Vigano-Schism
50 most recent articles updated on this Web-Site: BLOG (Web-Log) Page
Do Not Respond To This Automatic Email.
Reply to this article at Vigano-Schism Comments
Find ALL SITE articles at: The Catholic American Thinker SITE MAP.