Subscribers Newsletter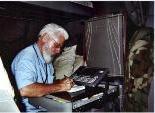 Imbecilic collective thinking imposed on normal people by evil elites
Various "collective-thinking" collectives don't even know they have been made to think the way the do, or that they are being "herded" toward their own slavery
Vic Biorseth, Friday, April 15, 2022
https://www.catholicamericanthinker.com
Untold millions of working men all over the world have been made into collective thinkers, and members of a "collective" not of their own fully conscious and independent choosing. They were led into it in the first place, and then born-and-raised in it in successive generations.
Continue Reading at: collective-thinking
50 most recent articles updated on this Web-Site: BLOG (Web-Log) Page
Do Not Respond To This Automatic Email.
Reply to this article at collective-thinking Comments
Find ALL SITE articles at: The Catholic American Thinker SITE MAP.