Subscribers Newsletter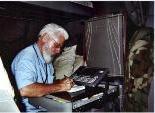 The Truth about Islam, finally, in a Homily at Mass.
You never hear the unvarnished truth about Islam, or other evils, from Catholic clerics. Maybe that's finally changing.
Vic Biorseth, Monday, January 26, 2015
https://www.catholicamericanthinker.com/
We have noted elsewhere how it seems that the younger the priests and the more recently ordained, the more true to doctrine and the more honest and open in presentation they seem to be. And the more attentive they seem to be to the finer details of proper Liturgy. Whether this is youthful rebellion against the largely disgraceful conditions permeating the Church in America today, or the result of some really good teachers in seminaries is indeterminate. But it is a welcome blessing, and overdue. I pray that it may be a bottom-up peaceful revolution within the Church.
At Mass yesterday, the young priest laid an honest and open description of Islam on the line for all to see. Here I shall try to summarize his major points.

(Continue Reading at Original Source: truth about Islam).
Do not reply to this automatic email.
Respond to this article at the actual article:
Respond to truth about Islam.