Subscribers Newsletter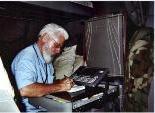 Defining your own Soul: (If you don't know what it is you've lost it)
Nothing is more important to you than your own soul. It is your personal conduit or connection to the Holy Ghost, i.e., to the One Holy Triune God.
Linda Kimball, Sunday, July 25, 2021
https://www.catholicamericanthinker.com
How many Americans - indeed, how many American Catholics - don't think about their soul at all. Can't even define what it is. Are too busy with life to dwell on anything as ephemeral and other-worldly as the very idea of a soul and an afterlife for any length of time. It's a Sunday only thing; something to be reminded of now and then, and to try to not lose track of, but ... but ... we live in this physical world, and we've got to go back to work, and pay the bills, and take care of the kid's needs. And we need our recreation and our entertainment and our just relax time, too.
Continue Reading at: Soul
50 most recent articles updated on this Web-Site: BLOG (Web-Log) Page
Do Not Respond To This Automatic Email.
Reply to this article at Soul Comments
Find ALL SITE articles at: The Catholic American Thinker SITE MAP.