Site best viewed on a computer screen - not optimized for cell phones
Latest 50 articles published or updated here: BLOG (Web-Log) Page

On Marxist and Islamic Economics of Slavery Versus the Liberty Of Man
And the Self-Enslaving Suicidal Stupidity of the Fooled Disciples of Marx and Mohammed
Vic Biorseth, Thursday, June 02, 2022
https://www.CatholicAmericanThinker.com/
In Economics 101, you learn - or, rather, you should learn - that the lowly citizen is the sole originator of wealth, when and only when the lowly citizen is unhindered, free and at liberty to create wealth. Hence, the more free, the more unhindered by government and the more at liberty the citizenry are, the more wealth the citizenry will produce, on their own, without prompting. 
Of course, that kind of liberty must be tempered by morality or it will reverse itself, and destroy rather than create wealth. 
So the two things necessary for any nation to become wealthy are,
a highly moral, i.e., Christian citizenry,
a highly liberated, free, self-governing and sovereign citizenry.
That's Capitalism in a nutshell. 
Adam Smith wrote his Wealth of Nations describing natural capitalism coincidentally in 1776, the year of the American Declaration of Independence. He didn't invent capitalism, he described it; it always existed, at least since the first sin and the fall of man. 
But Marxism would have you believe otherwise. Marxism, in all forms, despises this free, wealth-creating citizen, this despicable bourgeois who seeks his and his family's betterment rather than the betterment of the state, which is to say, in truth, the enrichment of his rulers. 
Everything Marx wrote was a lie. Every Marxist promise is false. Every Marxist dream is a trap. All of Marxism is a lure into eventual slavery. There is not, has never been and will never be any "Utopia" or "Worker's Paradise" or Perfection of Society, or Social Justice. Nor, under any form of Marxism, will there ever be any form of "equality" other than an equality in desperate poverty for the ruled class. And a ruling class living in luxury at the expense of the former freedom of their slave laborers. 
Marx's whole communist manifesto is one big Machiavellian trick. 
All the historic Marxist conquerors of nations, whether they called themselves Bolsheviks, Communists, National Socialists (Nazis), Fascists or any other varieties of Socialists, all read Marx and all used Marxist lies and trickery to ascend to ruling power and/or to fool citizens into supporting their cause and thus enslaving themselves. 
And, by crushing citizen liberty, they destroyed the sole source of wealth production. 
The same economic ruin of their own nations forced such Marxists as Stalin, Hitler, Mussolini and Mao to import slave labor from conquered nations. When you read Marx's most famous manifesto, the only part you should pay real attention to are the 10 pillars of Communism:
The Pillars of Communism

1. Abolition of property in land and application of all rents of land to public purposes.
2. A heavy progressive or graduated income tax.
3. Abolition of all rights of inheritance.
4. Confiscation of the property of all emigrants and rebels.
5. Centralization of credit in the banks of the state, by means of a national bank with state capital and an exclusive monopoly.
6. Centralization of the means of communication and transport in the hands of the state.
7. Extension of factories and instruments of production owned by the state; the bringing into cultivation of waste lands, and the improvement of the soil generally in accordance with a common plan.
8. Equal obligation of all to work. Establishment of industrial armies, especially for agriculture.
9. Combination of agriculture with manufacturing industries; gradual abolition of all the distinction between town and country by a more equable distribution of the populace over the country.
10. Free education for all children in public schools. Abolition of children's factory labor in its present form. Combination of education with industrial production, etc.
All of them - Stalin, Hitler, Mussolini, Mao - all enforced pillars 7, 8 and 9 to try to stave off impending economic collapse of their own nations, which had been made into brutal dictatorships by them. After drafting all of the "undesirables" or those out of political favor into these labor armies, and still facing national economic catastrophes, they had to import more slave labor. 
It was always the same in every conquered and occupied nation, whether the the Marxist rulers were Soviets, Nazis or Fascists. The citizenry tried to go about their business avoiding even eye contact with their conquerors, who were the only ones living relative lives of ease and eating good food at whatever cafes were still operating.
The regime would first advertise and "propagandize" to get volunteers to go back to the conqueror's homeland to work "for the greater cause" of the Party. And they would actually get some volunteers, and send them to Germany, or Russia, or wherever. But it was never enough.
They would then begin conscription campaigns to draft farm workers or factory workers and send them to the labor camps. 
Finally, they would just start loading up cattle cars with people at the points of bayonets and shipping them off to the camps, where they would work long hours on a starvation diet, and literally work to death. 
But the home nations would continue to sink into economic poverty. 
It happened that way every single time.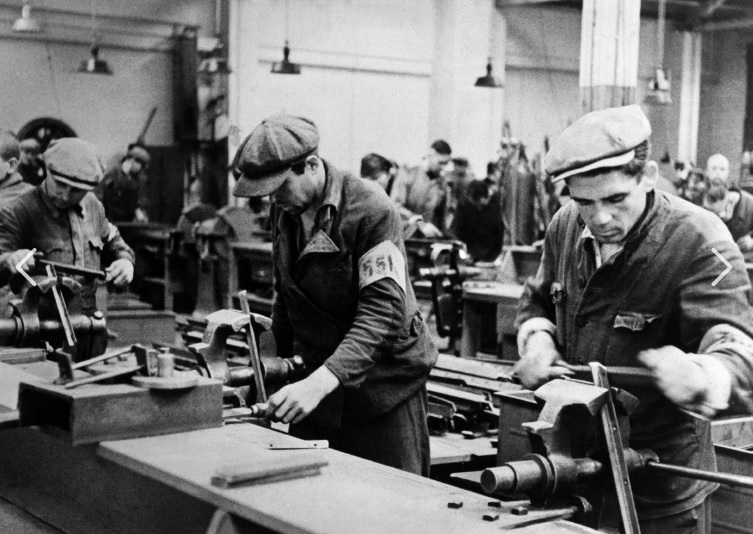 In every case, one of the first things any new Marxist ruler would do was to kill all the Kulaks (farmers and ranchers) who actually produced food, and then wind up drafting people who didn't know how to farm or run ranches or do the agricultural things necessary to feed the nation. 
they killed the Kulaks because the Kulaks wouldn't give up their land. But the Kulaks were the ones who knew best how to produce food. The result, every time, was famine. 
The deaths of untold millions. 
You never hear the word famine mentioned in any Marxist propaganda telling you how superior Marxism is over Capitalism. You will hear how economic equality is achieved in Marxism but not in bourgeois-driven Capitalism.
But they will not tell you that the economic equality of the workers in the vaunted "working class" in all Marxist lands is an equality in slavery, poverty, deprivation, hunger and early death.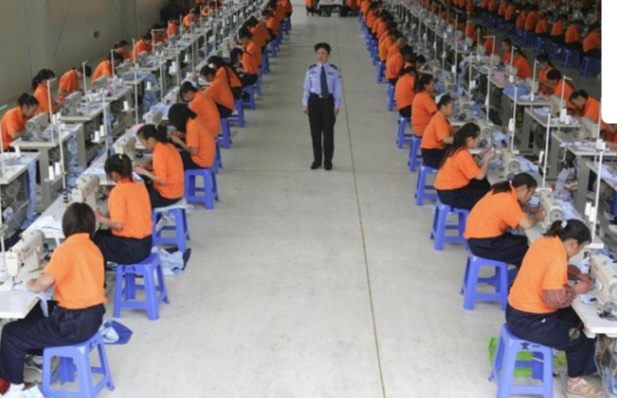 If a member of the ruling class needs a heart or other organ transplant, they will simply cut one out of a living slave. Very nearly the same thing is now happening in the free world, including in the USA, for the simple reason that you can't get a transplantable organ out of a cadaver. The organ doner absolutely must be alive for the organ to be of any value at all. 
And that is the real reason for the legal changing of the definition and legal declaration of death to now being a "flat brain wave" rather than a stopped heart that cannot be restarted. Flat brain waves, which often proven to be temporary when allowed to persist, are no real sign of death. But it enables a lucrative industry of transplantation to grow.
In Marxist lands, they cut organs out of living slaves. In America, they cut organs out of accident victims with flat brain waves, quick, before they wake up. 
Islam, basically, produces nothing. Islam has always depended upon slave labor. The whole history of Islam is a history of military conquest, slave trade, piracy, ransom for captives and tribute payments from nations in return for protection from piracy. That's it. 
The "secular" government of the Islamic Ataturk, which took on Western ways and was in many ways almost indistinguishable from Christian lands, was a direct violation of Islamic law. It was doomed from the start, because it could not remain westernized and Islamic at the same time. One or the other had to go; Islam won in the end.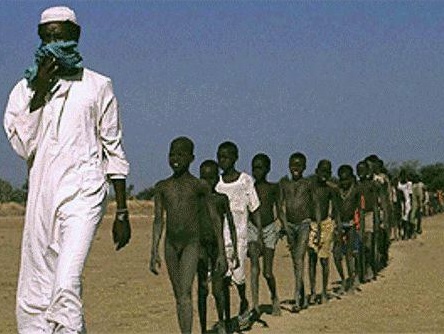 Islam exists to crush all other religions, to crush all other forms of government and to crush all other forms of jurisprudence. The whole sole reason for the existence of Islam is to bring the entire world under the brutal domination of Islamic religion, Islamic government and Islamic law. 
They practice Taqiyya - the lie that Islam is a religion of peace, and that they have no evil intent toward non-Moslems - to fool host nations long enough to grow the Ummah - the Islamic Community - within the host nation until it is powerful enough to take over. 
This - the establishment and rigid enforcement of a two class system, consisting of a ruled class and a ruling class - is what the Marxocrat Party is all about. In it's former status as the Democrat (Confederate) Party it was all about a ruling class of themselves, and a ruled class of their slaves. In it's current Marxist status it seeks to emulate Communist China, playacting at being Communist or Socialist, while actually being an absolute dictatorship. 
(There is no such thing as actual Communism, and there never was.)
So, what all that means is that self-aggrandizing and self-promoting Marxified personalities such as LeBron James, Colin Kaepernick, the infamous Congressional Bitch Squad, the Black Lives Matter racist homo-Marxists, all the leaders of the Marxocrat Party and all the RINO Republicrats are working hard to eventually accomplish their own enslavement. 
It just doesn't get any dumber than that. 
Actually, some are not so dumb, and some are dumber than doorknobs.
We have to ask ourselves whether personages such as Stalin were mostly evil or mostly stupid. 
The Marxists (and the Islamists) who are "in the know" of what Marxism (or Islam) is really about are evil; they are in the business of tricking everyone else into believing in the Utopian promises and jumping into the trap, and helping to bring others with them. 
But the ones who are not "in the know" are just flat out stupid. 
There are multiple tiers or levels of the "in the know" enslavers of nations, with the topmost tiers being the most evil and conniving, and with each successive tier going down through the tiers being a bit more stupid and a bit more expendable than the one above them. None of them are not expendable or above being eliminated in someone's eyes. 
The Davos and World Economic Forum big shots are the likely top tier, and they likely view each other in a combination of vital temporary strategical alliance, but also with a quiet murderous jealousy. The second tier, a bit more stupid and a bit less valuable and more easily expendable, are the national leaders of the likes of the Clintons, the Obamas, the Biden/Harris regime and their whole incompetent cabinet, other foreign national leaders of their rank, including Putin, and, of course, including Pope Francis and his whole cabal of corrupt, criminal, anti-Catholic Islamo-Commie-Homo Bishops.  
Yeah, to them, it's all one and the same Transformation, or Revolution.
It is not clear exactly where Xi Jinping fits into all this, but certainly somewhere in the top two tiers, and possibly on top of the whole mess. Everybody in the top tiers thinks or hopes they are in tight with him or know how to deal with him, but he just may be near to owning and operating all of them, or eliminating them. Who knows?
But then, in the lower tiers, you start running into some real stupidasses, too stupid to even know that they are stupid, and too fooled to even begin to suspect just how expendable they are. The silly twits who run Black Lives Matter and think they are important to the cause because, after all, they are "trained revolutionaries", they'll have you know. The Antifa nuts and other anarchists, hired by Sorosians and trained by Alinskyians, along with the Women's Marchers, the "gay pride" loony tunes, the pro-aborts, the flash-mob smash-and-grabbers, the "less than a grand" shoplifters, and all the Sorosian-Alinskyian-Marxocrat prosecutors who do not prosecute them, judges who will not judge them, cops who will not arrest them, and the governors and mayors who defund and hamstring cops and keep all this disorder and lawlessness going, even including the loss of human life. 
These active cooperators in the downfall of America are so dumb that they believe that, 
if law and order returns, that they will not be prosecuted, and
if the revolution succeeds, they will be rewarded, or at least appreciated, rather than being either eliminated or enslaved themselves. 
They actually think they're usefulness is permanent and they are valuable to the cause. It just doesn't get any dumber than that. 
Well, as a matter of fact, yes it does. At what we hope is the lowest tier of absolute stupidasses, we have white anti-white racists, male anti-male sexists, people who actually believe that they are something other than what they are, those who keep seeing white supremacy where it doesn't exist, and who keep feeding, growing, aiding and abetting clearly existing black supremacy all over the country, without even being aware of its existence. 
They don't see Black Lives Matter, the Black Panthers or the Nation of Islam as black supremacists, black nationalists or racists, even as they think they see a white nationalist under every bed in America. This is a real break with reality, which is to say, an absolute insanity. 
When we've got a Marxocrat party owned and operated supreme court justice who cannot tell a woman from a man, and when we've got other high government officials who actually believe that men menstruate, get pregnant and give birth to babies, we're getting into the realm of blithering idiocy here. 
But here's the bottom line: the real goal is America's destruction. 
The top Marxocrats and RINOs who push climate change, the Paris accords, carbon taxes, etc., etc., etc., know full well that the whole thing is a purely political hoax, aimed at the severe economic harm if not economic destruction of America.
The top Marxocrats and RINOs who push the covid pandemic fraud know full well that the the whole thing is a purely political hoax, aimed at wrecking "bourgeiois" family businesses for the competitive benefit of the "essential" Marxocrat-donating crony capitalist businesses, and for obedience training of the citizenry.
The top Marxocrats and RINOs who call abortion, sodomy, euthanasia, dope, gun control, etc., moral, also call opposition to abortion, sodomy, euthanasia, dope, gun control, etc. immoral, to help turn once Christian America into a cesspool of ignoramuses who no longer know right from wrong.
The pretending-to-be-opposed-to-welfare politicians who say "everyone agrees that we need a safety net" are liars. We certainly do not agree with that, and neither does the constitution. And they know it.
The pretending-to-be-opposed-to-gun-control politicians who say "everyone agrees that we need responsible and limited gun control" are liars. We certainly do not agree with that, and neither does the constitution. And they know it. 

We are supposed to be a moral, autonomous self-sustaining and self-governing people. That's what our constitution was written to legally ensure and protect. But our own government, in direct opposition to our and their ruling constitution, increasingly restricts our ability to even properly sustain ourselves, and our ability to defend ourselves against them. 
The nuclear family is supposed to be our first safety net; but Marxism, and Marxism's Marxocrat Party, hates and seeks to destroy the nuclear family. (That's what legalizing and popularizing fornication,cohabitiation, easy no-fault divorce, contraception, sodomy, abortion and all forms of perversion are all about.)
The Church is supposed to be our second tier safety net; but Marxism, and Marxism's Marxocrat Party, hates and seeks to destroy the Church, and to "secularize" the citizenry
Charity is supposed to be the third tier safety net; but Marxism, and the Marxism's Marxocrat Party hates and destroys the Church, and the Church's teaching on charity along with it. Christian morality, which included the virtue of charity, is nearly dead in secularized America today. 
Remember the Beatles asking, "imagine no religion"? Well, you don't have to imagine it. It's right here in America, especially in the American government. 

And if it keeps going along as it is, pretty soon we won't have to try to imagine being enslaved. 
We are being ruled by liars. 
The Truth is available. Truth is the answer to all questions. Seek it, find it, know it and live it. 
"And you shall know the truth, and the truth shall make you free."
[John 8:32]
---
The only thing Truth has going for Him in this world is us. 
The restoration of Truth = Reality in the hearts and minds of men is now totally dependent upon you and me; if we don't do it, it won't get done.
Sign the Letter to your Bishop, and make our Church Catholic again. 
Join Cardinal Burke's Storm Heaven Rosary Campaign.
Get behind a President Trump and a Vice President Donald Trump Jr, and make America Constitutional again. 
Pray for a strategic collaboration between Abp. Vigano and Trump.
=====
EENS:  Extra Ecclesiam Nulla Salus
(Outside the Church there is no salvation)


With fear and trembling, work out your salvation--Phil 2:12
Seek the Truth; Find the Way; Live the Life.
Please God, and Live Forever.
=====
Sarcastic Acronym Hover-Link Footnotes: For the convenience of those readers using devices that lack a mouse, these footnotes are provided for all webpages, in case any webpage contains any hover-links. (If you don't have a mouse, you can't "hover" it over a link without clicking just to see the simple acronym interpretation. Click any footnote link to see the acronym and a detailed explanation; "hover" the mouse over it just to see the simple interpretation.)
SLIMC1
Secularist Liberal Intellectual Media Complex
GESGOEAEOT2
Gradually, Ever So Gradually, Over Eons And Eons Of Time
PEWAG3
Punctuated Equilibrium's Wild-Assed Guess
TTRSTF4
Them There Real Scientifical-Type Fellers
TTRSPTF5
Them There Real Smart Perfesser-Type Fellers
TTRSJTF6
Them There Real Smart Journalistical-Type Fellers
SNRTACBT7
Surely No Right Thinking Adult Could Believe Today
STNSEACPB8
Surely Today No Serious Educated Adult Could Possibly Believe
WDN9
We Don't Know
BMDFP10
Baboons, Mongrel Dogs, Filthy Pigs and ...
HBAACOTE11
Human Beings Are A Cancer On The Earth
ACLU12
Anti-Christian Litigation Union
FLORMPORIF13
Flagrant Liar, Or, Mindless Parrot, Or, Innocent Fool
MEJTML14
Marxist Ends-Justify-The-Means Liar
IEJTML15
Islamic Ends-Ends-Justify-The-Means Liar
MPAV16
Marxist Principles And Values
WBESSWG17
Wise, Benign, Elite, Super-Scientific World Governance
TRMITM18
The Reason Man's In This Mess
IYI19
Intellectual Yet Idiotic
TTRSCBTF20
Them There Real Smart Catholic Bishop Type Fellers
IACMPVND21
Illegal-Alien-Criminal Marxocrat-Party-Voting Nation-Destroyers
PEJTML22
Palestinian Ends-Justify-The-Means Liar
PSYOP23
"Psychological Operation" Mind Trick
CDC24
Covid Developmentally Challenged
LGBTQ+25
Every Letter Represents A Serious Psychotic sexual Identity Disorder
[All Web Pages listed in Site Map by date-of-publication;
oldest at the top, newest at the bottom of the list.]

Culture=Religion+Politics;  Who Are We?  Vic Biorseth
The Brilliantly Conceived Organization of the USA;  Vic Biorseth
Return to the BLOG page
Return to the HOME PAGE
Subscribe to our Free E-Zine News Letter
Comment
Respond to this WebPage immediately below the last comment.
Or,
---
Language and Tone Statement

Please note the language and tone of this monitored Website. This is not the place to just stack up vulgar one-liners and crude rejoinders.  While you may support, oppose or introduce any position or argument, submissions must meet our high Roman Catholic and Constitutional American standards of Truth, logical rigor and civil discourse.  We will not participate in merely trading insults, nor will we tolerate participants merely trading insults.  Participants should not be thin-skinned or over sensitive to criticism, but should be prepared to defend their arguments when challenged.  If you don't really have a coherent argument or counter-argument of your own, sit down and don't embarrass yourself. Nonsensical, obscene, blindly & doggedly anti-Catholic, anti-American, immoral or merely insulting submissions will not be published here.  If you have something serious to contribute to the conversation, be prepared to back it up, keep it clean, keep it civil, and it will be published.  We humbly apologize to all religious conservative thinkers for the need to even say these things, but the Hard Left is what it always was, the New Leftist Liberals are what they are, and the Internet is what it is. 
"Clickbait" advertising links are not acceptable for posting here. 
If you fear intolerant Leftist repercussions, do not use your real name and do not include email or any identifying information.  Elitist Culturally Marxist Pure Authoritarians cannot and will not tolerate your freedom of speech or any opposition to their rigid authoritarian, anti-equality, anti-life, anti-liberty, anti-property, hedonistic, anti-Constitution, pro-Marxist, pro-Islam, anti-Catholic, anti-Christian, anti-Semitic, anti-male, sexist, pro-homosexual, anti-heterosexual, anti-white, racist, anti-Western, anti-American, Globalist, anti-Nation, blatantly immoral, totally intolerant and bigoted point of view. 
Copyrighted Material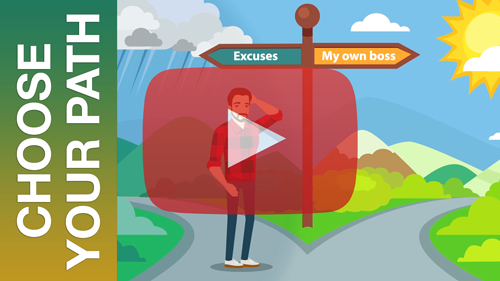 Solopreneur Opportunity Links, for a
Solo Build It WebSite