Site best viewed on a computer screen - not optimized for cell phones
Latest 50 articles published or updated here: BLOG (Web-Log) Page

The Making of Emotional Cripples to Mount Emotional Revolutions
Globalist/Communist "Washington Swamp" Politicians, Academics, Scientists, Teachers and Entertainers Making Emotional Cripples of the Marxocrat Party Voter Base
Vic Biorseth, Wednesday, June 08, 2022
https://www.CatholicAmericanThinker.com/
An emotional cripple is one who can no longer control his emotions, because his emotions now control him. In other words, he's out of control. It's an emotion-driven form of insanity that lacks self control and a proper recognition of and relationship with actual reality. 
Sometimes it's temporary; sometimes not. Police have an acronym-scanner code for it: EDP, which stands for Emotionally Disturbed Person. Today, we are seeing it in some of the highest offices in America.
The Political Emotionalizing Of Abortion
Globalist/Communist Marxocrat leader of the Senate Chuck Schumer, on the steps of the supreme court, was unable to control his rage at the approval of Kavanaugh and Gorsuch to the Supreme Court, even long before the Marxocrat  Party leak of the Roe decision draft, and he practically called for the Marxocrat Antifa, BLM and Pro-Abort mobs to go get the justices and their families, drag them out and string them up. 
And then the SCOTUS leak came out.
Globalist/Communist Marxocrats Lizzy Faux-A-Hontas Warren and Cackling Kamala Harris took turns hyperventilating with similar threatening and menacing rage over the leak every time they found a microphone or saw a camera anywhere. 
They just couldn't help themselves, because they love abortion so much, and they consider it to be their most sacred sacrament, the most precious human right to ever exist, and nothing is more important to them than the right to abort human babies, in or out of the womb. 
And they think that's natural. And that any opposition to it is unnatural.
It's an emotional thing; you wouldn't understand. Only Globalist/Marxist Marxocrats and other rabid anti-Americans can properly emote. 
And they won't stop politicking, agitating, demonstrating and rioting to support abortion until every last pregnancy is terminated by an abortion. They don't want to merely defend it; they intend to enforce it, on others. 
On everyone. Including you. That's how emotional they are about it. 
In their view, it is everyone's patriotic duty to abort their own babies.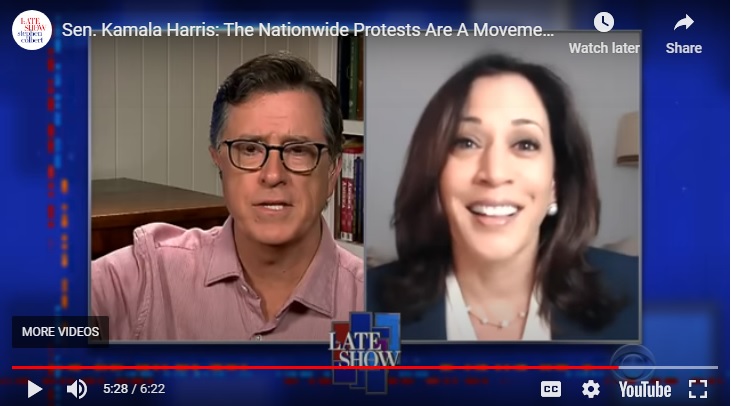 Note the gleefulness of Kamala Harris egging on the Marxocrat party's Antifa and Black Lives Matter rampaging rioters and insurrectionists who were occupying, pillaging and burning down American cities and attacking cops
If you are anywhere near our age, your parents and your pastors probably told you to be careful about the friends you make, with the warning that you will become your friends, so choose them wisely. 
Remember how many times we have said that, if you ever allow Satan to get on the cultural bus, he will wind up in the driver's seat? Remember? Go back through these pages and count them up. I hate to say I told you so, but - I told you so. 
Satan is now driving the American cultural bus, and he is beginning to throw us off. He's the driver, after all. He's in charge now. 
Do you begin to see the reason for keeping apart from evildoers?
Do you see the evil intentions of "multiculturalism", "diversity" and "inclusiveness"?
Now, we're in the position of having to separate from them, lest we become them. It would have been better for the whole American culture, and for every individual citizen, if we had shunned them, stigmatized them and kept apart from them from the beginning. 
The Emotionalizing of the Homosexual Agenda
It's the same with the Globalist/Communist Marxocrat Party sponsored, groomed and grown so-called "Gay Community", a vitally important part of the Marxocrat party voter base. It wasn't enough to stop condemning, stigmatizing and shunning the homos, and start accepting them as if they were "normal" relatives and neighbors. Even that was a bad idea, because they are not normal; they deviate from normal, and no, they were not born that way. Saying that homosexuals were born homosexual is a lie. There is nothing scientific about it, no matter how many "scientists" might say otherwise. They practice scientism, not science. 
Now, American little children are being taught, in school, to "discern" what they are, in a blatant political attempt to induce serious, life-altering psychotic sexual identity disorders in them, for the purpose of sowing seeds of social chaos and disorder to be taken advantage of in the future.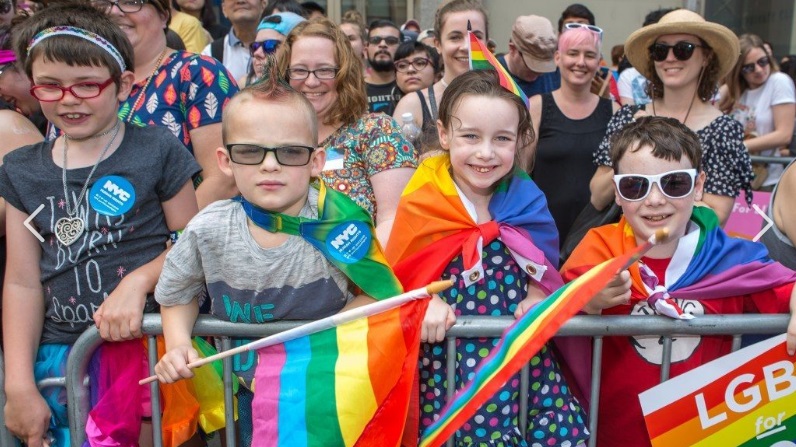 What's wrong with this picture? American children are being groomed for sexual exploitation and lives of psychotic sexual perversion and serious sexual identity disorders, in schools all over America
In the current "Gay Pride" parades and celebrations, and in all the "Trannie Coming Out Parties", parents are involved in the perversion of their own children, in what would once upon a time been a shocking fact. It's not shocking any more, now that Satan is driving the cultural bus. 
It is now the "straight" public figures and professional athletes who refuse to go along with it, and refuse to wear the rainbow flag symbol who are attacked by politicians, news media, entertainers, teachers, academics, human resource departments and their own bosses for not getting with the pro-gay agenda. 
And it's pretty much the same in the Bergoglio Vatican, and among the top Bishops of the Church. We all know how much Pope Francis and Ameirican Cardinals like McCarrick, Cupich, Dolan, Wuerl and others love their sodomy and bless and protect all their fellow sodomites, or how, if that's not true, they've certainly got a very funny way of showing it. 
But it has turned the bend now, or topped out over the hill of mere acceptance, and is now beginning to insist on participation in sodomy. Your participation. It's no longer a matter of passive acceptance; you have to not only bless and approve it, and not merely promote and celebrate it, but actually do it. 
Or they'll just throw you off the bus. 
They intend to have sex with your children, first, and twist and convert them to their "way of life", and if you say one word against that, you will be the one canceled, ostracized and thrown off the cultural bus. Then it will be your turn. 
It's becoming the new norm in America. How do you like it? 
The Emotionalizing of Insanity
It was Globalist/Communist Marxocrat Party political activism that got seriously at risk psychiatric patients released from asylums, 
if they didn't "feel" that they should be held against their will,
if their condition was controlled or controllable by drugs,
if someone who knew them "felt" they should be released.
And the problem with all that is,
the patient shouldn't be the one to diagnose the patient,
unsupervised patients don't stay on their drug regimens, 
how anyone else "feels" about it has nothing to do with it.
And so now we have all sorts of sickos loose, off their meds and out in society. 
The Emotionalizing of Criminality
It was Globalist/Communist Marxocrat Party political activism that ended "three strikes and your out" sentencing of career criminals, emptied prisons of criminals convicted of low-level crimes, and especially emptied prisons of "people of color", for the simple reason that there were lots more of them than white people who committed crimes. 
And so now we have all sorts of career criminals out in society. 
And active criminals are now protected, by prosecutors and judges in Marxocrat jurisdictions, while police are defunded, defamed, fired, falsely charged, sued, falsely prosecuted and practically eliminated, in the very places they are most needed. 
Add to all that the Globalist/Communist Marxocrat Party political agenda of legalizing dope, and getting as much of the population hooked on dope as possible. We have pointed out, many times, that whatever will bring about chaos, disorder and violence in the streets and homes and schools of America, the Marxocrat party will push it. They are, after all, Machiavellian before they are anything else, and Machiavelli, like Satan, was all about getting into the driver's seat of the cultural bus, any way it could be done. 
And so we are all forced to see, over and over and over again, all the Globalist/Communist Marxxocrat Party sponsored "Beat The Stigma" advertisements, everywhere you look. You can't get away from them. 

They would have us believe that it's the stigma, rather than the sin, that is what is wrong and that must be eliminated from our culture. 
It's the stigma of drug addition and alcoholism that is what is wrong; not the addiction or the drunkenness. And it's the stigma of insanities and psychoses that are wrong, and not the insanities and psychoses. They're fine, and we should all learn to live with them among us, right alongside all the drunks and addicts, and the common criminals. 
And if we "stigmatized" any of them, it's us who needs to be thrown off the cultural bus. 
And so we now see "conservative" commentators talking up CBD products, from oils to gummies to little inhaler-sprays, so you can just get high by means other than smoking a doobie, and you can pretend it's for medicinal purposes, or just to quickly settle your nerves.  Right. 
And we see tax payer funded TV adds showing how it's OK to get drunk or stoned, so long as you don't drive a car or a motorcycle. It's not the dope or the booze that should be avoided; that's all fine. Just as long as you stay sane enough to not drive while under the influence. 
That's the new mark of "wisdom" in this idiotic brave new world order. 
It's all about feelings. You can't hurt any of their feelings. The problem with that is that none of them give a damn about your feelings. You don't count. You are the new fringe; you are the new oppressed; you are the new minority. 
The Emotionalizing of Race
The Globablist/Communist Marxocrat Party is driving the super-racist Critical Race Theory federal government program of false racial oppression indoctrination in American schools. The evil "1619 Project" is a Marxocrat Party political agenda item.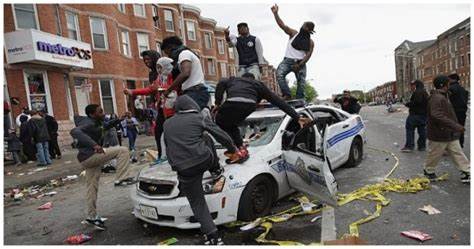 The Marxocrat Party's BLM "Burn the Mother F**ker Down" anti-American black supremacist peaceful protesters
As is the systematic rewriting of America's racial history to transfer the blame for slavery in the first place and segregation in the second place from the Democrat/Confederate Party and themselves, to,
European colonialism
America from her founding
White people by their genetic makeup
Evil American capitalism
the lack of American Socialism
As explained elsewhere herein, America's black citizenry has been manipulated, owned and operated by the Marxocrat Party since it went Communist in the 1960s and started blaming all of its own past racial sins on their own political opposition, and on the whole white race.
Why?
Why blame the whole white race? Because, in the Machiavellian, anti-American, anti-status quo, anti-social stability view, blind hatred, racism, racial animosity and vengeful feelings are good; they feed social unrest, chaos, disorder and opportunities for actual violent revolution. 
It is, after all, a Globalist/Communist movement, and Constitutional America is standing in the way.
The Emotionalizing of the Induced Criminal Alien Invasion
Here at home, the Globalist/Communist Marxocrat Party line tells everyone that America is the most racist and racially oppressive nation on earth, an absolute horror to all citizens of color. 
But way out there, in all those other supposedly racially superior nations, our criminal Globalist/Communist Marxocrat Party is on a secret wild recruitment drive to get unhappy citizens of other lands to come and criminally enter the USA, under their secret protection, and for their betterment. Right.
Here they keep coming, thousands per day, hundreds of thousands per month, millions per year, being criminally brought here, moved around and settled all over America by the Biden/Harris administration's Marxocrat Party criminal anti-American Globalist/Communist plan
The hyper-emotional tear-jerking Marxocrat and RINO story is that all these poor people of color just want to be free and have an opportunity to live in a better place. Never mind all that evil America stuff for the moment, and just consider the feelings of all those innocent people who just want to come here and be productive citizens of America. They just want a better place to live. No, really. It's their right to move here. Even Pope Francis says so.
And that global warming is the real reason for all this migration. Yeah, that's it. There is no sinister plan behind it; it's just a natural event. Don't look at what the Biden regime is doing; just look at all those poor suffering people going through so much difficulty just to get into America.
The Emotionalizing of "Conservative" Christian American Men
American men are being emotionalized for political purposes. Especially so with men who lean Globalist/Communist and vote Marxocrat, whether out of malice for America or politically useful ignorance. The Washington cops who stood before the cameras and wept on queue remembering the January 6 riot at the Capital Building are a good example. They were actually moved to tears, poor dears. It was, after all, a violent insuwection and a very scary situation, in which they all wet themselves, and they almost wet themselves again just remembering it.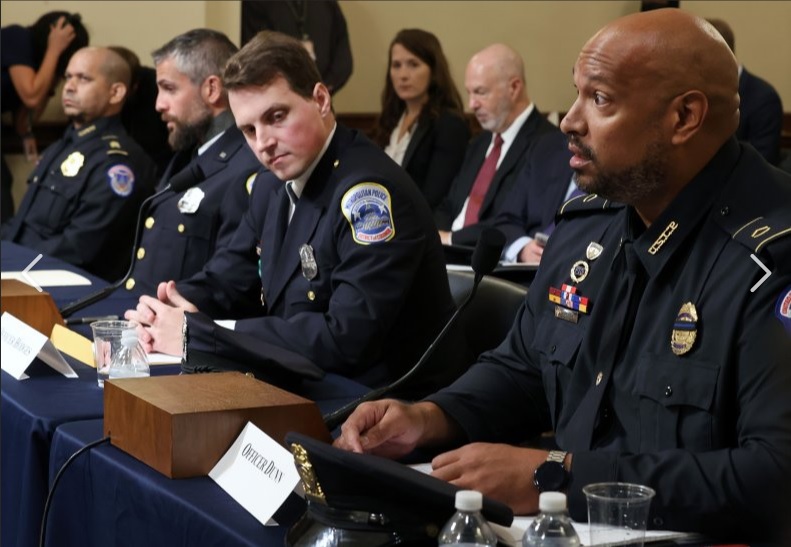 Frightened, weepy DC cops, who never should have invited Buffalo Man into the Capital building in the first place, because with his first screaming war whoop, they all pooped their pants
They were so severely traumatized that they may never get over it. More importantly, it is hoped that those who viewed their tears on video will get all emotional too, just imagining how scary it must have been. 
There are few emotional cripples in America quite like the average white male.
America is now loaded down with mostly but not exclusively white men, who fall all over themselves:
apologizing for their sex
apologizing for their race
making "reparations"
condemning masculinity and paternalism
blessing, approving and befriending perverts
"understanding" men using lady's rooms
encouraging little ones to experiment with identities
welcoming sinners to all Christian sacraments
They have allowed themselves to be made that way by riding on the cultural bus, and taking their eyes, and their souls, off of the Truth.
Truth has not moved. Creation - reality - is what it is. 
The Hyper-Emotionalizing of Children
In a discussion on the proposed ordination of Catholic Priestesses, a proponent asked me, "Who's going to tell that poor sensitive young lady who has been through the whole LPMP program that she can never hope to ever be a Catholic Priestess?" Yeah. What about her feelings? 
But what the proponent didn't ask about was who ever told her she could and should strive to become a Priestess in the first place. If she was taught all that nonsense and believed it, it was her teachers who should be charged with insensitivity to feelings, not reality. It is not the fault of reality than she can never be a Priestess of the Catholic Church, nor is it the fault of anyone who stands in support of the truth. 
Kids are being taught in school, by order of the Globalist/Communist Marxocrat Party that is running education, that all white people are racial oppressors, all black or brown people are racially oppressed people, homosexuality is wonderful and they should try it, and that doctors often make mistakes in sexually identifying newborn babies, and so boys and girls just might be something other than boys and girls. 
And they believe it. 
What about their feelings?
It's high time to recognize the fact that truth trumps feelings, and get back to reality. Not recognizing reality is, definitively, insanity. The whole Commie, homo, trannie, LGBTQ+ alphabet soup of gender pronouns is coming out of a gigantic politically induced social insanity. 
None of it is real. 
America, and the free world, is never going to survive, let alone get back to sanity, until and unless she says to hell with emotions and feelings, and just goes back to standing firmly, belligerently and patriotically in reality and truth. 
That means kicking Satan off the cultural bus. 
It means separating from, stigmatizing, anathematizing and shunning if not imprisoning, institutionalizing or banishing Globalist/Communist political activists and all who persist in adamantly opposing reality. It means decisively and determinedly returning American to,
Christian moral theology as a basis for law;
The Constitution, strictly as written, as our only federal ruler.
We should go back to the real scientific definitions of male, female and pervert. The only "gender pronouns" we should ever use are male, female and pervert. There are no others. That's reality. 
Truth hurts; so be it. Truth reigns here, not feelings or emotions.
What are you?
You can be an emotional cripple, or a Christian; but not both.
You can be an emotional cripple, or an American citizen; but not both.
It's time to decide where you stand, and whether you are guided and directed by your emotions or your intellect; whether you stand in truth with your feet planted in reality, or you are moved by your feelings. 
We've now got ourselves a black female faggot supreme court justice who cannot or will not define what a woman is. 
If that fact alone is not a wake-up call signaling that this has gone too far, and if we do not start turning it around, then America, and the free world, are doomed.
The Church will survive, but perhaps only as a small remnant. 
Satan's Progressive Globalist/Communist movement is only succeeding because we are just standing around and allowing it to succeed. 
See also:
---
The only thing Truth has going for Him in this world is us. 
The restoration of Truth = Reality in the hearts and minds of men is now totally dependent upon you and me; if we don't do it, it won't get done.
Sign the Letter to your Bishop, and make our Church Catholic again. 
Join Cardinal Burke's Storm Heaven Rosary Campaign.
Get behind a President Trump and a Vice President Donald Trump Jr, and make America Constitutional again. 
Pray for a strategic collaboration between Abp. Vigano and Trump.
=====
EENS:  Extra Ecclesiam Nulla Salus
(Outside the Church there is no salvation)


With fear and trembling, work out your salvation--Phil 2:12
Seek the Truth; Find the Way; Live the Life.
Please God, and Live Forever.
=====
Sarcastic Acronym Hover-Link Footnotes: For the convenience of those readers using devices that lack a mouse, these footnotes are provided for all webpages, in case any webpage contains any hover-links. (If you don't have a mouse, you can't "hover" it over a link without clicking just to see the simple acronym interpretation. Click any footnote link to see the acronym and a detailed explanation; "Hover" the mouse over it just to see the simple interpretation.)
SLIMC1
Secularist Liberal Intellectual Media Complex
GESGOEAEOT2
Gradually, Ever So Gradually, Over Eons And Eons Of Time
PEWAG3
Punctuated Equilibrium's Wild-Assed Guess
TTRSTF4
Them There Real Scientifical-Type Fellers
TTRSPTF5
Them There Real Smart Perfesser-Type Fellers
TTRSJTF6
Them There Real Smart Journalistical-Type Fellers
SNRTACBT7
Surely No Right Thinking Adult Could Believe Today
STNSEACPB8
Surely Today No Serious Educated Adult Could Possibly Believe
WDN9
We Don't Know
BMDFP10
Baboons, Mongrel Dogs, Filthy Pigs and ...
HBAACOTE11
Human Beings Are A Cancer On The Earth
ACLU12
Anti-Christian Litigation Union
FLORMPORIF13
Flagrant Liar, Or, Mindless Parrot, Or, Innocent Fool
MEJTML14
Marxist Ends-Justify-The-Means Liar
IEJTML15
Islamic Ends-Ends-Justify-The-Means Liar
MPAV16
Marxist Principles And Values
WBESSWG17
Wise, Benign, Elite, Super-Scientific World Governance
TRMITM18
The Reason Man's In This Mess
IYI19
Intellectual Yet Idiotic
TTRSCBTF20
Them There Real Smart Catholic Bishop Type Fellers
IACMPVND21
Illegal-Alien-Criminal Marxocrat-Party-Voting Nation-Destroyers
PEJTML22
Palestinian Ends-Justify-The-Means Liar
PSYOP23
"Psychological Operation" Mind Trick
CDC24
Covid Developmentally Challenged
LGBTQ+25
Every Letter Represents A Serious Psychotic sexual Identity Disorder
[All Web Pages listed in Site Map by date-of-publication;
oldest at the top, newest at the bottom of the list.]

Culture=Religion+Politics;  Who Are We?  Vic Biorseth
The Brilliantly Conceived Organization of the USA;  Vic Biorseth
Return to the BLOG page
Return to the HOME PAGE
Subscribe to our Free E-Zine News Letter
Comment
Respond to this WebPage immediately below the last comment.
Or,
---
Language and Tone Statement

Please note the language and tone of this monitored Website. This is not the place to just stack up vulgar one-liners and crude rejoinders. While you may support, oppose or introduce any position or argument, submissions must meet our high Roman Catholic and Constitutional American standards of Truth, logical rigor and civil discourse. We will not participate in merely trading insults, nor will we tolerate participants merely trading insults. Participants should not be thin-skinned or over sensitive to criticism, but should be prepared to defend their arguments when challenged. If you don't really have a coherent argument or counter-argument of your own, sit down and don't embarrass yourself. Nonsensical, obscene, blindly &doggedly anti-Catholic, anti-American, immoral or merely insulting submissions will not be published here. If you have something serious to contribute to the conversation, be prepared to back it up, keep it clean, keep it civil, and it will be published. We humbly apologize to all religious conservative thinkers for the need to even say these things, but the Hard Left is what it always was, the New Leftist Liberals are what they are, and the Internet is what it is.
"Clickbait" advertising links are not acceptable for posting here. 
If you fear intolerant Leftist repercussions, do not use your real name and do not include email or any identifying information.  Elitist Culturally Marxist Pure Authoritarians cannot and will not tolerate your freedom of speech or any opposition to their rigid authoritarian, anti-equality, anti-life, anti-liberty, anti-property, hedonistic, anti-Constitution, pro-Marxist, pro-Islam, anti-Catholic, anti-Christian, anti-Semitic, anti-male, sexist, pro-homosexual, anti-heterosexual, anti-white, racist, anti-Western, anti-American, Globalist, anti-Nation, blatantly immoral, totally intolerant and bigoted point of view. 
Copyrighted Material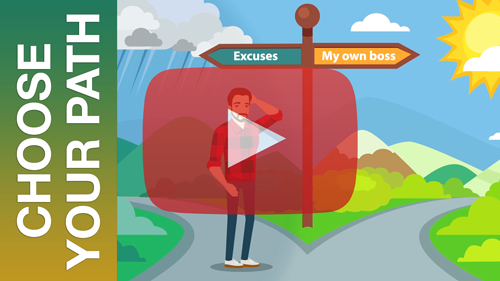 Solopreneur Opportunity Links, for a
Solo Build It WebSite