Site best viewed on a computer screen - not optimized for cell phones
Latest 50 articles published or updated here: BLOG (Web-Log) Page

Catholic Synodality, American Inclusiveness and Identity Suicide

The Church of Christ Jesus and the America of the Founders Commit Identity Suicide as they Become the Globalist-Communist New World Order
Vic Biorseth, Monday, October 17, 2022
https://www.CatholicAmericanThinker.com/
Cultural Marxism is, before it is anything else, a program leading to and inducing identity suicide. The ending of all identifying distinctions. Cultural Marxism continues to do its evil work at all human levels, from individuals to organizations, to nations, to philosophies and especially to religions.

Psyops (Psychological Operations)

Planned strategic operations to promote selected information and beliefs to radically influence emotions, create motives and influence or quietly control objective and subjective reasoning with the ultimate goal of modifying and guiding the "voluntary" behavior of individuals, organizations and governments. 
Rather than forcing the world into compliance with a new global identity, by use of PSYOPS it tricks the world into demonizing itself and changing itself to comply with the new global identity, and wins the geopolitical war by inducing identity suicide aimed at self improvement.

Professional teachers today "groom" children into submission to sexual activity including perverse sexual activity of all sorts, induce psychotic sexual identity crises in them, turn them against parental authority and turn them against belief in God.
The criminal Biden Presidency and the unconstitutionally political party controlled American government "grooms" the American citizenry into blessing evil and cursing good, opposing national sovereignty and merging with the whole world, condemning the nation and its newly falsified history and inducing worldwide hatred of and violent racism against the whole white race.

The Francis Vatican "grooms" the Catholic faithful into full acceptance of or at least a positive disposition toward all obstinate unrepentant sinners, the LGBTQ+ "community", priestesses, atheists and even anti-Catholics.

All of these - our teachers, our national government and our Church government - embrace and push on us all things Socialist and reject and induce us to condemn all things Capitalist.

What professional teachers are doing to American children today is critical to the whole problem here. Most important, there is nothing new about it. It's been metastasizing for years and years. If I may quote myself from the Homo-Nazi page,

Does the state own the children? How did the theoretically representative state get so filthy, and simultaneously become so insensitive to and intolerant of family authority and religious values?
In a word: the Village. It now takes a village to raise a child, see? And, apparently, it takes a particularly filthy village. This rather rediculous notion came from a foreign source, the CDF, or Children's Defense Fund, which enjoys the support of the UN and various international globacratic Socialist political parties, such as our own Democratic Party. While those who push this CDF agenda mouth words indicating support for the family and family values, they quite clearly and unmistakably attack the family at its roots, and they are supported in this attack by the media and academia. The CDF is the spearhead organization for this type of "government knows best" anti-family activism, which insists that it takes a whole village to properly raise a child.
Asked to explain what the hell that meant, Dr. Chu Chu Saunders, Philadelphia's deputy health commissioner, once explained it thus: "How dare you believe you have the right to raise your children by yourself." Ask for an explanation, you get a dare; how do you like that? How dare we indeed. I personally know many American parents who would take that dare. But raising children, we are instructed by the wise Dr. Chu Chu, is far too complex and difficult of a responsibility for mere parents; it requires the coordinated effort of the entire community. Collective communes, perhaps.
CDF "attacks" teen pregnancy and venereal infection by peddling abortion advice, birth control and condoms to other people's children. Perhaps peddling isn't the right word; they give it away, having gotten you and me to pay for it through our taxes. Thus they promote "responsible" fornication and "safe" promiscuity and "protected" sodomy, and filthy habits, to children who have been taught at home and in Church to be chaste, and clean. Lip service aside, CDF promotes an agenda of "consequence-less sex" training for the children it pretends to protect, and it thereby reveals that it is subservient to, and is training the children of Jews and Christians in, some foreign, alien morality which is other than American, other than Judeo-Christian, other than monotheistic. What is it? Where does it come from? Why is it here?
Jews and Christians do not teach or allow their children to go out and copulate like animals, whether safely, responsibly, heterosexually or otherwise; neither do they provide their children with birth control or condoms or abortions, or in any other way empower them to be sexually active. CDF, the UN, academia, public education, the media and the rest of show-biz, and much of our own government, including even past Presidencies and past Surgeons General, directly and flatly oppose this typical American and ancient monotheistic family standard. But what poses more of a threat to our civil liberty is the clear, open, casual, rampant disregard for our "non-enumerated" but legally retained rights under the ninth amendment, and also all of the undelegated powers reserved to the states and to the people under the tenth amendment. The UN, the CDF, Hillery, Billery, Chu Chu and friends actually dare to ask us how we dare assume we have any right not directly granted to us by them; and, what is far worse, we either stand for it, or we don't even notice. The social anesthesia might not even wear off when we finally hear the famous command that every petty bureaucrat dreams of one day being able to say: shut up and get on the cattle car.
The same thing has been going on in the Church. First, they drive Catholics out of the pews with false Catholicism; then, they seek to solve the shrinking Catholic population problem by going out and finding people to drag back into the pews. Note all the current buzzwords used by nearly all Catholic clerics today, referring to how we are to now accept, even to the Communion rail, all sorts of unrepentant sinners and even non-Catholics, and even anti-Catholics.
Accommodate.
Welcome.

Don't judge.
Walk with.
Meet them where they are.

Then, once "The Church" has been schmoozed into becoming "church", having lost its singular identity, flying the rainbow flag welcoming the LGBTQ+ community to the once sacred communion rail,
even more of the truly faithful Catholics leave the faith;
those who are left are less Catholic than they were before.

We can see where this began with the infiltration of Communism into the Church, revealed in an interview with Alice Von Hildebrand.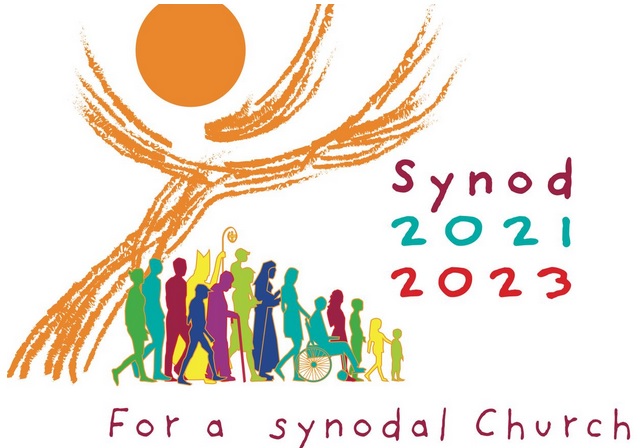 USCCB: Synod on synodality has 'renewed' the U.S. Church. Yeah, right.
The latest PSYOP buzzword in Catholicism is Synod, or Synodal. A Synod is a bureaucracy or bureau that sits between dioceses and the Vatican. It's a regional bureaucracy of Bishops. Francis is pushing his own authority as Vicar of Christ down to the Synods, who then push it down to the dioceses, who then push it down to the Parishes, so that everyone can just do their own thing. At least that's what it looks like from my lowly vantage point.
It's making every cleric his own Pope, and perhaps in the future, it will push it down to the laity, and every Catholic can be his own Pope, just as it is in interpret-it-for-yourself Protestantism. It's why they have over 40,000 denominations, and even more independent individual "I am saved therefore I need no church" individuals who never darken a church doorway. This is the end goal of the process of identity suicide.

I am my own authority. I therefore am god. I worship only myself.

Cardinal Pell calls it the Suicidal Way
So, we have this Synodal Synod on Synodality, and no one seems to recognize it as pure bureaucrat-speak. It's like a committee formed to control all committees, called the committee committee, which has a meeting to address all meetings, called a meeting meeting. Each Synod has a bueaurocrat in charge of it, and surely the Synod Synod will have its own chief bureaucrat.

Soviet: Aministrative bureaucracy that "administers" and rules territories, nations and international regions for an all powerful global ruler.

That's how Soviets sprout, bloom and multiply. Give any bureaucrat a little power and authority and he will spend the rest of his bureaucratic career emphasizing his own vital importance to the whole, growing his own power, creating sub-bureaucracies under his own and delegating authority and power to new bureaucrats placed in charge of new areas and subjects under bureaucratic control. Like the department of reduncancy department.
Thus, once created, all Soviets grow and expand automatically.

In the Church, the criminal Deep Church bureaucracies have overshadowed and sidelined singular Papal authority, and began Sovietizing the Church Christ founded and is making her forget her unique Catholic identity.

In America, the criminal Deep State bureaucracies have overshadowed and sidelined the Constitution and began Sovietizing an America that has been made to forget her unique Constitutional Identity.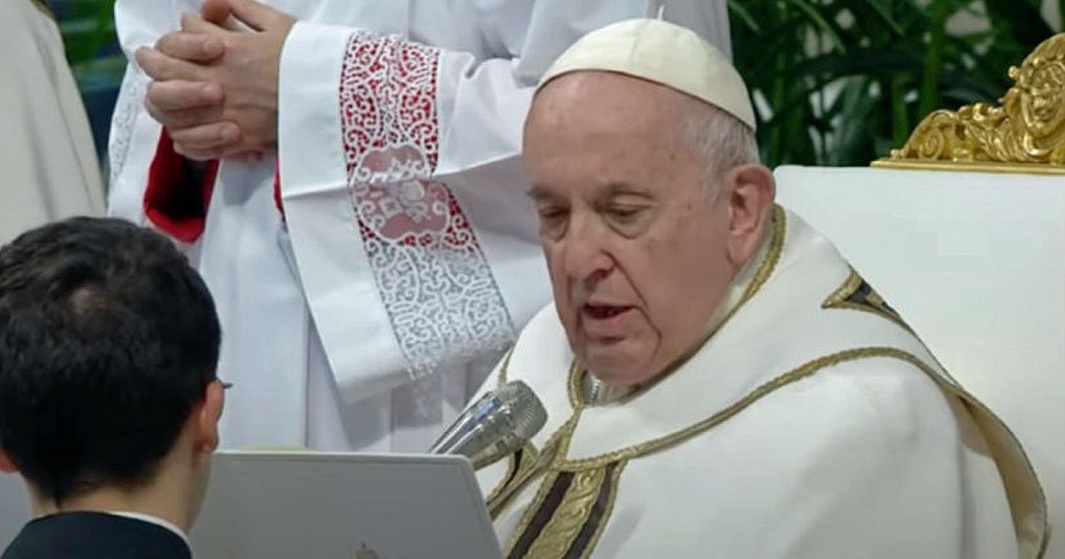 Pope Francis charges that "Tratitionalism" is "infidelity" to the Catholic Church and to Vatican II
On the 60th anniversary of the opening of Vatican Council II, in Mass offered in St. Peter's Square, Pope Francis again attacked Catholic Tradition in his homily. 

How often, in the wake of the Council, did Christians prefer to choose sides in the Church, not realizing that they were breaking their Mother's heart! How many times did they prefer to cheer on their own party rather than being servants of all? To be progressive or conservative rather than being brothers and sisters? To be on the "right" or "left," rather than with Jesus?
The problem here is that the Council created the split in the first place, and now the "instigators" of the split seek to heal it by condemning those who disagree with the split having being brought into existence.

Does this not sound the same as what the Marxocrat Party does to Constitutional America? They invent a problem or a crisis, such as Climate Change, and then they impose a controversial antidote for their own created problem that virtually destroys Constitutional America.

And then attack the opposition by charging that they, and not themselves, are the causes and not the cure of the controversy. And demonize all who dare oppose the phony cure for the phony problem.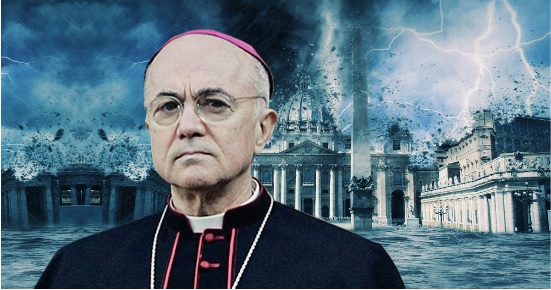 Archbishop Vigano Responds To The Most Critical Question Of Our Time at the Catholic Identity Conference
Bergoglio has charged that Catholic Traditionalists reject Vatican II. Abp. Vigano responds to the charge in very strong words. First of all, 

...There is no phantom "Good Council" that was supposedly "betrayed" by the modernists. It was conceived in form in such a way as to prevent it from being Catholic in substance, disguising the pitfalls it contained (and that it would soon reveal) behind verbiage and equivocal concepts. ...

In this Bergoglio is perfectly right: Catholics who want to remain faithful to Tradition reject Vatican II precisely because it is alien and opposed to Tradition, which is the norm of Faith. And this confirms not only the catholicity of the traditional Liturgy, but also the extraneousness of the reformed liturgy to the harmonious development that worship has known over the centuries: hence its substantial non-catholicity.
Catholics therefore have not only the right, but also the duty to demand that the Church worship the Most Holy Trinity in the most perfect way, and not with a spurious rite, born of doctrinally and morally deviant minds, designed to please heretics and to diminish the Faith. It is not a question of "inventing" a Liturgy that is more Catholic than that of the Novus Ordo, but of repairing the very serious vulnus caused to the Church with the suppression of a two-thousand-year-old rite to replace it with its deplorable counterfeit. Restoring the Catholic Liturgy and prohibiting the reformed Liturgy will be a necessary step in the restoration of the Church.
These quotes are from the Michael Matt interview of Vigano at the Catholic Identity Conference in Pittsburgh October 2, 2022.

The last sentence quoted, "Restoring the Catholic Liturgy and prohibiting the reformed Liturgy will be a necessary step in the restoration of the Church" is perhaps the only answer to the threat.
In a similar manner, eliminating unconstitutional political parties, eliminating unconstitutional bureaucracies and all of their unconstitutional regulations will be necessary steps the the restoration of Constitutional America.
(See Stop The Spending and Fix Constitutional America.) 
Almost everything Vigano says about the Church could be applied to America.
Much of what Trump says about America could be applied to The Church.

Everything imaginable has been Sovietized. The Press has been Sovietized. Education has been Sovietized. Science has been Sovietized. Many if not most of our courts have been Sovietized. Big Tech, Social Media, Search Engines, Operating Systems, even Email engines have been Sovietized.

The whole world is being boiled in Wokeschiff, and not so slowly any more.

Sovietized Deep-State companies like Google censor, throttle and limit Christian/Moral/American/Constitutionalist/Capitalist views to take them out of all communication and circulation.
Websites like this one induce them to
send all emails with names and keywords associated with the site to "spam" and not get through to recipients;
cut or even eliminate online search engine returns for site associated keywords;

drop, throttle or shadow-ban all internet communicaions containing site associated keywords;

cut down or even eliminate communications from and to target websites.

The Biden Regime, the Marxocrat Party and their Deep State, like the Francis Vatican and its Deep Church, intend to force us all into a new identity of their making. Many have already complied. The complacent, docile and newly domesticated Bishops and Priests of the New Order, and the fully cooperative and peacefully coexisting Republicrat Party politicians have already given up their old identities and embraced their new assigned identities. It didn't take much.
The weak-minded, weak-spirited and weak of faith are easily herded.

Are you ready to commit identity suicide too, or have you already done it?

As for me, I'm keeping my Catholic American identity to the bitter end.

---
The only thing Truth has going for Him in this world is us. 
The restoration of Truth = Reality in the hearts and minds of men is now totally dependent upon you and me; if we don't do it, it won't get done.
Sign the Letter to your Bishop, and make our Church Catholic again. 
Join Cardinal Burke's Storm Heaven Rosary Campaign.
Get behind a President Trump and a Vice President Donald Trump Jr, and make America Constitutional again. 
Pray for a strategic collaboration between Abp. Vigano and Trump.
=====
EENS:  Extra Ecclesiam Nulla Salus
(Outside the Church there is no salvation)


With fear and trembling, work out your salvation--Phil 2:12
Seek the Truth; Find the Way; Live the Life.
Please God, and Live Forever.
=====
Sarcastic Acronym Hover-Link Footnotes: For the convenience of those readers using devices that lack a mouse, these footnotes are provided for all webpages, in case any webpage contains any hover-links. (If you don't have a mouse, you can't "hover" it over a link without clicking just to see the simple acronym interpretation. Click any footnote link to see the acronym and a detailed explanation; "Hover" the mouse over it just to see the simple interpretation.)
SLIMC1
Secularist Liberal Intellectual Media Complex
GESGOEAEOT2
Gradually, Ever So Gradually, Over Eons And Eons Of Time
PEWAG3
Punctuated Equilibrium's Wild-Assed Guess
TTRSTF4
Them There Real Scientifical-Type Fellers
TTRSPTF5
Them There Real Smart Perfesser-Type Fellers
TTRSJTF6
Them There Real Smart Journalistical-Type Fellers
SNRTACBT7
Surely No Right Thinking Adult Could Believe Today
STNSEACPB8
Surely Today No Serious Educated Adult Could Possibly Believe
WDN9
We Don't Know
BMDFP10
Baboons, Mongrel Dogs, Filthy Pigs and ...
HBAACOTE11
Human Beings Are A Cancer On The Earth
ACLU12
Anti-Christian Litigation Union
FLORMPORIF13
Flagrant Liar, Or, Mindless Parrot, Or, Innocent Fool
MEJTML14
Marxist Ends-Justify-The-Means Liar
IEJTML15
Islamic Ends-Ends-Justify-The-Means Liar
MPAV16
Marxist Principles And Values
WBESSWG17
Wise, Benign, Elite, Super-Scientific World Governance
TRMITM18
The Reason Man's In This Mess
IYI19
Intellectual Yet Idiotic
TTRSCBTF20
Them There Real Smart Catholic Bishop Type Fellers
IACMPVND21
Illegal-Alien-Criminal Marxocrat-Party-Voting Nation-Destroyers
PEJTML22
Palestinian Ends-Justify-The-Means Liar
PSYOP23
"Psychological Operation" Mind Trick
CDC24
Covid Developmentally Challenged
LGBTQ+25
Every Letter Represents A Serious Psychotic sexual Identity Disorder
[All Web Pages listed in Site Map by date-of-publication;
oldest at the top, newest at the bottom of the list.]

Culture=Religion+Politics;  Who Are We?  Vic Biorseth
The Brilliantly Conceived Organization of the USA;  Vic Biorseth
Return to the BLOG page
Return to the HOME PAGE
Subscribe to our Free E-Zine News Letter
Comment
Respond to this WebPage immediately below the last comment.
Or,
---
Language and Tone Statement

Please note the language and tone of this monitored Website. This is not the place to just stack up vulgar one-liners and crude rejoinders. While you may support, oppose or introduce any position or argument, submissions must meet our high Roman Catholic and Constitutional American standards of Truth, logical rigor and civil discourse. We will not participate in merely trading insults, nor will we tolerate participants merely trading insults. Participants should not be thin-skinned or over sensitive to criticism, but should be prepared to defend their arguments when challenged. If you don't really have a coherent argument or counter-argument of your own, sit down and don't embarrass yourself. Nonsensical, obscene, blindly &doggedly anti-Catholic, anti-American, immoral or merely insulting submissions will not be published here. If you have something serious to contribute to the conversation, be prepared to back it up, keep it clean, keep it civil, and it will be published. We humbly apologize to all religious conservative thinkers for the need to even say these things, but the Hard Left is what it always was, the New Leftist Liberals are what they are, and the Internet is what it is.
"Clickbait" advertising links are not acceptable for posting here. 
If you fear intolerant Leftist repercussions, do not use your real name and do not include email or any identifying information.  Elitist Culturally Marxist Pure Authoritarians cannot and will not tolerate your freedom of speech or any opposition to their rigid authoritarian, anti-equality, anti-life, anti-liberty, anti-property, hedonistic, anti-Constitution, pro-Marxist, pro-Islam, anti-Catholic, anti-Christian, anti-Semitic, anti-male, sexist, pro-homosexual, anti-heterosexual, anti-white, racist, anti-Western, anti-American, Globalist, anti-Nation, blatantly immoral, totally intolerant and bigoted point of view. 
Copyrighted Material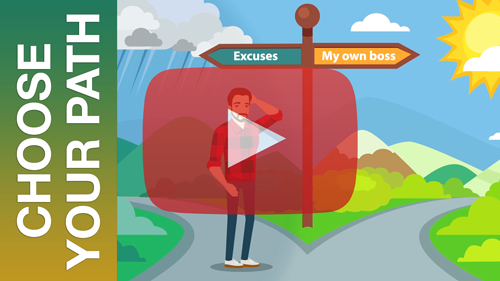 Solopreneur Opportunity Links, for a
Solo Build It WebSite