Site best viewed on a computer screen - not optimized for cell phones
Latest 50 articles published or updated here: BLOG (Web-Log) Page

Division, Separateness and Distinction
Catholicism is a distinct religion and constitutional America is a distinct nation; distinction requires continuous and persistent division and separateness
Vic Biorseth, Sunday, May 15, 2022
https://www.CatholicAmericanThinker.com/
Humanity itself is quite distinct, separate and divided out from all other life forms. Man is a social being who lives within distinct human culture.
Unbounded Inclusiveness and Diversity are destructive of human culture, proper religion, sovereign nations and even humanity itself.
Our diversity is not our strength; it is our destruction. Unbounded social inclusiveness is a destructive social evil. 
No Pope of the Roman Catholic Church can be a Pope of all of the faithful if some of the faithful are really unfaithful and anti-Catholic.
No President of America can be a President of all of the people if some of the people are really unfaithful to the Constitution and anti-American.
No one should be looking to "bring us all together" when some of us are religiously, politically, legally and even murderously antagonistic to the rest of us. 
"He that is not with me, is against me: and he that gathereth not with me, scattereth." [Matt 12:30]
Should Catholics gather with those who deny that Jesus Christ is the one and only one God to Whom all men owe everything? Of course not.
"This Constitution, and the Laws of the United States which shall be made in Pursuance thereof; and all Treaties made, or which shall be made, under the Authority of the United States, shall be the supreme Law of the Land; and the Judges in every State shall be bound thereby, any Thing in the Constitution or Laws of any State to the Contrary notwithstanding." [Article VI US Constitution]
Should Americans gather with those who oppose, ignore, override, disregard or seek to overturn the American Constitution? Of course not.
Look at all the currently standing federal laws, legal precedents, regulating bureaus, bureaucratic regulations and executive orders that are clearly and obviously unconstitutional by reason of exceeding the limitations on federal authority in Article One Section Eight. Abortion. Homo-marriage. Obamacare. Gun control. Welfare. "Safety-net" welfare or charity. Climate and environment control. Special rights for women. Special rights for minorities. Specially legally protected vices, such as dope, sexual licentiousness and perversions, including even imaginary "genders". Federal control of non-federal topics, such as education, medicine, food, urban development, drugs and pharmaceuticals, etc., etc., etc. Federally mandated "Education" in false histories and false sciences to support political frauds aimed at American national destruction. Language control, opinion control and even thought control, despite first amendment rights.
Members of our own federal government, all three branches, sworn in their very oaths of office to uphold the constitution, have "instituted" all these things into American culture, from the top down. They have done it without citizen representation and in direct violation of constitutional law, which is to say, criminally.  And all who have committed such crimes against the constitution, from all three branches of federal government, should have been impeached from office at the very least.
This is not to say that such things as abortion, licetiousness, perversions, etc., should be made illegal at the federal level, but that they should not even be addressed at all at the federal level. The federal government scope of operation is supposed to be limited and the size and power of the federal government is supposed to be small, as compared sovereign state authority and power. There is no reason for millions upon millions of federal government employees. Almost all of them are violations of the constitution in their very employment. 
It is up to states and lower jurisdictions whether they, through their citizen-representative duly elected governments, want to make such things as are not listed in Article One Section Eight legal or illegal. 
Whether they are legal or not, no vice should be protected or encouraged by government. You can say that a homosexual should not be punished by law for his identity psychosis, but neither should any such identity psychosis be protected and granted special rights, or encouraged, or celebrated, or sought to be grown and spread throughout the larger American culture. 
The same thing may be said of abortion, and of Obamacare, and more.
It must at least be recognized that such things are not good but evil. 
The American Government is Miltantly Anti-American
The current government of Christian America is both anti-Christian and anti-American. 
Comrade President Biden is a Catholic militant anti-Catholic, an American militant anti-American, a white militant anti-white racist and a human militant anti-human, and so is Comrade Speaker Of The House Pelosi. They are birds of a feather and they are certainly not alone in their political party. They, both of them, sponsor and protect such abominations as abortion, sodomy, transsexualism and sacrilege in the Church. They champion these evils even to the point of firing up the Marxified citizenry to violence against true Christians and MAGA supporters, including even supreme court justices who disagree with their illegal legalization of abortion, sodomy and sacrilege. 
Their wholly owned and operated DOJ and FBI only go after MAGA supporters and mothers of children who don't like having their own little ones groomed for lives of severe identity disorder psychoses in schools by federal government order. They leave their own Marxocrat real rioters and insurrectionists, sponsored by them and their own Marxocrat Party strictly alone, while they illegally persecute, imprison and falsely charge perfectly innocent MAGA demonstrators. 
They despise MAGA because they despise America, and they most certainly do not want to make America great again. Quite the opposite.
What the anti-American Marxocrat Party has done, through periods of control of the levers of power in the federal government, and even through periods of control of the government itself, has been to legalize, institutionalize and build-up a sense of self-pleasing as a first priority in the collective mind of the American citizenry. The elimination of any sense of wrongdoing or of guilt, and the building-up of a feelings-based lifestyle that says, if it feels good, do it. As a right. So that, if a citizen is made to feel bad, it's the government's fault, or the fault of someone in authority, or the fault of anyone who disagrees with the need to make the aggrieved party feel better. 
Today one of the most aggravating things while watching TV, whether cable, satellite or streaming, is putting up with all the repetitive commercials. Especially when they are commercials put on by any level of government, which you are paying dearly for, if you are a taxpayer. 
There are the repetitive (and expensive) government commercials encouraging you to get the latest Covid-19 vaccination or booster, and/or to mask-up, despite the fact that vaxing and masking are now well known to have no positive effect whatsoever for anyone who gets vaxed or masks-up. 
There are the repetitive (and expensive) government commercials encouraging everyone to go electric and buy electric cars, despite the governments's ongoing war on coal, oil, gas and nuclear, and when that war is won and there is no more coal, oil, gas or nuclear power you won't be able to charge up your electric car any more and it will become a useless piece of junk. 
There are the repetitive (and expensive) government commercials encouraging people who drink and get drunk to not drive while drunk, while studiously avoiding advising the drunks to not drink and get drunk in the first place.
There are the repetitive (and expensive) government commercials encouraging people who smoke dope and get stoned to not drive while stoned, while studiously avoiding advising the dopers to not smoke dope and get stoned in the first place.
There are even repetitive (and expensive) government commercials encouraging adult vaping-addicts to "get their heads out of the clouds" and talk to their kids about vaping, while studiously avoiding advising the adult vaping addicts to stop vaping. 
Again, you are paying for these commercials, if you are a taxpayer.
People feel that they need to get vaxed and maked, because vaccination and masks are their new security-blankets. People need to get into electric cars and electric everything, because they are convinced that science or entrepreneurial genius or corporate greed really will quickly develop magic batteries and electric sources in time to keep us all from dying in the famine caused by Marxocrat Party induced total grid failure.
Why, because it has to.
And people absolutely need their booze, their dope and the vape equipment to make them feel good. After all, what is there to live for if you can't always feel good. It's a quality of life thing. 
All of this is nonsense, of course, but we need to look at the evil source of all this nonsense. It is a growth of self-destructive nonsensical belief pushed by false education including falsified science and falsified religion. And at the root of all this falsification of reality are the false ideologies of all forms of Marxism, and the false religions of all forms of Islam.
They use our constitutionally guaranteed freedoms against us. 
Atheistic Marxism is a political "idea" that seeks the absolute destruction (or brutal domination over) all religions, all forms of government, all sovereign nations, all sense of sovereignty and everyone on earth. And it works to accomplish this destruction and domination while pretending to be just another innocent political idea among the many. 
Islam is a "religion" that seeks the absolute destruction and brutal elimination of all religions, all forms of government, all sovereign nations, all sense of sovereignty and brutal domination over everyone on earth. And it works to accomplish all this destruction and domination while pretending to be a religion of peace and just another innocent religion among the many. 
American citizens are free to follow the religions and the politics of their choosing, and that is the freedom that let the evil foot get in the door, and begin to work to destroy us as a decent Christian people and as a sovereign nation, by getting as many of us as possible to literally destroy ourselves and/or to join forces with the anti-Christian and anti-American forces already growing within our citizenry. 
Earlier we asked and answered the following question:
"Should Americans gather with those who oppose, ignore, override, disregard or seek to overturn the American Constitution? Of course not."
I submit for your consideration the undeniable fact that we have American Congressmen, Senators, the President and Vice President and Justices of the Supreme Court who oppose, ignore, override, disregard or seek to overturn the American Constitution. 
And many among we the people are now in on it too. 
The abortion issue alone, as a political issue, shows how our once dominant Christian national moral code has already been so weakened as to be very nearly destroyed. And it has been and is being weakened and destroyed through unconstitutional government control of formal education and the propagandizing of nearly all news, commentary and information technology. 
At the root of the abortion political movement is the need and the "right" of women to screw anyone anywhere anytime they want to screw without consequence, and pregnancy is a consequence. That's it. And if they are restricted in any way from screwing any time they want to, they won't feel good. Feelings are the whole thing; make someone feel bad, and they have a right to respond, and if they don't get satisfaction within the system they then have a right to burn the system down. 
And isn't that what this government's race trickery is doing with American blacks? If America's blacks don't get "reparations" and/or a step up or some advantage over whitey within the system, they have every right to just burn the system down. 
Because their feelings are hurt. It's all for the sake of feelings. 
When feelings trump religion, and when feelings trump the constitution, anarchy reigns, at both individual and national levels. The rules are out the window and lawlessness reigns. 
The Marxocrat party and the sitting US government approves, blesses, protects, does not prosecute and encourages lawlessness today. Not only at the southern border, but everywhere in America. 
The Marxocrat party and their current American government are an evil conspiratorial criminal enterprise. Anti-Christian and anti-American. They claim to be scientific, but they are actually scientistic.
Division, Separateness, Distinction
Christian religion and American survival depend totally upon division, separation and a return to distinction. 
Woke authoritarianism must be recognized as an American version of the old Chinese government-induced Maoist cultural revolution. The people were made to believe they were doing something good, something good for the whole nation. See the Authoritarianism page. They had been tricked, by their own evil conspiring government, into granting that government even more power over themselves. 
Getting back to constitutional distinction as a Christian nation is to once again regain its distinction. To do that we need to institute
impeachment of anti-American members of all three branches of our federal government, 
decitizenizing and exiling evil anti-Americans, 
banishing and deporting anti-American aliens, 
excommunicating anti-Christians.
All Atheistic Marxists, as ideologically-driven militant and militating anti-Christian anti-Americans, should be made to leave America. 
All Moslems, as religiously-driven militant and militating anti-Christians and anti-Americans, should be made to leave America. 
America isn't going anywhere worth going arm in arm with militant and militating anti-Americans. Christians aren't going anywhere worth going arm in arm with militant and militating anti-Christians. No member of any race is going anywhere worth going arm in arm with militant and militating racists. 
If President Trump ever gets back into office, he's going to have to start putting big time government criminals in prison where they belong, followed by decitizenizing and exiling, if America is ever to return to the absolutely distinct great nation she was declared, designed and constituted to be. 
A time of division and separation is upon us. Face it. 
Addendum Tuesday May 17, 2022
Received in email this morning from The Remnant:
"Do as thou wilt," is fast becoming the "whole of the law." #ToHellWithSynodality
Hello Vic Biorseth,

It may seem like a SNL skit, but the leaked video in my latest Remnant Underground on the "Synodal Church" is as serious as a heart attack. The Church of Accompaniment has become the Church of Stuart Smalley.


As you'll see in this video, it was difficult for me to keep a straight face while commenting on an actual preparatory session on "listening," conducted by a Canadian bishop.


The Synodal Church is to the Catholic Church what fingerpainting is to Michelangelo.

This Underground rips the mask off the lie of Synodality, whereby the Vatican is pretending to "consult" the clueless for guidance on permanently changing the Church.


But this is Francis' revolution, not theirs. He might as well come right out and say: "LGBT+ stuff.  Right? You want us to be more tolerant. Right? It's okay. You can say it. We're listening."


Meanwhile, he's telling traditional Catholics to shut the hell up!  


In this video, I suggest a counterstrategy:
Call out the Synodal fraud for what it is: A lie!   
Avoid Synodality like the plague.
Return to Tradition (in this video I explain how)  
And share this video with everyone you know:
Why? Because under the Synodal Church, "Do as thou wilt," is fast becoming the "whole of the law."  #ToHellWithSynodality


In Christo Rege,
Michael J. Matt
THE SYNODAL WAY: Is Francis Church Officially Going Gay?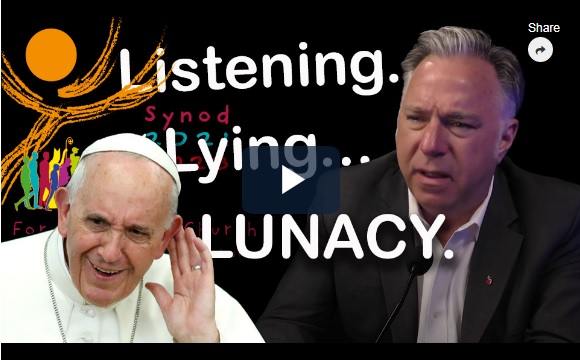 The Globalist Pope continues to remove Christianity as an impasse to the New World Order.
In this edition of The Editor's Desk, Michael J. Matt rips the mask off of Pope Francis's Synod on Synodality.
This is a "Catholic" clerical effort to "bring us all together" with sodomites and other obstinate unrepentant sinners. They are not listening to us; they are listening to them, exclusively, leaving us out of the conversation entirely. 
Just as it is clear that President Biden is an American anti-American, it is just as clear that Pope Francis is a Catholic Anti-Catholic. 
This "Listening" Synodality where the Church government listens, learns and obeys a very select few of the laity appears to be aimed at converting the Church from being the Church of God to the the Church of Me, and the Church of You, in which every man is his own pope. And if that's the goal, what happens to the Church Christ founded on Peter?
Again, its not about Truth; it's all about feelings. 
(Not ours, but theirs.)
We can rest assured that the Francis church is looking forward to the ordination of priestesses and the elevation of priestesses to the rank of Bishop, and perhaps even the first female pope. We already have homo-priests and homo-bishops, and maybe even a homo-pope. 
In this new synodality, who are we to judge?
Mustn't hurt any of their feelings; after all, it's their church.
Not God's. 
---
The only thing Truth has going for Him in this world is us. 
The restoration of Truth = Reality in the hearts and minds of men is now totally dependent upon you and me; if we don't do it, it won't get done.
Sign the Letter to your Bishop, and make our Church Catholic again. 
Join Cardinal Burke's Storm Heaven Rosary Campaign.
Get behind a President Trump and a Vice President Donald Trump Jr, and make America Constitutional again. 
Pray for a strategic collaboration between Abp. Vigano and Trump.
=====
EENS:  Extra Ecclesiam Nulla Salus
(Outside the Church there is no salvation)


With fear and trembling, work out your salvation--Phil 2:12
Seek the Truth; Find the Way; Live the Life.
Please God, and Live Forever.
=====
Sarcastic Acronym Hover-Link Footnotes: For the convenience of those readers using devices that lack a mouse, these footnotes are provided for all webpages, in case any webpage contains any hover-links. (If you don't have a mouse, you can't "hover" it over a link without clicking just to see the simple acronym interpretation. Click any footnote link to see the acronym and a detailed explanation; "Hover" the mouse over it just to see the simple interpretation.)
SLIMC1
Secularist Liberal Intellectual Media Complex
GESGOEAEOT2
Gradually, Ever So Gradually, Over Eons And Eons Of Time
PEWAG3
Punctuated Equilibrium's Wild-Assed Guess
TTRSTF4
Them There Real Scientifical-Type Fellers
TTRSPTF5
Them There Real Smart Perfesser-Type Fellers
TTRSJTF6
Them There Real Smart Journalistical-Type Fellers
SNRTACBT7
Surely No Right Thinking Adult Could Believe Today
STNSEACPB8
Surely Today No Serious Educated Adult Could Possibly Believe
WDN9
We Don't Know
BMDFP10
Baboons, Mongrel Dogs, Filthy Pigs and ...
HBAACOTE11
Human Beings Are A Cancer On The Earth
ACLU12
Anti-Christian Litigation Union
FLORMPORIF13
Flagrant Liar, Or, Mindless Parrot, Or, Innocent Fool
MEJTML14
Marxist Ends-Justify-The-Means Liar
IEJTML15
Islamic Ends-Ends-Justify-The-Means Liar
MPAV16
Marxist Principles And Values
WBESSWG17
Wise, Benign, Elite, Super-Scientific World Governance
TRMITM18
The Reason Man's In This Mess
IYI19
Intellectual Yet Idiotic
TTRSCBTF20
Them There Real Smart Catholic Bishop Type Fellers
IACMPVND21
Illegal-Alien-Criminal Marxocrat-Party-Voting Nation-Destroyers
PEJTML22
Palestinian Ends-Justify-The-Means Liar
PSYOP23
"Psychological Operation" Mind Trick
CDC24
Covid Developmentally Challenged
LGBTQ+25
Every Letter Represents A Serious Psychotic sexual Identity Disorder
[All Web Pages listed in Site Map by date-of-publication;
oldest at the top, newest at the bottom of the list.]

Culture=Religion+Politics;  Who Are We?  Vic Biorseth
The Brilliantly Conceived Organization of the USA;  Vic Biorseth
Return to the BLOG page
Return to the HOME PAGE
Subscribe to our Free E-Zine News Letter
Comment
Respond to this WebPage immediately below the last comment.
Or,
---
Language and Tone Statement

Please note the language and tone of this monitored Website. This is not the place to just stack up vulgar one-liners and crude rejoinders. While you may support, oppose or introduce any position or argument, submissions must meet our high Roman Catholic and Constitutional American standards of Truth, logical rigor and civil discourse. We will not participate in merely trading insults, nor will we tolerate participants merely trading insults. Participants should not be thin-skinned or over sensitive to criticism, but should be prepared to defend their arguments when challenged. If you don't really have a coherent argument or counter-argument of your own, sit down and don't embarrass yourself. Nonsensical, obscene, blindly &doggedly anti-Catholic, anti-American, immoral or merely insulting submissions will not be published here. If you have something serious to contribute to the conversation, be prepared to back it up, keep it clean, keep it civil, and it will be published. We humbly apologize to all religious conservative thinkers for the need to even say these things, but the Hard Left is what it always was, the New Leftist Liberals are what they are, and the Internet is what it is.
"Clickbait" advertising links are not acceptable for posting here. 
If you fear intolerant Leftist repercussions, do not use your real name and do not include email or any identifying information.  Elitist Culturally Marxist Pure Authoritarians cannot and will not tolerate your freedom of speech or any opposition to their rigid authoritarian, anti-equality, anti-life, anti-liberty, anti-property, hedonistic, anti-Constitution, pro-Marxist, pro-Islam, anti-Catholic, anti-Christian, anti-Semitic, anti-male, sexist, pro-homosexual, anti-heterosexual, anti-white, racist, anti-Western, anti-American, Globalist, anti-Nation, blatantly immoral, totally intolerant and bigoted point of view. 
Copyrighted Material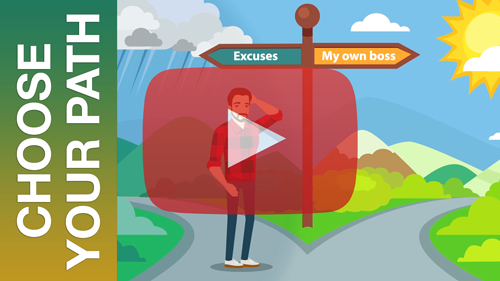 Solopreneur Opportunity Links, for a
Solo Build It WebSite