Site best viewed on a computer screen - not optimized for cell phones
Latest 50 articles published or updated here: BLOG (Web-Log) Page

On The Evil, Satanic-Induced, Feelings-Based, Self-Loathing Nuttiness.
Of all the nuttiness in the world, there is nothing nuttier than induced self-hatred.
Vic Biorseth, Sunday, September 19, 2021
https://www.CatholicAmericanThinker.com/
Two points to ponder:
Satan rules this world.
Satan hates mankind.
Today is the Seventeenth Sunday after Pentecost. Let's look at the readings from the Latin rite:
Lesson
Lesson from the letter of St. Paul the Apostle to the Ephesians
Eph 4:1-6
Brethren: I, the prisoner in the Lord, exhort you to walk in a manner worthy of the calling with which you were called, with all humility and meekness, with patience, bearing with one another in love, careful to preserve the unity of the Spirit in the bond of peace: one body and one Spirit, even as you were called in one hope of your calling; one Lord, one faith, one Baptism, one God and Father of all, Who is above all, and throughout all, and in us all, Who is blessed forever and ever. Amen.
R. Thanks be to God.

Continuation ✠ of the Holy Gospel according to Matthew
R. Glory be to Thee, O Lord.
Matt 22:34-46
At that time, the Pharisees came to Jesus and one of them, a doctor of the Law, putting Him to the test, asked Him, Master, which is the great commandment in the Law? Jesus said to him, 'You shall love the Lord your God with your whole heart, and with your whole soul, and with your whole mind.' This is the greatest and first commandment. And the second is like it, 'You shall love your neighbor as yourself.' On these two commandments depend the whole Law and the Prophets. Now while the Pharisees were gathered together, Jesus questioned them, saying, What do you think of the Christ? Whose son is He? They said to Him, David's. He said to them, How then does David in the spirit call Him Lord, saying, The Lord said to my Lord: Sit at My right hand, till I make Your enemies Your footstool?' If David, therefore, calls Him 'Lord,' how is He his son? And no one could answer Him a word; neither did anyone dare from that day forth to ask Him any more questions.
R. Praise be to Thee, O Christ.
S. By the words of the Gospel may our sins be blotted out.

And, copied from our Church bulletin, we see this explanation:
The Seventeenth Sunday After Pentecost
In today's Gospel, MT 22:35-46, Our Lord responds to the Pharisee's question "which is the great commandment of the law?" by saying "Thou shalt love the Lord thy God with thy whole heart, and with thy whole soul and with thy whole mind" and "thou shalt love thy neighbor as thyself." Jesus then asks "What do you think of the Christ? Whose son is he?" At first these appear to be separate subjects with nothing in common, a non sequitur. But a closer grasp of its meaning show they are intimately connected. The real reason why the Pharisees rejected Jesus and condemned Him to be crucified was because they had not the true love of God within them. They served God out of selfish motives, they wanted to prosper in their earthly possessions and to avoid earthly punishments. They devoted their time to twisting the Law of Moses in order to circumscribe God's activity among men. They left God little to say in His own Law. They wanted a Messiah who would free them from the Roman occupiers and restore to them the Jewish ruling power, THEIR POWER, over Israel. They did not think of the Messiah's spiritual mission of conquering sin and death. They wanted a great worldly wizard who would open the doors of earthly treasures to them without even considering the gates of heaven. Because they did not love God as they should— whole and entire– they would not recognize Him before their very eyes and would not accept Him as their Lord and Redeemer. They preferred their heaven on earth! How little the world has changed in nearly 2000 years. There are legions of worldly men and women, among them many who call themselves "Catholic" yet deny giving themselves whole heartedly to Jesus Christ for the same motives. Let us not be a part of that group but rather continue to increase in love of God and our neighbor for the love of God who created each and every one in His image and likeness and died for their redemption. We must remember we are created for heaven not this earth! Remember those words of St Therese the Little Flower:
"The earth's my ship - not my home!" 
Mankind was made "in the image of God". 
But by lies and trickery, mankind, or much of it, made incapable of properly applying intellect and reason, stopped believing it was created, that it had a creator, and that it was good. 
That vast segment of mankind sought to recreate itself, in another image.
Man's connection between this physical world and the spiritual world is the human mind: the intellect, the reason and the will. As man, the created creature, freely aligns his will with the will of the Creator, he moves into the realm of Grace; as he forgets or is alienated from his Creator, and freely aligns his will with himself, or with anyone or anything else apart from God, he moves out of Grace.
It is only by the Grace of the Creator that everlasting life is attained. The loss of that Grace means everlasting death. 
| | |
| --- | --- |
| Self-loathing self-mutilating man | Self-loathing self-mutilating woman |
We submit that the deeper any American citizen sinks into moral depravity and self-mutilation, the more likely they are to be:
Disciples of Satan, knowingly or otherwise, and deniers if not willing opponents of their own Creator.
Disciples of the Marxocrat Party, and voters and supporters of all else that is opposed to their own nation.
Ultimately, as haters of humanity itself, they become self-haters.
It's the "revolutionary" mindset; at the end, it finds itself revolting. 
The Marxocrat Party is just as anti-American as Satan is anti-God. 
Neither the Marxocrat Party nor any disciples of Satan are our neighbors. Quite the opposite; they are God's enemies, and they are our enemies.
Our Lord told us who our neighbors were in the parable of the Good Samaritan, in Luke. It wasn't the robbers, and it wasn't the Priest, and it wasn't the Levite. It was the Good Samaritan. It was (and is) they who do the will of God, and who sublimate their own will to do it. Inconveniencing themselves, going out of their way, at their own loss, they do it. Cooperating with the free Grace that is given, they do it. 
Because it is right; The Holy Ghost, and the Sensus Fidei, say it is right.
Saint John told us, in his first chapter, who our Creator was and is. Our Creator is Jesus Christ, according to the first chapter of John. He is clearly identified as God, and as the Creator. "All things were made by Him, and without Him was nothing that was made." "He was in the world, and the world was made by Him, and the world knew Him not."
Then comes the important part, to you and me, at verse 11: "He came unto His own, and His own received Him not. But as many as received Him, He gave them power to be made the sons of God, to them that believe in His name."
Those are the ones we are supposed to gather with, and unify with, and be neighbors with. Not the whole world; but only those who, of their own free will, align their will with the will of God. 
And that means giving power to the faculties of intellect, reason and will, at the expense of "feelings", and the seeking of pleasure and comfort. This world, ruled by Satan, emphasizes feelings over everything. 
"I did it my way" sang Sinatra, and millions of fans applauded, and many still do. But that's the wrong way. It's approaching self-worship. It's a "me against the world" scenario that pretends that me and the world are the only players in the game. It leaves out God, and it leaves out the two great Commandments. It emphathizes my will as if there were no other more important will. 
How did so many of us get that way? Subliminally, and incrementally. Satan, as the great nut-maker, is driving the nut-bus. All on board, and all others clamoring to get on board, are either liars advancing lies against God, family, nations and humanity, or, they are convinced that all of the gigantic lies against God, family, nations and humanity are true. And that's just nuts. 
Speciation
No species of life may successfully interbreed with any other species of life and produce any offspring that may successfully reproduce.
A Speciation Event is defined as a new species coming into being which can successfully reproduce itself, but can no longer successfully reproduce or interbreed with the parent species from which it theoretically "evolved". 
In all of human history, no speciation event has ever been observed by any man, including Darwin himself. In the truly enormous fossil record, no speciation event is to be found.
Indeed, the fossil record disproves speciation in many instances. The "Cambrian Explosion" record shows
a "blank" period of (supposed) millions of years of near total lack of life forms,
followed by a sudden explosion of thousands of entirely new life forms with nothing to have possibly evolved from, 
followed by (supposed) millions of years of nearly blank fossil record after the extinction of thousands of species. 
You need look no farther than the usurpation of real science by modernist 'scientists' and their promotion of the new religion of scientism in old science's place. 
Examples:
Everything in Darwinism is a lie; there is no real science supporting any of it.
There is no such thing as speciation, or, macro-evolution, as Darwin described it. There is only micro-evolution, or observable heritable traits strictly within species. 
Everything in Freudianism is a lie; there is no real science supporting any of it.

Everything in Marxism is a lie; there is no real science supporting any of it. 
Everything in Islam is a lie; there is no real revelation or truth in any of it.
Everything the climate change nuts claim is a lie; there is no real science supporting any of it.
Cloth masks, social-distancing, quarantining yourself, disinfecting, hand-washing, avoiding human contact, etc., will do nothing whatsoever to keep you from catching any cold or flu virus. 
There is and can be no such thing as any life-long vaccine protecting against all constantly emerging cold and flu viruses. 
There is no such thing as a human population problem.
There is no such thing as a resource 'sustainability' problem. 
The polar ice caps are not melting; the polar bears are not drowning; the sea levels are not rising; the land is not submerging; the world is not running out of fossil fuels; fossil fuels are not destroying the air or the soil or the water; there is no such thing as 'renewable' energy; a plastic straw stuck in  turtle's nose is not an indication that the oceans or the world are doomed by plastic; there is no real scientific evidence whatsoever that the world, or the universe, or anything at all, is any hundreds of thousands, millions, billions or trillions of years old; storms are not getting stronger and more numerous over time; there is no evidence whatsoever that recycling anything is good for the planet; no one is born homosexual; men cannot give birth; there is no such thing as genetic racism; there is no empirical evidence supporting the 'only whites can be racist' theory; men are not 'toxic' by dint of being men, and men and women really are physiologically, psychologically, emotionally and temperamentally different. 
All of that is nuts; it is nuttiness on a grand scale, and yet, look how universally believed it all is today. It is the consensus view of the majority of the world population, and yet, every bit of it is a lie. 
"It's settled science!" shout all of
TTRSTF4
in unison. "Look at our text books!" shout all of
TTRSPTF5
in unison. "Look at all of our investigative reports!" shout all of
TTRSJTF6
in unison.
But note well how they are all supporting of, in league with, dependent upon or paid by one or more of the following:
Satan
Communism
Islam
The Marxocrat Party
The corrupted and now anti-constitutional US government.
Scientists no longer form hypotheses and then put them to the test. Today, they form hypotheses and then just take a vote on them. It's all consensus science, which is to say, scientism. There's nothing scientific about it at all. Ask them for scientific evidence and they'll hand you a list of signed-on credentialed scientists. And every one of them will be a liar.
Ever increasingly, it is political science. It is pseudo-science that supports a political agenda, nothing more and nothing less. 
From that fateful day in the Garden, Satan has been tricking mankind into putting himself first; to get man to seek to be like God; to be the final arbiter of what is right and what is wrong. To put "feelings" in charge of intellect and reason, and have "feelings" direct the will toward pleasure, whatever feels good, whatever pleases the individual. 
We can easily look at the theological, scientific and political results. 
Strictly worldly solutions for problems of the soul. 
Unhappy? There's a pill for that. Anxious? There's another pill. There are sleeping pills and stay-awake pills. Pot-heads don't need to smoke dope any more; now they can chew a CBD gummy and, like, mellow out, man. Want to just screw around without getting pregnant? There's a pill for that. "Science" says that chastity is "impossible", and so, "responsible" parents will get all their children vaccinated against HPV as young as possible, so they can all be free to screw around like everybody else. 
What's worse is the success of all the political terrorism lies. Just look at little Greta Thunberg, who has been turned into a venomous, enraged, hate-filled child, convinced that demonized capitalism has doomed her and all future generations to a horrible death as the globe heats up and the oceans rise. But it's all a purely political lie. So, in her warped mind, we should all, short-term, vote Communism in, and then board the next rocket to Mars, to save mankind from - mankind. 
And you can see absolutely terrorized people out there today, driving alone in their cars with a mask on, walking alone outside with a mask on, probably sleeping and taking showers with a mask on, and yet, a mask will not protect them from any cold or flu virus. Marxocrat politicos and other liars are pushing the Wuhan Lab Virus terrorism for all it's worth. They are never going to let it go. It's good for big government, and it's good for the obedience-training of the citizenry. 
You'd think it was typhoid, or something equally dangerous. 
So it's hard to blame the self-hating nuts for their nuttiness. We can sympathize and pity them, and we can try to correct them, but we cannot unite with them, nor can we bless and approve or tolerate and not condemn their behaviors. There can be no compromise between good and evil, or between what is right and what is wrong, or between what is true and what is false. That is the wrong kind of unity.
We must separate from them. And from the scientists, the academics, the teachers, the journalist, and most of all, the politicians. And even from their voter-base, for they are all on the road to nuttiness, away from the Grace of God. 
By their own free will, which is the only way they can go either way.
We cannot go that way. Pray for them, but stay apart from them. 
If you can put aside 10% or some percent of your income to your retirement, you can put 10% or some percent of your time to habitual prayer in atonement for the lost sheep and the sins of the world. We should all pray a morning offering, an evening examination of conscience and an act of contrition, and a daily rosary. Add another rosary for the fallen, in the Church and in the nation. 
Do not be driven by your feelings. Take charge of yourself. 
Take charge of your own free will, through your own intellect and reason. Get in Grace and strive to stay there, and you will increase the Grace of the whole Catholic Church, and the whole nation of America. 
See also, 
---
The only thing Truth has going for Him in this world is us. 
The restoration of Truth = Reality in the hearts and minds of men is now totally dependent upon you and me; if we don't do it, it won't get done.
Sign the Letter to your Bishop, and make our Church Catholic again. 
Join Cardinal Burke's Storm Heaven Rosary Campaign.
Get behind a President Trump and a Vice President Donald Trump Jr, and make America Constitutional again. 
Pray for a strategic collaboration between Abp. Vigano and Trump.
=====
EENS:  Extra Ecclesiam Nulla Salus
(Outside the Church there is no salvation)


With fear and trembling, work out your salvation--Phil 2:12
Seek the Truth; Find the Way; Live the Life.
Please God, and Live Forever.
=====
Sarcastic Acronym Hover-Link Footnotes: For the convenience of those readers using devices that lack a mouse, these footnotes are provided for all webpages, in case any webpage contains any hover-links. (If you don't have a mouse, you can't "hover" it over a link without clicking just to see the simple acronym interpretation. Click any footnote link to see the acronym and a detailed explanation; "Hover" the mouse over it just to see the simple interpretation.)
SLIMC1
Secularist Liberal Intellectual Media Complex
GESGOEAEOT2
Gradually, Ever So Gradually, Over Eons And Eons Of Time
PEWAG3
Punctuated Equilibrium's Wild-Assed Guess
TTRSTF4
Them There Real Scientifical-Type Fellers
TTRSPTF5
Them There Real Smart Perfesser-Type Fellers
TTRSJTF6
Them There Real Smart Journalistical-Type Fellers
SNRTACBT7
Surely No Right Thinking Adult Could Believe Today
STNSEACPB8
Surely Today No Serious Educated Adult Could Possibly Believe
WDN9
We Don't Know
BMDFP10
Baboons, Mongrel Dogs, Filthy Pigs and ...
HBAACOTE11
Human Beings Are A Cancer On The Earth
ACLU12
Anti-Christian Litigation Union
FLORMPORIF13
Flagrant Liar, Or, Mindless Parrot, Or, Innocent Fool
MEJTML14
Marxist Ends-Justify-The-Means Liar
IEJTML15
Islamic Ends-Ends-Justify-The-Means Liar
MPAV16
Marxist Principles And Values
WBESSWG17
Wise, Benign, Elite, Super-Scientific World Governance
TRMITM18
The Reason Man's In This Mess
IYI19
Intellectual Yet Idiotic
TTRSCBTF20
Them There Real Smart Catholic Bishop Type Fellers
IACMPVND21
Illegal-Alien-Criminal Marxocrat-Party-Voting Nation-Destroyers
PEJTML22
Palestinian Ends-Justify-The-Means Liar
PSYOP23
"Psychological Operation" Mind Trick
CDC24
Covid Developmentally Challenged
LGBTQ+25
Every Letter Represents A Serious Psychotic sexual Identity Disorder
[All Web Pages listed in Site Map by date-of-publication;
oldest at the top, newest at the bottom of the list.]

Culture=Religion+Politics;  Who Are We?  Vic Biorseth
The Brilliantly Conceived Organization of the USA;  Vic Biorseth
Return to the BLOG page
Return to the HOME PAGE
Subscribe to our Free E-Zine News Letter
Comment
Respond to this WebPage immediately below the last comment.
Or,
---
Date:  Sun Sep 19 19:58:59 2021
From:  mrkron
Email:   
Location:  
Comment: 
Spot on Vic!!! 
---
Language and Tone Statement

Please note the language and tone of this monitored Website. This is not the place to just stack up vulgar one-liners and crude rejoinders. While you may support, oppose or introduce any position or argument, submissions must meet our high Roman Catholic and Constitutional American standards of Truth, logical rigor and civil discourse. We will not participate in merely trading insults, nor will we tolerate participants merely trading insults. Participants should not be thin-skinned or over sensitive to criticism, but should be prepared to defend their arguments when challenged. If you don't really have a coherent argument or counter-argument of your own, sit down and don't embarrass yourself. Nonsensical, obscene, blindly &doggedly anti-Catholic, anti-American, immoral or merely insulting submissions will not be published here. If you have something serious to contribute to the conversation, be prepared to back it up, keep it clean, keep it civil, and it will be published. We humbly apologize to all religious conservative thinkers for the need to even say these things, but the Hard Left is what it always was, the New Leftist Liberals are what they are, and the Internet is what it is.
"Clickbait" advertising links are not acceptable for posting here. 
If you fear intolerant Leftist repercussions, do not use your real name and do not include email or any identifying information.  Elitist Culturally Marxist Pure Authoritarians cannot and will not tolerate your freedom of speech or any opposition to their rigid authoritarian, anti-equality, anti-life, anti-liberty, anti-property, hedonistic, anti-Constitution, pro-Marxist, pro-Islam, anti-Catholic, anti-Christian, anti-Semitic, anti-male, sexist, pro-homosexual, anti-heterosexual, anti-white, racist, anti-Western, anti-American, Globalist, anti-Nation, blatantly immoral, totally intolerant and bigoted point of view. 
Copyrighted Material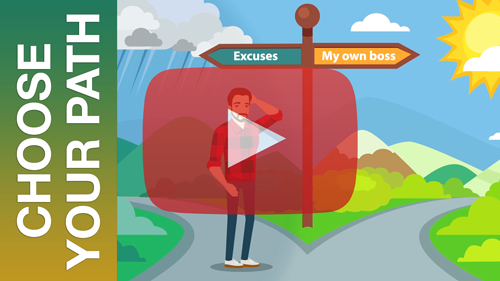 Solopreneur Opportunity Links, for a
Solo Build It WebSite