Site best viewed on a computer screen - not optimized for cell phones
Latest 50 articles published or updated here: BLOG (Web-Log) Page

How Shame is turned upside down by evil to destroy Proper Identity.
Shame is both noun and verb; by sly use of the verb, evil condemns the natural use of the noun.
Vic Biorseth, Wednesday, August 28, 2019
https://www.CatholicAmericanThinker.com/
Whatever the topic of contention du jour may be, whether cultural, religious or political, beneath it all, Identity is always a hidden part of it, or maybe even the real topic. Personal identity, family identity, cultural identity, religious identity, national identity, political identity, even sexual identity, or all of the above. 
Shame (the noun) is what the normal person feels when he does something shameful. You are supposed to feel shame in shameful circumstances; that is natural and normal. When you do something wrong you are supposed to feel guilty about it. If you do not, then you have lost proper and natural sense of right and wrong, and are not ruled by any moral code. 
Shame (the verb) is what others do to make you ashamed, whether in good justice or not. In good justice, the moral shamer brings the shameful behavior to the attention of the person who should be ashamed of something, and does it either publicly or privately. In bad justice, a shamer may be scoring political points by publicly shaming someone unfairly or unnecessarily. 
The main point is, shame is a good and natural human instinct. The Natural Law was written on the human heart before it was written on the stone tablets that came down the mountain with Moses. Avoidance of shame is one beginning point of virtue. Maybe not the best beginning point, but a starting point nonetheless. 
The evil one would, first, eliminate shame, and then, reverse it, making vice virtuous, and making virtue vicious. He does this by attacking conscience itself, and either destroying it entirely, or reversing it. 
The lack of a conscience is, definitively, sociopathic. The sociopath sees no difference between right and wrong, is either amoral or immoral, and therefore is anti-social in belief and behavior. He knows no rules and no reasonable restrictions to behavior, and is thus a "natural" criminal. He will commit a crime any time he thinks he can get away with it. 
You don't have to be a Catholic to be moral, although it certainly helps. In the general sense, the root of morality is in the Natural Law, known in Catholicism as the Moral Law: those Commandments of God that lay out man's relationship with his fellow man.
(And the root of Theological Law: those Commandment of God that lay out man's relationship with God.)
From Aborigines to Eskimos, people "know" the rules regarding such things as life, private property, marriage, family, honesty, honor, etc. We are born with the Natural Law, and it is enriched, or it is impoverished, by the way we are raised and taught, and by the way we are Churched or un-Churched. 
When you violate some part of any of these laws, and you remember, you feel shame, and a need to somehow make up for it. 
Satan's Rule On Shame:  Shame Itself Is A Shameful Thing. 
Almost everything in Freudian psychoanalysis and even in the broader Freudian-infected fields of modern psychiatry and psychology is geared toward making the patient feel good about himself. That often involves a systematic attack on feelings of guilt and shame. The acts or thoughts that warranted the guilt and shame become less relevant than the elimination of the negative feelings. 
It should be noted here that Freudianism, like Darwinism, has been commandeered, modified and weaponized by Cultural Marxism to advance the cause of Globalism (the modern name for International Communism) against the existence of religions and nations. 
And it should be noted here that the whole Marxocrat Party, much of the Republicrat Party, the UN, the EU and even Pope Francis are now Globalist (Communist) even despite the Creed, and even despite the American Constitution. 
If you have harmed someone, you are supposed to make restitution, and be driven by guilt to do it, and feel increasingly guilty until you do. Catholics can repent, confess their sins and gain absolution, but there is a price, a penance, that must be paid.
To upset all of this and work to eliminate warranted feelings of shame and guilt is not only wrong; it is evil. And it feeds and grows even more evil. 
It makes the purposeful, intentional, conscious, suppression of guilt and shame habitual, and "normal". 
That can turn you into a sociopath.  A criminal.  An outlaw. 
What is worse, when social and even legal pressures are applied to reduce shame and shaming across the board in a nation, a whole nation can be made to be sympathetic to the sociopath, the criminal and the outlaw. How far can that unnatural situation be from actual national self destruction?
And what is worse than even that is when ordained Catholic Clerics apply pressure to eliminate shame and shaming inside the Church, as is being done today under the watchful eye of Pope Francis, much if not most of the Hierarchy of Bishops and the whole American USCCB. 
Fr. James Martin, SJ, is a prime example, promoting active homosexuality inside the Church with the full blessing of everyone in any position superior to him. Cardinal Dolan of New York is another example; the leader of the "Gay Parade" that once honored St. Patrick, but now dishonors him. 
In their view, which must be the view of their own superiors who are blessing their view, no sodomite should ever be ashamed of being a sodomite. Indeed, they should celebrate being sodomites, and we, all the Catholic laity, should celebrate it with them. 
In the "new" view of all the Catholic clerical hierarchy over the likes of Martin and Dolan, anyone who roundly condemns sodomy ought to be ashamed, for having committed the new sin of becoming homophobic. 
It is the politically invented, imaginary mental illness of homophobia that warrants shame and guilt, while sodomy is praised and celebrated. Inside the Catholic Church. 
It's the same in secular American culture. You can't find the Journalist, or the Marxocrat Politician or candidate for office, or hardly any politician of any Party, who will not fall all over themselves blessing and encouraging and lifting-up sodomites, lesbians and other perverts of various description, including even those with politically invented and totally imaginary "genders". 
And who will publicly "shame" anyone who says one word against any of this impurity, indecency, mortal sin, sexual perversion and deviancy. And perhaps even prosecute them for something or other. 
Even non-existent, imaginary "genders" have "rights" today that supersede actual Constitutional rights. And every journalist in America will defend all bogus "pervert rights" to the death, and will viciously attack anyone who does not strongly support that perversion of law. 
"Scientists", or, practitioners of the religion of Scientism, will shame anyone who still dares to not believe that 
homosexuals are born to be homosexual
homosexuality is as normal as heterosexuality
homosexuality is natural
there are lots and lots of genders besides male and female
no one has any choice regarding their "born" gender
little children should be taught to "question" their gender
everyone should "choose" a gender they are comfortable with
gender can be changed, both physically and mentally
anyone who disagrees with any of this suffers from homophobia
And they pretend that science is real, and religion is superstition. They've got it exactly backwards. There is no real science to back up any of this gross, obvious and even self-contradictory stupidity. 
We see the same nonsense, or political science, in the Environmental-Nazi Movement. The whole Green New Deal is based on it. Terrifying lies of global doom that are now believed by untold millions, because they are taught as true in schools, from K through university. 
With no real science behind any of it. 
The evil people who push all the giant environmental lies and the untold millions who are hopelessly fooled by them actually believe that they, and they alone stand on dependable science, and that those of us who know better are "Science Deniers". 
Right. 
And if you guessed that Pope Francis, most of the Catholic hierarchy and the USCCB is on board with this crap too, go to the head of the class. 
When corrupted science is pitted against religion, Pope Francis takes the side of corrupted science. Why not? His religion is not exactly uncorrupted.
There is no real science behind a population problem, global warming, global pollution, sustainability, fossil fuel supplies, etc., etc., etc. They are all political lies born of Marxism driving at growing government, limiting citizen liberty, the end of nations and the rise of one grand global government. 
Look into any one of the many giant, purely political eco-frauds and you will not find the scientific method applied to any of them. What you will find is computer models, untested hypotheses, and a plethora of nodding, bobbling heads of "scientists" who agree with them. Long lists of them, who sign on to support what amounts to a conjecture. 
Conjecture is the word elitists prefer over the more common word, guess.
But, no matter how scientific a conjecture may be, no matter how educated, no matter how well thought out, no matter how many serious, credentialed experts may sign on to it give it their blessing, a conjecture never, ever, rises above the level of being a guess. 
I don't care how many people sign on to it. If it is still untested and unproven, it is still nothing more than a guess. 
And that's all planet-dooming global warming, ocean-rising, population exploding, resource consuming, etc., etc., etc., has behind it: conjecture and conjecture alone. Cherry-picked, massaged and politically corrupted statistics, and projections, and long lists of supporting experts. 
But no real science. 
In many if not most instances, the "experts" who lend their names to all the "theories" that never really rose above the level of hypotheses all depend on government grants or contracts or projects, usually Marxocrat Party controlled to some degree. Their laboratories, their research funding, their livelihoods all depend on direct or indirect funding from convinced private globalists and government agencies, sometimes twice removed. University research programs and government contracts, for instance, come through universities that are themselves heavily subsidized by governments (mostly the US), and/or entities such as the UN, which are themselves mostly funded by US tax dollars. 
For the most part, we are paying them to do this to us. 
They have sold their souls to globalism, for money. Having told what they believe to be a "little" lie, lending their names to a fraud, they have done what is necessary to keep their pet research projects going, or to keep drawing their substantial government pay from NASA, or NOAA, or etc., etc., etc.
But the lie keeps growing, and they keep getting in deeper, to the point that they become little more than paid liars on a globalist leash. No different than mainstream media Journalists, or university academics. 
They know they are lying, and they keep right on lying. For "the cause". For globalism. Some of them begin to believe their own lies, and some of them become more political conspirators for globalism than scientists seeking truth. All of them have betrayed and corrupted science, turning it into an almost pure political tool. 
Exactly what academia did to education and journalism did to news.  
Now they, who should be ashamed, are shaming us.
You don't believe in Evolution? You're a science denier. 
You don't believe in Repressed Memories? You're a science denier. 
You don't believe in Lie Detectors? You're a science denier. 
You don't believe the Climate Change Myth? You're a science denier. 
You don't believe in the plethora of genders? You're a science denier. 
You don't believe sexual perversion is natural? You're a homophobe.
You don't believe that all religions are the same? You're a religious nut. 
You actually believe in God? You're a science denier. 
You don't welcome Islam and it's Jihad? You're an Islamophobe. 
You don't believe all nations are the same? You're a xenophobe. 
You don't believe men and women are the same? You're a misogynist. 
You oppose repeal of the Second Amendment? You're a gun nut. 
You're an American Patriot? You're a scoundrel. 
You voted for Donald J. Trump? You're a racist, a misogynist, a homophobe, an Islamophobe, a xenophobe, a white nationalist, a white supremacist, a climate-change denier, a science denier, a religious nut and a general all around wacko nut job. A deplorable. A smelly Walmart shopper. An irredeemable. 
And if you are a Catholic, and if you do not believe the dogma, Outside the Church there is no salvation, then you are in the company of Pope Francis, Cardinals Cupich, Dolan, Wuerl and others, and Bishop Robert Barron, and Fr. James Martin, and many like them. And that is to say that you are a heretic. You stand in heresy. 
While they, shame us, for not welcoming and accommodating if not blessing and praising open homosexuality, criminal conspiracy, hidden criminal activity, Islam and Marxism, inside the Catholic Church. 
They shame us, for being intolerant and judgmental. 
How are they any different than the rest of the Marxocrat Party? 
Know yourself. Know who you are. 
Nothing the globalists say can be substantiated, because nothing they claim has any real substance. Another way of saying the same thing is that they stand for nothing. 
We are all called to boldly stand for God and for all that He commanded.
Never be ashamed of being wholly and fully Catholic. 
Never be ashamed of being wholly and fully American. 
The whole mission of Satan in his reversal of the human sense of shame is to make people and nations lose their own proper sense of identity.
Loss of distinct identity is self destruction and cultural destruction. 
Stand up with pride and be who and what you are.
The only thing Truth has going for Him in this world is us. 
The restoration of Truth = Reality in the hearts and minds of men is now totally dependent upon you and me; if we don't do it, it won't get done.
Sign the Letter to your Bishop, and make our Church Catholic again. 
Join Cardinal Burke's Storm Heaven Rosary Campaign.
Get behind a President Trump and a Vice President Donald Trump Jr, and make America Constitutional again. 
Pray for a strategic collaboration between Abp. Vigano and Trump.
=====
EENS:  Extra Ecclesiam Nulla Salus
(Outside the Church there is no salvation)


With fear and trembling, work out your salvation--Phil 2:12
Seek the Truth; Find the Way; Live the Life.
Please God, and Live Forever.
=====
Sarcastic Acronym Hover-Link Footnotes: For the convenience of those readers using devices that lack a mouse, these footnotes are provided for all webpages, in case any webpage contains any hover-links. (If you don't have a mouse, you can't "hover" it over a link without clicking just to see the simple acronym interpretation. Click any footnote link to see the acronym and a detailed explanation; "Hover" the mouse over it just to see the simple interpretation.)
SLIMC1
Secularist Liberal Intellectual Media Complex
GESGOEAEOT2
Gradually, Ever So Gradually, Over Eons And Eons Of Time
PEWAG3
Punctuated Equilibrium's Wild-Assed Guess
TTRSTF4
Them There Real Scientifical-Type Fellers
TTRSPTF5
Them There Real Smart Perfesser-Type Fellers
TTRSJTF6
Them There Real Smart Journalistical-Type Fellers
SNRTACBT7
Surely No Right Thinking Adult Could Believe Today
STNSEACPB8
Surely Today No Serious Educated Adult Could Possibly Believe
WDN9
We Don't Know
BMDFP10
Baboons, Mongrel Dogs, Filthy Pigs and ...
HBAACOTE11
Human Beings Are A Cancer On The Earth
ACLU12
Anti-Christian Litigation Union
FLORMPORIF13
Flagrant Liar, Or, Mindless Parrot, Or, Innocent Fool
MEJTML14
Marxist Ends-Justify-The-Means Liar
IEJTML15
Islamic Ends-Ends-Justify-The-Means Liar
MPAV16
Marxist Principles And Values
WBESSWG17
Wise, Benign, Elite, Super-Scientific World Governance
TRMITM18
The Reason Man's In This Mess
IYI19
Intellectual Yet Idiotic
TTRSCBTF20
Them There Real Smart Catholic Bishop Type Fellers
IACMPVND21
Illegal-Alien-Criminal Marxocrat-Party-Voting Nation-Destroyers
PEJTML22
Palestinian Ends-Justify-The-Means Liar
PSYOP23
"Psychological Operation" Mind Trick
CDC24
Covid Developmentally Challenged
LGBTQ+25
Every Letter Represents A Serious Psychotic sexual Identity Disorder
[All Web Pages listed in Site Map by date-of-publication;
oldest at the top, newest at the bottom of the list.]

Culture=Religion+Politics;  Who Are We?  Vic Biorseth
The Brilliantly Conceived Organization of the USA;  Vic Biorseth
Return to the BLOG page
Return to the HOME PAGE
Subscribe to our Free E-Zine News Letter
Comment
Respond to this WebPage immediately below the last comment.
Or,
---
Date:  Wed Aug 28 07:00:06 2019
From:  Noname
Email:   
Location:  
Comment: 
Another good essay.
Why do you not respond to my facebook messages?
---
Date:  Wed Aug 28 2019
From:  Vic Biorseth
Comment:  
Noname:
Thank you. 
Facebook, and all social media are too insecure for me. Facebook Messenger is another one of those communications venues identified as all messages being gathered and held, forever, for nefarious purposes of a political nature, while also gaining valuable information for advertisers. I never even initiated Messenger in Facebook and don't intend to. I don't trust social media any more than I trust Google. 
People who know me call me or email me. People who aren't in my contact list can communicate with me right here, where I have something to say about security, before they may graduate to my trusted contact list.  
Regards,
Vic
---
Language and Tone Statement

Please note the language and tone of this monitored Website. This is not the place to just stack up vulgar one-liners and crude rejoinders. While you may support, oppose or introduce any position or argument, submissions must meet our high Roman Catholic and Constitutional American standards of Truth, logical rigor and civil discourse. We will not participate in merely trading insults, nor will we tolerate participants merely trading insults. Participants should not be thin-skinned or over sensitive to criticism, but should be prepared to defend their arguments when challenged. If you don't really have a coherent argument or counter-argument of your own, sit down and don't embarrass yourself. Nonsensical, obscene, blindly &doggedly anti-Catholic, anti-American, immoral or merely insulting submissions will not be published here. If you have something serious to contribute to the conversation, be prepared to back it up, keep it clean, keep it civil, and it will be published. We humbly apologize to all religious conservative thinkers for the need to even say these things, but the Hard Left is what it always was, the New Leftist Liberals are what they are, and the Internet is what it is.
"Clickbait" advertising links are not acceptable for posting here. 
If you fear intolerant Leftist repercussions, do not use your real name and do not include email or any identifying information.  Elitist Culturally Marxist Pure Authoritarians cannot and will not tolerate your freedom of speech or any opposition to their rigid authoritarian, anti-equality, anti-life, anti-liberty, anti-property, hedonistic, anti-Constitution, pro-Marxist, pro-Islam, anti-Catholic, anti-Christian, anti-Semitic, anti-male, sexist, pro-homosexual, anti-heterosexual, anti-white, racist, anti-Western, anti-American, Globalist, anti-Nation, blatantly immoral, totally intolerant and bigoted point of view. 
Copyrighted Material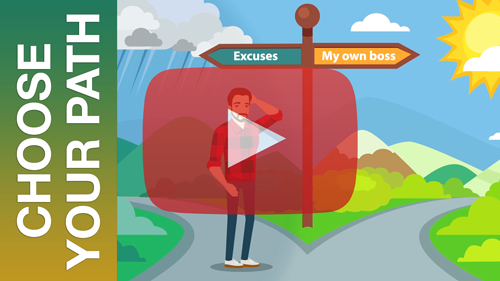 Solopreneur Opportunity Links, for a
Solo Build It WebSite