Site best viewed on a computer screen - not optimized for cell phones
Latest 50 articles published or updated here: BLOG (Web-Log) Page

On Silly Science, or, Sillience.
Sillience is Pseudo-Science gone way beyond being stupid, entering the realm of the downright Silly.
Vic Biorseth, Monday, October 14, 2019
https://www.CatholicAmericanThinker.com/
Where did all this Sillience come from? 
First of all, when you consider all the utter nonsense and silliness now motivating the seemingly insane Marxocrat Party's voter-base, you need to consider the educational source of their nonsense and silliness. No one is born that stupid; they have to be brought-up, trained and transformed into any such raging stupidity and laughable silliness. 
Importantly, all the stupidity in Sillience is Political, pure and simple.
If you think contemporary science is apolitical, you have gone silly. 
Sillience infected Western thought through Cultural Marxism, initiated by Joseph Stalin. The evil Popular Front Marxist program quickly took psychological control of Western academia, entertainment, publishing and news-reporting, and the evil Frankfurt School Marxist program eventually dominated all of Western Civilization's formal education. 
In unleashing this evil Marxist PSYOPS operation on Western Civilization, Stalin intended to:
Politically popularize Marxism in Western thought;
Falsely Demonize all opposition to Marxism, and especially the opposing political ideology behind America and the American Constitution, as being Nazi-Fascist

and 

Evil

;

Distort and rewrite actual history, creating and promoting a false history demonizing Western Civilization and promoting Communist Utopian Idealism as the only worldly salvation for an oppressed mankind. 
But it went farther than that, giving birth to Sillience. After generation after generation after generation of officially certified and credentialed professional educators were themselves educated, certified and credentialed by ever increasingly pro-Marxist and anti-American professional educators, belief in falsehoods and false history infected all areas of "educated" human knowledge, including art, music, language, and, most importantly, including even Science. 
For instance, Marxism is anti-religion. So is formal education today. 
Marxism is purely Materialist; so is formal education today. 
Marxism is anti-Capitalism; so is formal education today.
Marxism is anti-Western Civilization; so is formal education today.
Marxism is anti-American; s is formal education today.
What Cultural Marxism has done in America, and in larger Western Civilization, is to deepen the philosophical split between theological science and material science, which originated in the Modernist Heresy that was involved in and perhaps even gave birth to the so called Enlightenment. 
Today we see that this centuries old trend in popular pseudo-intellectual elitist thought was made dominant under modern Cultural Marxism, and it actually largely displaced the Scientific Method with Scientism. 
It is an evil and massive psychological take-over of human thought.
Scientism is a quasi-religious, faith-filled and solely faith-based belief in pseudo-scientific "truths" brought into being not by actual science, but by Democratic-Science; by a new educationally-ordained and materially-blessed Scientific Consensus.
A hypothesis is not proved any more; it is simple published, and if enough credentialed Scientists approve of it, it is called Scientific. 
The most often heard term is Settled Science. 
(That should be a clue, for real science is never settled.) 
Examples abound. Darwinism, Freudianism, even Marxism itself, when expressed as economic science. Students are not taught how to think any more; they are taught what to think. 
The Plastic Straw/Plastic Anything Eco-Doom Sillience

Where is the scientific evidence that plastic is dooming the whole global environment, or life on earth? That supposedly scientific, but really silly-istic claim is made that discarded Plastic items will continue to be in existence for a thousand, or even ten thousand years. Such a silly claim should raise two questions in the mind of anyone still in possession of a properly working mind:
So what?

And,
How could anyone even test that hypothesis? 
Yet, younger "well educated" generations "know", with seemingly absolute ontological certitude, that plastic trash will last that long or longer, and that it will somehow doom all life on earth. 
Because teacher said so, and these text-books all says so, and this long list of respected and highly credentialed scientists all say so.
It is still just silly nonsense, nothing more and nothing less.
Yet it is nonsense that is so accepted and not resisted in today's sillience-embracing culture that governments actually pass laws rigidly controlling if not condemning and outright illegalizing various uses, manufacturing and disposing of things made out of plastic. 
Especially governments that are or that lean Marxist. 
The Climate Change Eco-Doom Sillience
Both Global Cooling and Global Warming, falsely blamed on humanity, have taken their turns as the most current and most successful Marxist population-herding psychological hoaxes in existence today. 
They are joined by all of the ecological hoaxes of Cultural Marxism thus far identified in the massive Eco-Nazi Movement, and they are legion. 
Many are so terrified by their false education in these hoaxes that they see hope for humanity only in colonizing the moon, or Mars, or Venus, or some planet somewhere. They actually believe that, 
evil mankind is dooming life on earth, and that,
it is actually possible to "colonize" another planet and start over, dooming another planet with the infection of evil mankind. 
Missing the obvious objective truths that, first, mankind is not evil and not dooming life on earth, and second, that it is quite impossible to colonize any other planet. 
Nevertheless, this fatally flawed thinking is the thinking of an ever growing "voter-base" of Marxist-leaning governments and Marxist-leaning Political Parties, like America's now thoroughly Marxist Marxocrat Party. And they have enough political clout to actually make law, even if unconstitutional, through regulation rather than legislation, and through Marxist-leaning Court action. 
Whatever they can't Constitutionally Legislate, they will unconstitutionally Regulate or Adjudicate, or, with a Marxist President, achieve through Executive Order. 
And so we see a global movement toward economically destroying America and Western Civilization by use of "Carbon Taxes" to make evil oligarchs and plutocrats like Al Gore and George Soros rich beyond imagining. 
All because man is harming the climate and changing the sea levels. 
It just does'nt get any sillier than this.
Or does it?
The Transsexualism Sillience
The silly belief in trannie-ism denies the actual science of the xx (female) and the xy (male) chromosomes. There are no other biological options. Even hermaphrodites are either xx or xy. To pretend that someone is other than male of female is beyond sutpid; it is silly. 
And yet, virtually the whole profesoriate and all of upper academia is putting the sheer stupidity of trannsexualism on steroids by maintaining and continually growing a formal list of "Proper Pronouns" for Trannies. And imposing rules and punishments for anyone failing to use the proper pronoun when addressing any of the many, many self-identified screwballs who think they are something other than male or female. 
Little children are taught in Kindergarten and even in pre-K, by professional educators, how to begin to "discern" whether they think they might be boys, girls or any of a myriad of other impossibilities. 
This is educationally induced insanity. 
Medical science is infected with this stupidity, this absolute Sillience. There are actual credentialed medical doctors out there today performing addadictomy and lopadickoffame operations on patients who have nothing more than educationally induced psychological identity disorders. 
For money.
And after the disfiguring operations the patients are still afflicted by the same psychological identity disorder they had before being mutilated. 
What is worse, if that is possible, than what the field of medicine is doing with the whole transsexualism Sillience is what Marxist politicians are doing with it. 
Just look at all the letters in LGBTQ, for instance. The T is for Trannie, and the Q is for Questioning. 
All of them represent a break with objective reality. 
And yet, every single member of the Marxocrat Party, and quite a few in the Republicrat Party, will go to the wall defending LGBTQ "Rights", which do not exist in the Constitution, and they will defend LGBTQ "Rights" even at the expense of actual Constitutional Rights, which do indeed exist in the Constitution, especially those in the First Amendment. 
But you had better never say one word discrediting the Transsexualism Sillience in front of any Marxocrat Trannie, or in front of any Marxocrat politician, or in front of any Marxocrat Professor, or in front of any Marxocrat Journalist. There may be a legal price to pay for that exercise of your "free" speech. 
The Homosexual-Is-Natural Sillience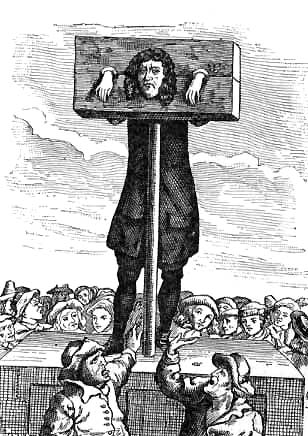 Homosexuality is a mental disorder that stems from a sexual identity crisis. There is nothing natural about it, there is nothing normal about it, and there is nothing about it that was ordained by God. Anyone who tells you otherwise is a liar. 
Once upon a time, in this country and in Europe, sexual sin of every kind was punished by public humiliation and shunning. People were put in stocks of one form or another, in public, for a specified period of time. Often a sign wold be in place indicating what shameful thing they had done, saying such things as "For Adultery", or, "For Unlawful Carnal Knowledge", or, "For Sodomy".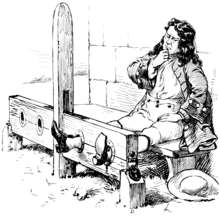 Many people, especially children, would throw tomatoes or eggs at them and taunt them mercilessly. Today, that sort of thing comes under the heading of "cruel and unusual punishment" and the stocks are out of existence, except in history. 
But has this change in the cultural view of shaming and public humiliation gone too far in the opposite direction? 
Should America, as a human culture, now consider any of the sins for which people were once shamed and shunned to be somehow virtuous, and good, and not wrong at all? 
The absolute reverse of reality? 
That is what Marxified formal education would have you believe today, and that is what the Homo-Nazi Movement would have you believe. And that is what the Marxocrat Party forcibly imposes upon the whole citizenry against its will. Homosexuals today in America enjoy legal "Rights" that the rest of us do not enjoy, and those "Rights" are able to overpower our actual Constitutional Rights, and again, this is especially true of those Rights laid out in the First Amendment. 
We the People are legally forced to be in close association with open, proud of it, very public, acting-out homosexuals. In the workplace, in the schoolroom, in every area of life. Disneyland, originally designed for children, now has established every Wednesday to be a very special homosexuals-are-specially-welcome day, so that other people's children can witness grown men holding hands and kissing on the street. And that's supposed to be a good thing. 
It's the law, unconstitutional though that law may be. You cannot discriminate against them. You have to associate with them. You cannot even criticize them. You have to approve of them. 
And you probably thought you were an American. 
Note well that every single Marxocrat Party Presidential Candidate for the 2020 election is a proud avowed champion of homosexual "rights" and an opponent of America's foundational civil rights of equality, life, liberty and property. 
Today, all across America, in diocese after diocese, you will find Catholic Churches that fly the rainbow fag-flag and welcome active homosexuals to all the sacraments. And all of the Catholic clerics who are in the most powerful positions closest to Pope (Anti-Pope?) Francis are Communists, active homosexuals or both. 
And you probably thought they were Catholic. 
The "Columbus Was Evil" Sillience
So Columbus Day is now supposed to be Indigenous People Day. 
Right.
I ain't buying it. Just because today's Marxist dominated formal education demonizes everyone and everything to do with Western Civilization doesn't mean those who know real history have to kowtow to this new nonsense. 
Columbus brought Christianity to the New World, which he thought was India. But the world was larger than he imagined, and it was the islands of the Caribbean, which he called the West Indies. 
And it is true that there were already people here, but, so what? Columbus brought Christianity. What did they bring? 
Well, they brought wars, invasions, the same things Marxists today claim Columbus and others from Europe brought. The "Indigenous" peoples fought each other, drove each other from the land, conquered each other, enslaved each other, sacrificed each other and even ate each other. 
You can call it anything you want; I'll just keep calling it Columbus Day.
The Infectious AIDS Sillience
In the HIV=AIDS=DEATH treatment we showed how
HIV does not cause AIDS
AIDS is not contagious
HIV, which is contagious, is perfectly harmless and has no symptoms
HIV, having no symptoms, is therefore not even a disease. 
And yet, the formula HIV=AIDS=DEATH is now so widely believed and so deeply ingrained in world culture that it may be a lie that has become impossible to undo. Everyone believes it. The Marxocrat Party pushes it. 
Just think of all the untold billions that have been spent, that are being spent and that will be spent, trying to eradicate an infectious disease that does not even exist. 
The HIV - AIDS myth was commandeered by the Homo-Nazi Movement to make heroes out of sodomites, to put them up on a cultural pedestal and garner massive undeserved sympathy from the world for their "cause". 
There are none so dumb as they who will expend time, effort and treasure to do something that cannot be done, and that does not need to be done, and is foolish to even try to do. 
That is the nature of Sillience. That is it's goal. 
It is the frittering away of attention to things of importance, and the sowing of error, chaos and confusion. 
A preparation for Revolution against Reality. 
---
The only thing Truth has going for Him in this world is us. 
The restoration of Truth = Reality in the hearts and minds of men is now totally dependent upon you and me; if we don't do it, it won't get done.
Sign the Letter to your Bishop, and make our Church Catholic again. 
Join Cardinal Burke's Storm Heaven Rosary Campaign.
Get behind President Trump, and make America Constitutional again. 
Pray for a strategic collaboration between Abp. Vigano and Trump.
=====
EENS:  Extra Ecclesiam Nulla Salus
(Outside the Church there is no salvation)


With fear and trembling, work out your salvation--Phil 2:12
Seek the Truth; Find the Way; Live the Life.
Please God, and Live Forever.
=====
Sarcastic Acronym Hover-Link Footnotes: For the convenience of those readers using devices that lack a mouse, these footnotes are provided for all webpages, in case any webpage contains any hover-links. (If you don't have a mouse, you can't "hover" it over a link without clicking just to see the simple acronym interpretation. Click any footnote link to see the acronym and a detailed explanation; "hover" the mouse over it just to see the simple interpretation.)
SLIMC1
Secularist Liberal Intellectual Media Complex
GESGOEAEOT2
Gradually, Ever So Gradually, Over Eons And Eons Of Time
PEWAG3
Punctuated Equilibrium's Wild-Assed Guess
TTRSTF4
Them There Real Scientifical-Type Fellers
TTRSPTF5
Them There Real Smart Perfesser-Type Fellers
TTRSJTF6
Them There Real Smart Journalistical-Type Fellers
SNRTACBT7
Surely No Right Thinking Adult Could Believe Today
STNSEACPB8
Surely Today No Serious Educated Adult Could Possibly Believe
WDN9
We Don't Know
BMDFP10
Baboons, Mongrel Dogs, Filthy Pigs and ...
HBAACOTE11
Human Beings Are A Cancer On The Earth
ACLU12
Anti-Christian Litigation Union
FLORMPORIF13
Flagrant Liar, Or, Mindless Parrot, Or, Innocent Fool
MEJTML14
Marxist Ends-Justify-The-Means Liar
IEJTML15
Islamic Ends-Ends-Justify-The-Means Liar
MPAV16
Marxist Principles And Values
WBESSWG17
Wise, Benign, Elite, Super-Scientific World Governance
TRMITM18
The Reason Man's In This Mess
IYI19
Intellectual Yet Idiotic
TTRSCBTF20
Them There Real Smart Catholic Bishop Type Fellers
IACMPVND21
Illegal-Alien-Criminal Marxocrat-Party-Voting Nation-Destroyers
PEJTML22
Palestinian Ends-Justify-The-Means Liar
PSYOP23
"Psychological Operation" Mind Trick
CDC24
Covid Developmentally Challenged
LGBTQ+25
Every Letter Represents A Serious Psychotic sexual Identity Disorder
[All Web Pages listed in Site Map by date-of-publication;
oldest at the top, newest at the bottom of the list.]

Culture=Religion+Politics;  Who Are We?  Vic Biorseth
The Brilliantly Conceived Organization of the USA;  Vic Biorseth
Return to the BLOG page
Return to the HOME PAGE
Subscribe to our Free E-Zine News Letter
Comment
Respond to this WebPage immediately below the last comment.
Or,
---
Date:  Wed Oct 16 22:28:33 2019
From:  HCUA
Email:   pmeis@cox.net
Location:  Tucson/Arizona/USA
Comment: 
The author makes good points, but, he has misspelled the word--credentialed--several times.
Also, he is another who loves to capitalize common words, instead of using the lower case, as we were taught in a proper English class.
Yours for correct English: HCUA
---
Date:  Thu Oct 17 2019
From:  Vic Biorseth
Comment:  
HCUA:
Thank you very much. I have corrected credentialled to be credentialed throughout, making the whole article more gooder. But the rule I follow here is to capitalize the word this article is about, Silience, which is even the very name of the article, as has been done in just about every other article in this website. So, some names, sometimes, are treated as a proper nouns herein to make them stand out more betterly.
Words like Capitalism, Communism, Cultural Marxism, Marxocrat Party, Political Party, Conservatism, Liberalism, etc.
My old grammar school teacher might agree, or, she might be rolling in her grave. But that's the way I was learned good talking. Or, that's the way I thunk I got learned. 
Regards,
Vic
---
Language and Tone Statement

Please note the language and tone of this monitored Website. This is not the place to just stack up vulgar one-liners and crude rejoinders.  While you may support, oppose or introduce any position or argument, submissions must meet our high Roman Catholic and Constitutional American standards of Truth, logical rigor and civil discourse.  We will not participate in merely trading insults, nor will we tolerate participants merely trading insults.  Participants should not be thin-skinned or over sensitive to criticism, but should be prepared to defend their arguments when challenged.  If you don't really have a coherent argument or counter-argument of your own, sit down and don't embarrass yourself. Nonsensical, obscene, blindly & doggedly anti-Catholic, anti-American, immoral or merely insulting submissions will not be published here.  If you have something serious to contribute to the conversation, be prepared to back it up, keep it clean, keep it civil, and it will be published.  We humbly apologize to all religious conservative thinkers for the need to even say these things, but the Hard Left is what it always was, the New Leftist Liberals are what they are, and the Internet is what it is. 
"Clickbait" advertising links are not acceptable for posting here. 
If you fear intolerant Leftist repercussions, do not use your real name and do not include email or any identifying information.  Elitist Culturally Marxist Pure Authoritarians cannot and will not tolerate your freedom of speech or any opposition to their rigid authoritarian, anti-equality, anti-life, anti-liberty, anti-property, hedonistic, anti-Constitution, pro-Marxist, pro-Islam, anti-Catholic, anti-Christian, anti-Semitic, anti-male, sexist, pro-homosexual, anti-heterosexual, anti-white, racist, anti-Western, anti-American, Globalist, anti-Nation, blatantly immoral, totally intolerant and bigoted point of view. 
Copyrighted Material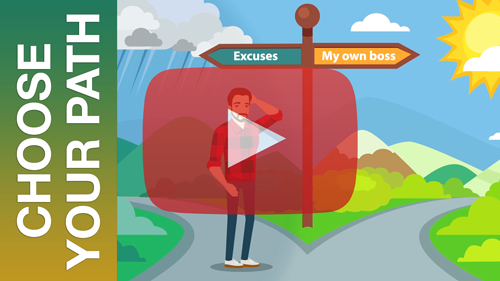 Solopreneur Opportunity Links, for a
Solo Build It WebSite