Site best viewed on a computer screen - not optimized for cell phones
Latest 50 articles published or updated here: BLOG (Web-Log) Page

On the Potentially Deadly Good Intentions of Bureaucrats and Experts
Why do most of us listen to our bureaucrats with such reverence? Why do we now regularly defer to them over simple common sense and adult judgment?
Vic Biorseth, Friday, April 10, 2020
https://www.CatholicAmericanThinker.com/
Today is Good Friday; the day our Lord suffered and died for you and me. Spend some time on your knees today contemplating that sacrifice. 
The Nature of the "Experts" who make Bureaucracies
We have talked about the danger to the general good posed by the rise of specialization over general, universal, all-encompassing education, most recently in the General Practitioner treatment. Once upon a time the reason the most gifted among us went to the "University" was to get a "Universal" and well rounded general higher education. But the more specialized the expert becomes, the more narrowly focused, perhaps to the point of wearing blinders, and not seeing what is to the right or to the left as they plow their super-straight and highly specialized furrows.
Specialties today become bureaucracies unto themselves, as the specialists seek each other's company and form specialist social communities. When they are incorporated, or when they incorporate themselves, into government, or into a corporation, they form actual government or corporate bureaucracies. 
And a bureaucracy, made up of humans, becomes a mere specialized instrument devoid of all human aspects; devoid of humanity. A thing; an independent organism impervious to everything outside of itself. 
Here is how Mark Brumbaugh described it in Misguided Good Intentions or Ignorance:
Let's start with a truism. Bureaucracies Cannot Love. A bureaucracy has no heart, no soul, no conscience, and exists mainly because it cannot be destroyed. It is a waste of time to love a bureaucracy, because it cannot love you back. It is not a person, it does not answer to God or the Commandments. It cannot hear a sermon. It is all process and little progress. What progress may result is generally unintentional, inconsistent with the bureaucracy's own charter and goals, and all too frequently counterproductive.
How often we human beings, through good intentions, ignorance or even intentional avoidance, ignore this. We try to attribute human emotions to a bureaucracy and then treat the bureaucracy as a person to be loved or hated. (P.S. Perhaps this explains why so many loyal "company" men leave as disappointed and disgruntled former employees.)
Rush Limbaugh got me thinking about all this again yesterday when, on the radio, he recounted an experience with his doctors in which it was found that his blood-oxygen saturation level was alarmingly low, to the point that they thought they had to put him on a ventilator to save his life. Something normally done to someone in a coma or near comatose state. 
And he had difficulty getting them to stop looking at the numbers and look at him; he was standing there, right in front of them, talking to them and breathing on his own. Yet, the numbers said, when someone's blood-oxygen saturation percent gets below the nineties, or below the eighties, it's code blue time, call the ambulance and get him to emergency and onto a ventilator, quick, before he dies. 
So Rush, the patient, had to talk the Doctors, the Experts, off the ledge. It was the experts, not the subject, who were near panic stricken over what the highly specialized numbers said. He was fine. He was breathing. He didn't need to be put on any ventilator. The numbers, or what they indicated, were wrong, for him, and for this circumstance. 
They couldn't see the patient for the numbers. At least initially; the numbers were everything; the patient was nothing. That he, the patient, was breathing, standing, walking, talking, lucid, normal in every respect was less important than the blood-oxygen saturation level numbers. 
We have had a similar experience with blood pressure numbers. My Marcie's blood pressure was so high at one check-up visit that they came near to forcibly kidnapping her and putting her in ICU. But she was fine, and she wasn't going to any ICU unit. They didn't know the strong-willed woman they were dealing with; all they knew were their numbers, they didn't know her. She left and came home. She eventually got her blood pressure into a more reasonable level through prescribed medication and she's fine, without jumping through all the ICU hoops. 
Government By Bureaucracy as a Political Goal
The word Soviet means, essentially, bureaucracy. A Soviet is an administrative government body. Communism is government by Administrators, AKA, government by Bureaucrats, or, Bureaucracy. Communist government is a bureaucratic pyramid of specialized administrative authorities, with all the local administrators forming the base of the pyramid, the highest authority or "supreme soviet" forming the top layer, all reporting to the dictator at the top. All soviets serve the dictator. 
The Communist model is the old Soviet Union. The Soviet Union was four things:
One Political Party;
Socialist;
Interrelated Soviets or Administrative Bureaucracies;
all reporting to the head of the One Party; a Dictator. 
The evil goal of the Cultural Marxism Movement is to psychologically and politically move the world toward a favoring of and an eventual submission to Socialism, and ending up under Communist government. 
To that end, Cultural Marxism in America, today driven by the Marxocrat Party and the Marxocrat Media, politically multiplies and grows government bureaucracy. The end goal is to eliminate all political opposing political parties, displace the Constitutional Republic form of government and replace it with total government by bureaucracy. Gradually, and by fits and starts. 
The establishment and growth of the Deep-State Shadow-Government is a vitally important Progressive step in that direction. 
What American self-proclaimed Progressives of any political party are actually aiming at, whether knowingly or not, is Progressive Communism, or Communism achieved by Progressivism rather than by bloody revolution and/or foreign military conquest. 
We have a mighty army, navy, air force, marine corps and coast guard, and now a fledgling space force, with which to destroy any alliance of enemies who dare to attack us from outside.
We have an armed citizenry with which to crush any violent revolution that dares to attack us from the inside.
But our real enemy, the now-pressing enemy out to destroy us, is neither military nor revolutionary; it is Cultural. It is now, partially, us. 
Cultural Marxism is a well organized, highly sophisticated, Progressive movement that has been building and making good progress against all of Western Civilization, and against us, since 1930. And we have nothing as well organized and sophisticated with which to counter it. 
The best "Movements" we have against Cultural Marxism are both almost one-man shows:
Cultural Catholicism, started by John Paul the Great.
Cultural Capitalism, started by President Trump.
While these are not grand organizations with long histories and lots of development, they are good counters to Cultural Marxism in that they plant seeds of truth and reality in the minds of Marxists of various description, as well as in the minds of those who are perhaps unwillingly under the subjugation of any form of Marxism, or, who were formerly favoring Socialism over its opposite, which is Capitalism. 
The Chi-Comm Virus "Experts" Begin Governing America
We have all progressively "learned" to trust our Experts so much that we, too, act as though wearing blinders, no longer willing or able to focus on or accept anything countering whatever the experts say. We take it as gospel just because they are the recognized experts. 
Our Most Trusted Chi-Comm Virus "Experts"
God help us. 
It is these "Experts", with Doctors Anthony S. Fauci and Deborah Birx in the lead, who gave us and keep giving us the bogus numbers alluded to in the Constant Refiguring page written yesterday. 
The Marxocrat Party and their Marxocrat News Media keep referring to these numbers as Trump's mistaken numbers, but they are not Trump's numbers; he didn't make them up, the "Experts" did that, and they keep doing it and redoing it. I would take a bet (if the wife would let me) that the current numbers will be wrong again, and new lower numbers will issue forth from the experts, and the fake news media will again report that "Trump's figures" were wrong again. 
Just as predictable as the next sunrise. 
It was upon supposedly expert and therefore highly trusted doomsday predictions that the entire nation was shut down. 
They were believed, and they were wrong. 
Whether out of malice or out of ignorance doesn't matter; either way, they were just wrong. There is no way that "mitigation" could have reduced their predictions to such a degree as to make them look so incredibly stupid in hindsight. 
Just who the hell are these turkeys, and why do we all grant them such undeserved governmental authority over us? Who elected them? Who do they represent? To whom are they accountable for their actions? 
It turns out that California and the West Coast infection numbers are so much lower than New York and the East because the Chi-Comm virus has been running through the population for a long time, nobody knew it, most people got over it as usual, and California and the West Coast populations built up an immunity in the normal fashion by having been exposed to it. Thousands of Chinese land and take off from West Coast airports every day; California should have had numbers exceeding New York from the beginning. 
The Marxocrat claim that California started "mitigating" earlier than New York is bogus; California started mitigating two days before New York did. Big Whoop. For years and years before that, they were getting more back and forth Chinese traffic than anyone else. 
Thus, they got exposed earlier; it's as simple as that. The ones that got any symptoms at all just thought they had a cold or the flu, and didn't worry about it, because it wasn't "discovered" by the "experts" yet. 
But all the false numbers may be just the tip of the iceberg here. 
Are Ventilators now killing more patients than they are saving?
Intubation and putting someone on a ventilator is a very serious thing. Itubation is the process of inserting an endotracheal tube through the mouth and into the airway; it is normally done so that a patient can be placed on a ventilator to assist with breathing during strong anesthesia, sedation or very severe illness. 
During intubation the patient cannot speak, and may have trouble speaking for weeks or months after coming off of the ventilator, and may even need speech therapy. 
Once a person is on a ventilator, it is a very dangerous thing to take that person off of the ventilator. The reason is that the ventilator takes over the breathing of the patient from the normal involuntary muscle action that makes us naturally breath on our own. Once the body gets used to not breathing on its own, it may have difficulty being "weaned" off of the ventilator, and re-learning to breath normally again. 
Whenever someone is being taken off of a ventilator, the family is usually called in and an emergency team is standing by, because it is a potentially dangerous situation for the patient. 
Now, it turns out, that just as in the case experienced by Rush Limbaugh mentioned above, Chi-Comm Virus patients for some reason experience a quite low blood-oxygen saturation level, causing the usual alarm bells to go off in expert medical minds. Below a certain point, a low blood-oxygen saturation level indicates the need for a ventilator to avoid the dangerous condition of hypoxia.
So, Chi-Comm virus sufferers experience exceptionally low blood-oxygen saturation levels, but they do not go into hypoxia for some reason. They are doing fine, at least in that regard. Again, it's the numbers that have a problem, but not necessarily the patient. 
A high number of Chi-Comm virus victims have been intubated and put on ventilators because of their low saturation levels. And a high percentage of these patients have died, as compared to other Chi-Comm virus victims with similar saturation levels who were never put on ventilators. 
It begins to look like the ventilators may be killing more Chi-Comm virus victims than the Chi-Comm virus itself. 
This may be especially the case where the patient already has one or more fatal or potentially fatal conditions, such as cancer, heart disease, emphysema, diabetes, extreme old age, etc., as found in many nursing home populations. Putting many of these already high-risk patients on ventilators and then trying to take them back off could very well be the deciding factor causing the death of the patients. 
And, another point to remember, the Chi-Comm virus "experts" are all about numbers, and when certifying causes of deaths, regardless of whatever other fatal afflictions the patient may have been afflicted with, if that patient tested positive for the Chi-Comm virus, then, buda bing, buda boom, the virus became the certified cause of death. 
Skewing fatality numbers even more in the expert-predicted direction. 
The Mistaken HIV = AIDS = Death "Expert" Precedent
People "infected" with the harmless HIV retrovirus were treated unto death with deadly bone marrow toxins shortly after the expert discovery of AIDS. That's how such luminaries as Kimberly Bergalis and Arthur Ash were killed. (See the great HIV=AIDS=DEATH panic.)
When it was first discovered, the experts pronounce that there was one and only one way to transmit the infection, that one way being through male homosexual activity. No other way to get it; that was the expert pronouncement. 
And it was unshakable expert knowledge that proclaimed that HIV was the agent that somehow transformed or evolved or triggered the AIDS syndrome, despite the twin facts that, from the beginning, 
AIDS patients who were not HIV positive vastly outnumbered the AIDS patients who were HIV positive, and,
HIV positives who never developed AIDS vastly outnumbered the HIV positives who did develop AIDS. 
Nevertheless, it was universally held that the experts knew best. 
Later, they convinced themselves and tried to convince the world that HIV-AIDS was super-infectious, that it could cross into the heterosexual population, and that anyone could get it. Despite two facts:
AIDS has never been shown to be infectious, and,
HIV, which is infectious, is perfectly harmless, and has nothing whatsoever to do with AIDS. 
A link between HIV and AIDS cannot be scientifically shown to exist. 
Initial treatment for HIV-AIDS involved the bone marrow toxin AZT, which produced the all the classic symptoms of AIDS, even unto the death of the patients, who were thought to have succumbed to the disease they were being treated for, rather than the treatment. 
Advancement in the treatment of HIV-AIDS was vastly improved by the development of HIV-AIDS treatment "cocktails" that progressively used less and lass of the bone marrow toxins, eventually using none, and patients died of the symptoms of AIDS (predictably) less frequently. 
This should have been taken as proof of the Duesberg theory that AIDS was caused by drugs, probably illicit drugs, who's effects might mimic the effects of AZT and similar early HIV drugs. 
In Duesberg's theory, AIDS is not infectious at all; it is drug induced. And HIV isn't even a virus; it's a harmless retrovirus that has no symptoms, and therefor is not even a disease. It is infectious, but, so what? It doesn't make you sick. And you get HIV by sharing needles, as the dopers and the druggees are want to do. 
And that's where the mistaken homosexual cause of AIDS came from. It seems that a ridiculously high percentage of male homosexuals are also druggees. They got most of their HIV infections not so much from each other as they did from their shared needles. 
But they got all their deadly treatment from the bureaucratic experts. 
We need to forget the Expert Turkeys and get back to normalcy
As far a I'm concerned, Doctors Fauci and Birx are full of Schiff. We need to get back to normal. And I have no intention of never shaking hands again for the rest of my life, or wearing a mask, or forever reinfecting my own arms by sneezing and coughing into my elbows. They should just go back to their computer models and play with their numbers and leave us alone. We were all doing fine without them. 
The numbers are doing what the numbers always do in every epidemic and every pandemic. They surge to some point, and then they start coming down. The usual cycle is within one year, but there are occasions when they go on for two or even more years, as in the Black Death, and in the Spanish flu and a few others. 
Once a contagious disease, whether bacterial or viral but especially viral, has gone through a population, that whole population has developed varying levels of immunities to it and the next time it comes around it harms fewer victims. 
The Chi-Comm virus is no different in that regard. The numbers are peaking or have already peaked just about everywhere, and I would say that the experts may have caused more deaths than the virus did. And certainly more social and economic disruption, broken businesses and financial damage. 
But they don'ts see any of that or care about it. They see only numbers.
---
The only thing Truth has going for Him in this world is us. 
The restoration of Truth = Reality in the hearts and minds of men is now totally dependent upon you and me; if we don't do it, it won't get done.
Sign the Letter to your Bishop, and make our Church Catholic again. 
Join Cardinal Burke's Storm Heaven Rosary Campaign.
Get behind a President Trump and a Vice President Donald Trump Jr, and make America Constitutional again. 
Pray for a strategic collaboration between Abp. Vigano and Trump.
=====
EENS:  Extra Ecclesiam Nulla Salus
(Outside the Church there is no salvation)


With fear and trembling, work out your salvation--Phil 2:12
Seek the Truth; Find the Way; Live the Life.
Please God, and Live Forever.
=====
Sarcastic Acronym Hover-Link Footnotes: For the convenience of those readers using devices that lack a mouse, these footnotes are provided for all webpages, in case any webpage contains any hover-links. (If you don't have a mouse, you can't "hover" it over a link without clicking just to see the simple acronym interpretation. Click any footnote link to see the acronym and a detailed explanation; "Hover" the mouse over it just to see the simple interpretation.)
SLIMC1
Secularist Liberal Intellectual Media Complex
GESGOEAEOT2
Gradually, Ever So Gradually, Over Eons And Eons Of Time
PEWAG3
Punctuated Equilibrium's Wild-Assed Guess
TTRSTF4
Them There Real Scientifical-Type Fellers
TTRSPTF5
Them There Real Smart Perfesser-Type Fellers
TTRSJTF6
Them There Real Smart Journalistical-Type Fellers
SNRTACBT7
Surely No Right Thinking Adult Could Believe Today
STNSEACPB8
Surely Today No Serious Educated Adult Could Possibly Believe
WDN9
We Don't Know
BMDFP10
Baboons, Mongrel Dogs, Filthy Pigs and ...
HBAACOTE11
Human Beings Are A Cancer On The Earth
ACLU12
Anti-Christian Litigation Union
FLORMPORIF13
Flagrant Liar, Or, Mindless Parrot, Or, Innocent Fool
MEJTML14
Marxist Ends-Justify-The-Means Liar
IEJTML15
Islamic Ends-Ends-Justify-The-Means Liar
MPAV16
Marxist Principles And Values
WBESSWG17
Wise, Benign, Elite, Super-Scientific World Governance
TRMITM18
The Reason Man's In This Mess
IYI19
Intellectual Yet Idiotic
TTRSCBTF20
Them There Real Smart Catholic Bishop Type Fellers
IACMPVND21
Illegal-Alien-Criminal Marxocrat-Party-Voting Nation-Destroyers
PEJTML22
Palestinian Ends-Justify-The-Means Liar
PSYOP23
"Psychological Operation" Mind Trick
CDC24
Covid Developmentally Challenged
LGBTQ+25
Every Letter Represents A Serious Psychotic sexual Identity Disorder
[All Web Pages listed in Site Map by date-of-publication;
oldest at the top, newest at the bottom of the list.]

Culture=Religion+Politics;  Who Are We?  Vic Biorseth
The Brilliantly Conceived Organization of the USA;  Vic Biorseth
Return to the BLOG page
Return to the HOME PAGE
Subscribe to our Free E-Zine News Letter
Comment
Respond to this WebPage immediately below the last comment.
Or,
---
Language and Tone Statement

Please note the language and tone of this monitored Website. This is not the place to just stack up vulgar one-liners and crude rejoinders. While you may support, oppose or introduce any position or argument, submissions must meet our high Roman Catholic and Constitutional American standards of Truth, logical rigor and civil discourse. We will not participate in merely trading insults, nor will we tolerate participants merely trading insults. Participants should not be thin-skinned or over sensitive to criticism, but should be prepared to defend their arguments when challenged. If you don't really have a coherent argument or counter-argument of your own, sit down and don't embarrass yourself. Nonsensical, obscene, blindly &doggedly anti-Catholic, anti-American, immoral or merely insulting submissions will not be published here. If you have something serious to contribute to the conversation, be prepared to back it up, keep it clean, keep it civil, and it will be published. We humbly apologize to all religious conservative thinkers for the need to even say these things, but the Hard Left is what it always was, the New Leftist Liberals are what they are, and the Internet is what it is.
"Clickbait" advertising links are not acceptable for posting here. 
If you fear intolerant Leftist repercussions, do not use your real name and do not include email or any identifying information.  Elitist Culturally Marxist Pure Authoritarians cannot and will not tolerate your freedom of speech or any opposition to their rigid authoritarian, anti-equality, anti-life, anti-liberty, anti-property, hedonistic, anti-Constitution, pro-Marxist, pro-Islam, anti-Catholic, anti-Christian, anti-Semitic, anti-male, sexist, pro-homosexual, anti-heterosexual, anti-white, racist, anti-Western, anti-American, Globalist, anti-Nation, blatantly immoral, totally intolerant and bigoted point of view. 
Copyrighted Material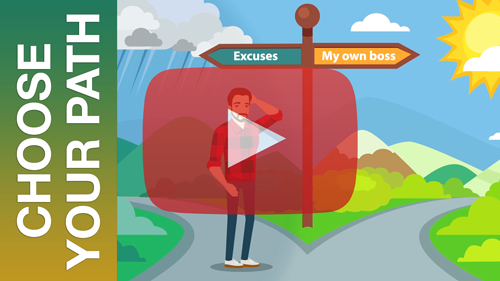 Solopreneur Opportunity Links, for a
Solo Build It WebSite